March 3rd - April 14th, 2012
Curated by: Sarah McCann
Hosted by: D center @MAP
Click on an artist below to see their work: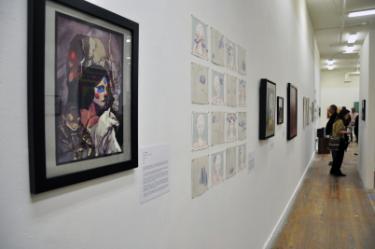 What makes women awesome? Who are the amazing women you know? How have they impacted your life and work? What effect have they had on the world? This exhibition invited artists and designers of all genders to create work that celebrates the incredible women they have known, loved and been influenced by. It is a chance to recognize and pay homage to all that the women in our lives have contributed to us.
By showcasing the work of female artists and designers, exhibiting work about women's roles in industry and projects about women known personally (colleagues, family, friends, mentors, role models, etc.) this show celebrates all the facets and roles of women in our lives.
This exhibition is curated by Sarah McCann and presented in partnership with D center @MAP.
D center is a broad cross-section of disciplines and individuals invested in improving and encouraging design-in all its iterations-in the Baltimore region. We believe design thinking has the capacity to change the world and that banding together in creative collaboration will greatly improve the quality of urban life.