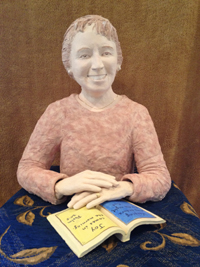 Joy Upon Joy
Ceramic
2012
This sculpture is dedicated to all women who have taught, encouraged, listened, cared, and helped anyone in any endeavor or trial of life. They are truly awesome.
The women who have most dramatically impacted my life are those women who are dynamic, passionate, active in many realms, and with seemingly unlimited vision. The have encouraged me to have my own visions and then prodded me to pursue them. Nothing is impossible, and they want me to know and remember and move forward.
My inspiration for this piece is Nicki. While intensity may be her prime characteristic, I focused on her joy.
Nicki is my friend, but before that she was teacher, comforter, and a wise woman for my family, before I became part of it. She was a teacher who was all of that and more to her students, a loving presence even through sickness, crises, and death. She is a tremendous encourager - and why can't you do that? she will say, perplexed. She is a Christ-follower who lives out her faith –-- with contagious joy --- and she has been a spiritual leader many years, in school, at home, in church, in community, with friends near and far.
Nicki is a lover of books and of icons, which she paints. Her living space is walls of books and icons, competing with each other, yet the atmosphere is rich and joyful.
Nicki has walked with many through times of trouble and grief, reminding us to set our hope on Him and the joy that is before us, so when I asked Nicki for her favorite verse about joy, she immediately quoted Psalm 30:5, which now appears on the other page of the book.
Weeping may endure for a night, but joy comes in the morning.
Finally, I love the big smile with which she communicates joy, a smile that I just can't reproduce.