Upcoming Events and Exhibitions

How We Are Healing looks at the creative process as a radical act of healing. Art as a way of processing pain and trauma; art as a way of forging connections and rebuilding relationships; art as a way of communicating when words fail to express the depths of our feelings and emotions; and art as a means of transforming inequitable structures and healing oppressive systemic issues. This exhibition will focus on art and the artist's ability to express our truths individually and as a collective in a way that mends what is broken, heals sickness and suffering, and opens space for growth toward wholeness, justice, and liberation for ourselves and our collective communities.
Exhibition on view December 6, 2021 - February 22, 2022
Reception: January 12, 5-7pm
Participating artists: Hannah Brancato | Ram Brisueno | Colin Campbell | Alanah Nichole Davis | Sara Dittrich | Norm Dubin | Quentin Gibeau | Kellie Gillespie | Shana Goetsch | Kali Hinton | Nora Howell | Zoey HowelL-Brown | Cinder Hypki | Benjamin Jancewicz | Tacie Jones | Dasha Kalumuck | Ken Krafchek | Racine Lancaster | Catherine Leberg | Rikiesha Metzger | Kenlynn Schroeder | Laura Sligh | Angela Sriram | Tyrone Weedon
About the Keswick Wise & Well Center for Healthy Living: Keswick, once known only as a campus-based long-term care facility, made the commitment to improve health outcomes for older adults by extending services to include those living in the community. Keswick Community Health, through its programs and services, enhances the health and well-being of older adults through community-based resources. KCH provides individualized, health and wellness resources meant to restore, renew and revitalize adults ages 50+ through healthy living initiatives both on-campus at the Wise & Well Center and in the community.
The Wise & Well Center for Healthy Living is the first of its kind in Maryland. The membership-based Center offers classes, coaching, and personalized services across multiple dimensions of wellness. Wise & Well is focused on helping people ages 50+ stay active, stay connected and remain engaged – the proven foundation for healthy aging. Live Well, Age Well, Be Well!
Laid Bare, curated by Quentin Gibeau on view at the Gormley Gallery at Notre Dame of Maryland University.
Exhibition on view January 24 - February 25, 2022.
Artists' Reception, Saturday, January 29, 4-6pm.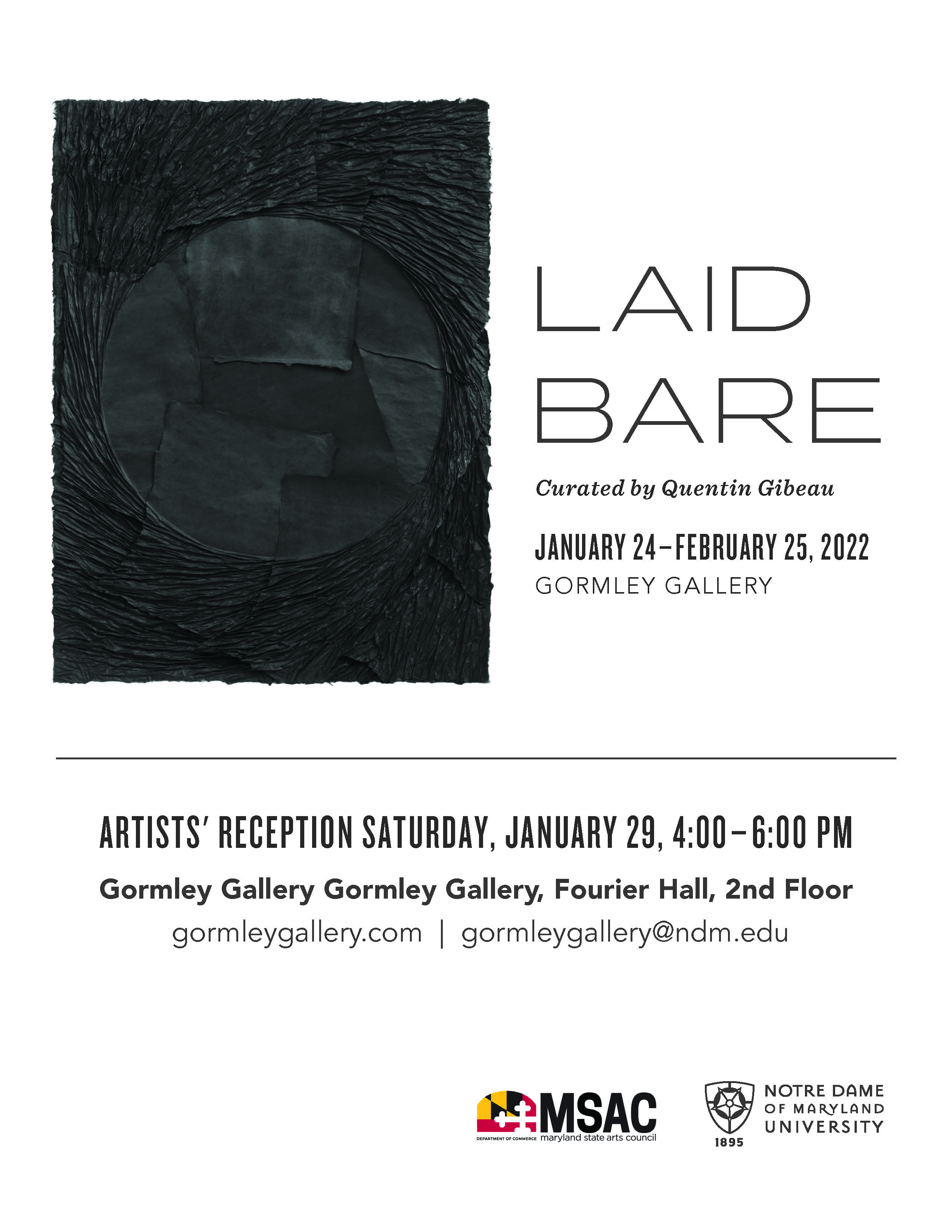 To get information directly to your inbox, sign up for my mailing list here.