Upcoming Events and Exhibitions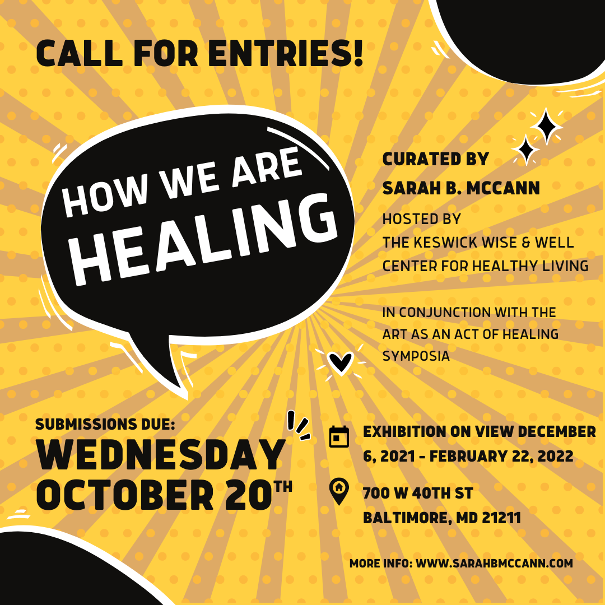 How We Are Healing is a visual art exhibition produced alongside the Keswick Wise & Well Center's Art as an Act of Healing Symposia taking place on Friday, December 10, 2021. The symposia and exhibition will examine the ways art can serve an essential function in the process of healing and wellness.
Artists are invited to submit visual artwork that responds to the title of the exhibition, How We Are Healing and the symposia theme of Art as an Act of Healing. The exhibition title How We Are Healing (a play-off of Dave Eggar's How We Are Hungry, a book of short stories that investigates the way that individuals struggle to form connections and relationships), asks artists to submit work that looks at the creative process as a radical act of healing. Art as a way of processing pain and trauma; art as a way of forging connections and rebuilding relationships; art as a way of communicating when words fail to express the depths of our feelings and emotions; and art as a means of transforming inequitable structures and healing oppressive systemic issues. This exhibition will focus on art and the artist's ability to express our truths individually and as a collective in a way that mends what is broken, heals sickness and suffering, and opens space for growth toward wholeness, justice, and liberation for ourselves and our collective communities.
Keswick believes that art plays a pivotal role in a person's wellness journey. Art and artmaking are a means for people to enrich, enliven and examine their lives at every stage. Art can help us make meaning in moments of difficulty or celebrate moments of success. The Virtual Symposia will feature artist talks related to our Art as an Act of Healing Exhibition, as well as feature Art Activities for participants.
Submission deadline is October 20, 2021, by 11:59pm. Artists will be notified by November 1, 2021. All work must be available November 29, 2021 – February 22, 2022, for installation and the full run of the exhibition. Due to the constraints of the gallery only work that can be installed on the wall will be considered. Artists are responsible for transportation of artwork to and from the gallery.
To submit your artwork for consideration, please send the following to sarahbmccann@gmail.com with "How We Are Healing" in the subject line:
Contact info: Name, phone, e-mail

3-5 images of work to be considered, no more than 300dpi labeled LAST NAME_FIRST NAME_#

Image List including the following for each submission: Title, dimensions, media, date created, and price. For work that is not for sale, please mark NFS.

Artist statement specific to why you are submitting the artwork chosen for this specific exhibition.

Artist resume/bio or CV
About the Keswick Wise & Well Center for Healthy Living: Keswick, once known only as a campus-based long-term care facility, made the commitment to improve health outcomes for older adults by extending services to include those living in the community. Keswick Community Health, through its programs and services, enhances the health and well-being of older adults through community-based resources. KCH provides individualized, health and wellness resources meant to restore, renew and revitalize adults ages 50+ through healthy living initiatives both on-campus at the Wise & Well Center and in the community.
The Wise & Well Center for Healthy Living is the first of its kind in Maryland. The membership-based Center offers classes, coaching, and personalized services across multiple dimensions of wellness. Wise & Well is focused on helping people ages 50+ stay active, stay connected and remain engaged – the proven foundation for healthy aging. Live Well, Age Well, Be Well!
About the Curator: Sarah McCann is a Baltimore based curator, community artist, and consultant. McCann's text-based mosaics, prints and multimedia artwork has been exhibited nationally and she had her first solo exhibition in 2018 at Jubilee Arts in Baltimore. Since 2010 McCann has organized, curated and installed exhibitions and related programming from conception to completion. Her curatorial methodology poses questions to artists as themes for the exhibitions and often includes youth artists and/or a community component. Her most recent curatorial endeavor titled, "Looking at Leadership" was curated in partnership with the Gormley Gallery at Notre Dame of Maryland University. Sarah has facilitated public and collaborative projects and looks forward to continuing her work in Baltimore and beyond.
To get information directly to your inbox, sign up for my mailing list here.