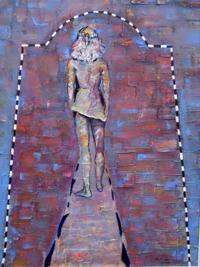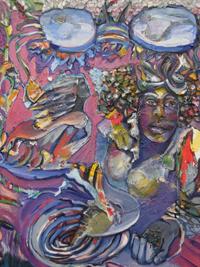 Blind Faith
Mixed media on canvas
2003
Throughout my life I have been loved and mentored by daring, committed, talented, competent women of intense focus and exemplary personal ethics, fortitude and vision. Some are of 'blood'; some are not. In regard to this exhibition my mother Thelma and her two sisters Betty and Rosa are the focus. These women, in their own ways and according to their own paths, have had positive and profound affects upon my life and the lives of countless other people. I wrote this about them in 1996. They are:
Goddess…
She passes us every day. We invite her into our dreams.
She seduces us with the wisdom of the ancients,
and prods us with rods of flame igniting
the passion of the third kind
- our vision -
She can soar, glide, and slither,
-pommel our eardrums with thunder,
until we quiver with fear and
our knees buckle involuntarily,
-stand in solitude with a quiet grace
that at once makes you gasp for breath,
as your heart skips a beat.
She's the soft, loving kiss of a spring promise,
offering another opportunity to
drink of life's nectar.
She's the brilliance of dry heat in summer;
at first being hot to the touch
with tendencies to cool-down to warm
for those brave enough to meet her gaze.
She's the color and consistency of leaves,
from innocent bud to the crisp, temporary surrender of life;
ever watchful; dormant- gathering strength to birth once again.
She's the bone-chilling austerity of a siberia,
-relentless regarding her purpose,
-unforgiving to desecrators,
-intense negotiator of the will.
Goddess whispered her name to me
in the season of births:
"Everywoman."