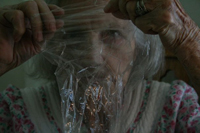 The Distance Between Us
Archival digital print
2011
"I am Yiayia." I told my mother once.
"How are you Yaiyai?" She laughed, as though she could never understand how anyone could be like her mother.
My young adolescent response, "I just mean...I see myself in her. Like, I love all the things she shows me."
And I really did. Some of my most favorite experiences with her were walking around her garden and eating figs or bell peppers right off their limbs. We'd nod at each other in approval of their ripeness. She taught me how to use my hands, whether it be to grow figs in a garden, roll dolmothes, draw dolphins or crochet. Everything she taught me was tactile. It is her hand skills that she really holds onto as she ages. She folds paper, clothes, napkins and in this photo saran rap. Although, she did get dramatic with the saran during the photo shoot.
My grandmother, Yiayia, a Greek immigrant who moved to the United States when she was 30, was a creative force. I say was not because she is no longer living but because she is a 96 year old Alzheimer's patient. I'm unsure of the onset of her disease but I remember when she was in her 80's, I would come to visit and she would only ask about three questions over and over and over again! That was bad, but not as horrible as her current vacancy. Frustrating and difficult for the family, she has reverted to only speaking in Greek if she speaks at all. She mostly stares off into space.