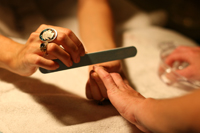 Trust
Multi-media performance
2012
Since the spring of 2008 I have been working on a performance piece titled Trust. Trust is a mobile nail salon housed inside an army parachute, complete with everything required for a professional manicure. During the opening viewers are ushered into the parachute tent out of curiosity to receive a free manicure in exchange for conversation. This intimate experience creates a space for viewer and artist to engage in a wide breath of conversation topics ranging anywhere from world politics to personal family ancestry. The Participant must be willing to commit 20 minutes or more to having their hands cleaned, massaged and sometimes polished and talk about anything that is to their own comfort. I use the parachute tent as a metaphor for resourcefulness amidst the omnipresence of war, natural disasters, temporary housing and our ability to be nomadic, alongside the idea of "home", place and safety. A tent is also a space where we can go to fantasize; it's a time machine to another dimension. As the piece grows I learn more about others reactions to being touched, their apprehensions towards a free service and sharing 20 minutes with a complete stranger. And most importantly carrying on a continual open dialogue with manicurists, stylists and cosmetologists who perform a personal service on others and what it means to have to earn someone else's trust to make a living. Each time the piece is performed I learn how I can approach the logistics of organizing the influx of visitors, how to adapt to different conversation styles, how to make people feel comfortable.
The inspiration for this piece was born from the first moments we all share as young girls/women when presented with the notion of beauty and adornment. This often is encouraged by our mothers', aunts and friend(s) of the family with a gift of barrettes, child friendly cosmetic's, a princess dress or a "manicure". For many young girls a manicure or "painting our nails" is a rite of passage, a moment when we get our Mothers or a special woman close to us all to ourselves and in our adolescent years a chance to bond with our friends. You are told that the color is pretty, that you are pretty; a connection is made between adornment and its potential power. As we grow older society reinforces this with cosmetic advertisements, ads of beautiful and svelte models; telling us that beauty is our most powerful asset. Influential marketing strategies go into creating the business of want, need and desire specifically geared towards women. And as we grow older the pressure to continue to look youthful is all around us. Yet, most of the women that provide services in the beauty industry are women that we may have little to no history with, they may speak very little of our language and often have emigrated from a very desperate situation. Manicures provide connection and disconnection at the same time; I hope that manicuring as a medium can open up a dialogue that touches on the deeper issues of femininity, adornment and the unobtainable pressure that society places on women to consistently look good.
Performing Trust during the opening of Women is an opportunity to expand this conversation in a setting that honors the women in our lives; known and unknown. My hope is that participant conversations will touch upon the important women/woman in their lives and a platform for them to share their stories and talk openly about what it means to be a woman in today's society.
I believe in the spiritual in art and the artist as shaman. Artists have a duty to share and be active participants in their communities. Through my artistic practice I strive to open up discussion on what it means to be human now, our ever-evolving relationship to our environment(s) and re-creating awareness to our primordial spiritualistic selves. -mc