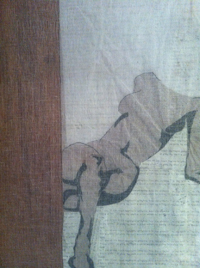 Book of Ester
Mixed media
2011
This piece is made of three panels of wood taken from an old bureau given to me by my great grandmother. A bureau she once used when she was a young lady. On each of the three panels there is a rendering of my body with text.The text varies in language and placement with each panel, yet all reads of the same passage. The passage is from the book of Ester from the King James Bible. I chose this passage because the bible itself speaks very little of women when telling the story of strength, courage, wisdom and overall heroism. The same book both my great grandmother and grandmother lived by. This passage is one of few that speaks of women in very high regard and of a female hero. This multi-layered piece is inspired by and metaphorically speaks volumes about unsung heroes.
"From that initial and intuitive expression both writers and artists create an ever evolving world be it from words, colours or lines. It all begins with a stroke of a pen."
Throughout my use of different mediums I constantly explore the interactions between my life, language, the sensory experience and how they interknit. I resolved this in my artwork long ago when I began incorporating thought provoking words in my drawings and paintings. In both occurrences of writing and painting there is a process of self-discovery, the ephemeral and an investigation of the communities in which I belong.
It begins as a questionable emotion that is triggered either by a piece of literature or aspects of the many communities of which I belong. These discoveries within my process make me go further into an interrogation of where I come from as well as seeking my identity in all of its aspects. Whether it be my ideologies, sexuality, personal fears, and experiences. The subject matter ranging as wide as the languages and materials used, always arrives in a finished product that is intimate with indications of personal accounts. At the same time visually they take on a certain combination of the architectural and sculptural. Also bearing a feeling of an evanescent nature due to the delicate and organic materials used.
Some of my materials include coffee, tea, flowers, and dirt as mediums on intimately sized pieces of wood, found objects, linen, or hand made paper. I work primarily in installations and mixed media drawings and paintings. My intricate way of working and the materials used makes visible the feeling of sentimentality, being rich in significance and time yet possessing a subtlety that is appreciated by the viewer.