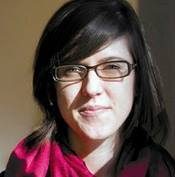 Sarah McCann is a multi-disciplined Baltimore based community artist and curator, born in Huntington, NY, a town on Long Island just over the Suffolk county line. Her parents ran a group home for adults with developmental disabilities and because of this she grew up in a house of 12 with her parents, sister, brother and eight differently abled folks.
Prior to college McCann received a scholarship to Huntington Fine Arts where she studied drawing, painting and sculpture, as well as worked as an apprentice with founder Joseph Mack. She attended New York University (NYU) where she earned a B.A. in studio arts, having studied photography, painting and sculpture. Upon graduating she worked in an administrative capacity in NYU's art history department and continued her education in sculpture at the university. McCann has also worked at the Noguchi Museum, the Solomon R. Guggenheim Museum's Learning Through Art program and the New-York Historical Society Library. McCann was part of a group of artists that started the Nomadic Center for Institutionless Learning where participants were both instructors and students. In 2007 McCann moved to Baltimore to attend Maryland Institute College of Art (MICA) where she earned an M.A. in Community Arts in 2008. In May 2019 she will have earned her MFA in Community Arts.
McCann's text-based mosaics, prints and multimedia artwork has been exhibited nationally and had her first solo exhibition in 2018 at Jubilee Arts in Baltimore. Since 2010 McCann has organized, curated and installed exhibitions and related programming from conception to completion. Her curatorial practice's methodology poses questions to artists as themes for the exhibitions and often includes youth artists and/or a community component.
Sarah's next curatorial endeavor titled, Ways of Seeing will open at Baltimore's Gallery CA in June 2019. This exhibition, co-curated with Anil Lewis, Executive Director of the National Federation of the Blind, will feature new work by blind and sighted artists.
McCann also works as a fundraiser. Her objective in this work is to improve visibility, financial security, equity and meaningful project outcomes for artists, organizations and communities. Partner organizations for community arts, exhibitions and fund development work have included Baltimore City Community College, Baltimore Clayworks, Creative Alliance, D Center, Enoch Pratt Free Library, Load of Fun Gallery, Towson Arts Collective, Wide Angle Youth Media and the Youth Dreamers.
As an artist McCann received a 2018 Creative Baltimore Fund Mayor's Individual Artist Award presented by the Baltimore Office of Promotion and the Arts and Mayor Catherine Pugh. She sits on the board of Intersection of Change and is a Co-Dean of the Awesome Foundation's Baltimore Chapter. McCann has facilitated public and collaborative projects and looks forward to continuing her work in Baltimore and beyond.