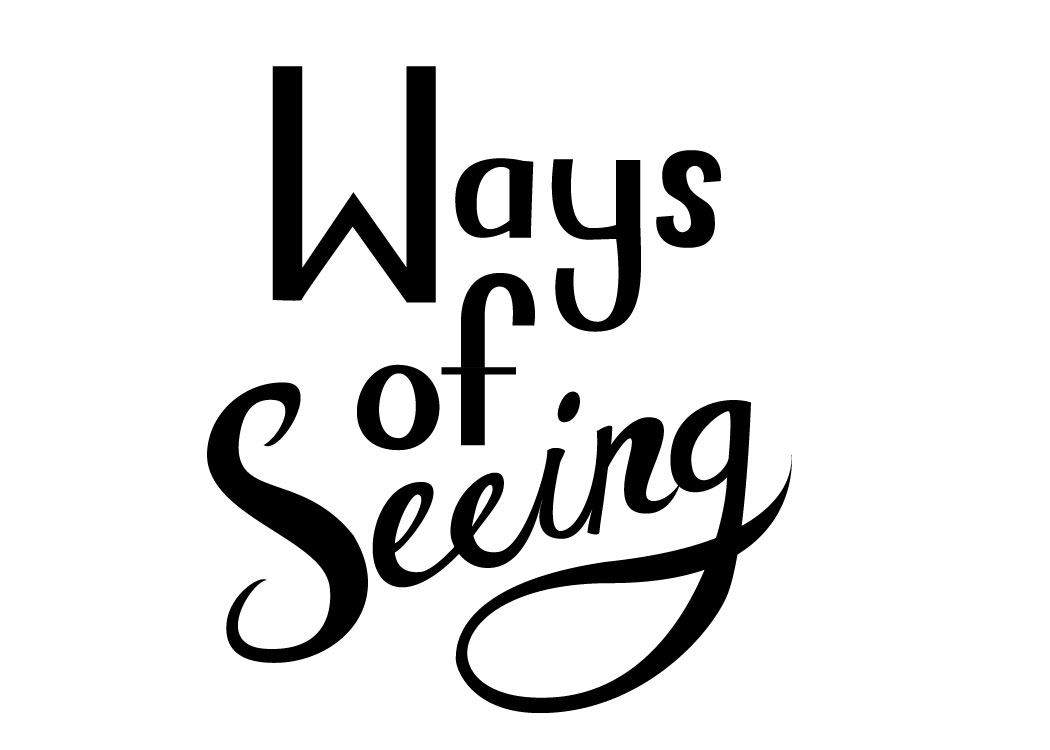 Ways of Seeing is an exhibition co-curated by Anil Lewis and Sarah McCann that invited artists to submit work that can be "seen" through all five senses. The exhibition questions the meaning of seeing, how people experience the world and the ways in which they work to understand, particularly those with a different experience. The curation occurred collaboratively by curators that are both blind and sighted who worked directly with artists who created new work for the exhibition. The exhibition will be accessible to blind and sighted audiences, providing an opportunity for an immersive art experience.
Ways of Seeing will be on view June 7 - July 20, 2019 at Gallery CA – a contemporary arts space devoted to showcasing local, regional, national and international artists.
440 E. Oliver Street, Baltimore, MD 21202
Luanne Burke is a graduate of Adams State College with a BFA in Art. Her area of emphasis was landscape watercolor. As her vision diminished she gravitated toward more tactile forms of art, creating life size and larger than life human sculpture in high fired clay. Luanne has also taught art to sighted and blind students as well as PTSD Veterans and other people with disabilities. She says of being a part of this exhibition: "As an artist who has gone blind, I am excited to share my experience of art with as many blind people as I can. When I read about the staggering amount of blind individuals in Baltimore, I was honored to have the opportunity to share and challenge myself to create especially for this show. I am aware that sighted individuals will view the show as well, and look forward to a response from this population . But most importantly, I look forward to the simple act of sharing and relating, making life the work of art."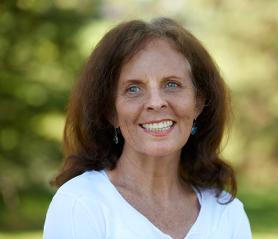 Jenny Callahan has been blind for almost 5 years. One day she was totally sighted and the next day she was totally blind. Callahan has always been artistic focusing more on oil and acrylic paintings and collages and photography when she was sighted. Now, she focuses primarily on tactile art such as sculpture in ceramics, bronze and stone. She also still paints with acrylics using textures. She grew up in Kansas, but moved around the country and traveled the world. Jenny is also a lawyer. She practiced for a few years before she went blind. Now she uses her advocacy skills to focus on tactile literacy and availability. She has exhibited in Wichita Kansas; Littleton Colorado; Denver Colorado; Boulder Colorado; Napa California; Orlando Florida; Baltimore Maryland. She teaches art at the Colorado Center For The Blind. Jenny says, "I am excited about this Baltimore exhibition because it's focusing on all five senses. I am looking forward to creating a piece that is both interactive and encompassing of all the senses while primarily focused on touch."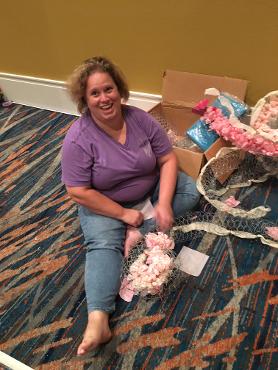 Cindy Cheng's practice is based in drawing but she explores the rich intersections possible between drawing and sculpture. Her work invokes a highly formal language that privileges composition, material and form. She uses this formalist language to reflect on her personal history and reveal new perspectives on self. Through this process she is taking a close look at her personal story of being a Chinese female who grew up living between North America and Hong Kong (itself a city straddling Asian and Western traditions and affects). She was raised in a family of contrasts - one that respected both traditions and embraced Western pop culture (Sci-Fi and block-buster movies especially) while trying to situate itself squarely within the optimistic economic and social vision of Western globalization that characterized her experience of the 80's and much of the 90's. She says of this exhibition: "Visual artists rarely get an opportunity to generate work for audiences with visual challenges - it's accepted that our potential viewers may come from a plurality of backgrounds and belief systems, but it's almost always a given that they all have conventional vision. This is something that I have never even thought to question. This exhibition is a chance to step back from that assumption and to engage with a community who likely are excluded to a great degree from the studio arts, allowing this thought and investigation to impact how we go about generating and manifesting a work of art."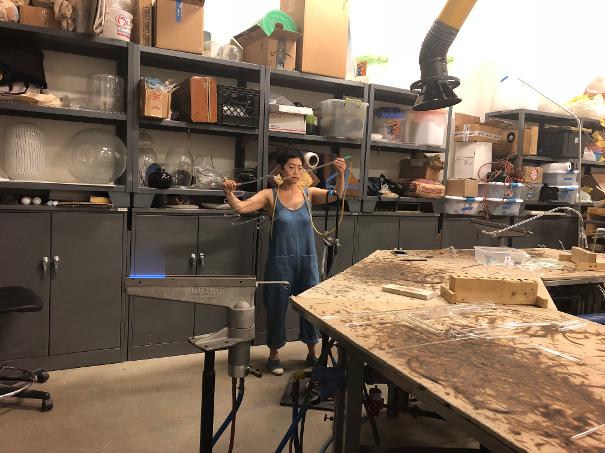 Del Hardin Hoyle was born in Rotherham, UK. He lives and works in Brooklyn, New York City. A recent graduate from the Interior Design MFA at Parsons the New School for Design, New York. Del's work establishes itself across a wide range of forms - from sculpture, furniture and interior design, sound, music, installation, curating, film and graphic design to name a few. Del started the monthly radio show A Year On Earth with musician and sound designer Sam Bellingham in 2018. He co-founded the artist collective (it's all) Tropical in England in 2014 curating ambitious large scale group exhibitions all over the UK. He has exhibited widely across the UK, Northern Europe and New York City. He says of his participation in Ways of Seeing: "Cindy recommended me to be a part of the show. We spoke about collaborating on some work and this show is the perfect instigator. My practice is going through a transition of experimentation with sound, interior design, sculpture and interactive electronics. I am fascinated by the power dynamics between people and space so the opportunity to collaborate with an artist I highly respect towards the goal of a new work that is spatial, sonic and interactive but less for the eyes and more for the rest of the body was an easy choice."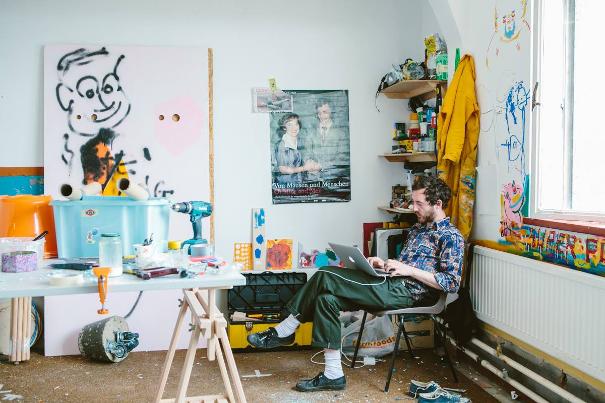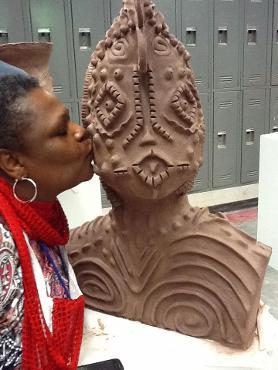 Sallah Jenkins has been working, making, and teaching in Baltimore communities for decades. Jenkins has worked in various media: dancing, painting, singing, poetry, clay, fiber and more. At fifty she returned to school, first Baltimore City Community College and then Coppin State University where she received a degree in Urban Arts. At Coppin, she had her initiation into self-driven creativity. She describes the art-making process as channeling "energy through my ancestors." Sallah is grateful for the continued inspiration she receives from her ancestors and continues to create in clay, teach young people in Baltimore City, and expand her creative ways of working. She says, "Art is my prayer. I am interested in this exhibition because I learned a new way of seeing with my hands from Marguerite. She has taught me a new way to see through what she sees with her spiritual eyes."
Dominic Terlizzi uses interdisciplinary approaches toward painting including mold making, baking, gleaning, and mosaic processes. Acrylic paint castings of objects are arranged into layered imagery resembling quilts, mosaics, and pixilated imagery. Within his paintings are textures of breads, domestic sundries, tiles, leaves, seashells and other artifacts. Influences on his work include mosaics in Ravenna Italy and 8 bit video game landscapes. Dominic says, "When encountering a surface of textures juxtaposed, eyes help the mind have synaesthetic connections. By transforming objects through casting I hope that the sense of touching objects can be understood with the eyes. The connectivity of senses can also allow for taste, sound, and smell. In this exhibition the inverse may also be true that touching shapes of objects or their void in a mold can lead the mind on a similar journey of seeing and feeling senses associated with a particular object. "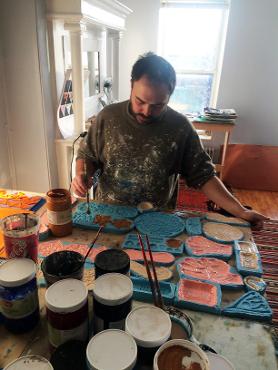 David Ubias' paintings embrace the constraints of modest materials. Colorful textured works comprised of paper pulp serve as a shrug to the frenzy of new media. He utilizes personal anecdotes, advertising gimmicks, and current events as catalysts for his studio activity. His body of work explores enduring (common) technologies that teeter on the threshold of relevance. They question the feasibility of maintaining a constant state of comfort under a perceived threat of cataclysm. David shared, "I am thrilled at the prospect of creating new work for an immersive art experience. Being a part of a " the Way of Seeing " is a unique opportunity to bridge communities within the Arts and provide an unexpected and challenging experience for the viewers. "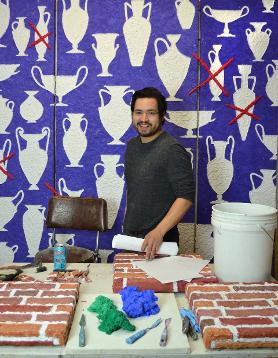 Michael A. Williams is a native of Memphis, Tennessee and has an eye disorder known as Stargardt's Disease (Macular Degenerative). The artist has been visually impaired since birth. He has been drawing and painting since the age of 10. Mr. Williams credits his mother for encouraging him to pursue his interest in art. He also stated that he became fascinated with art by watching his mother use markers to draw a cowboy on horseback riding off toward the sunset. That's when he knew that art would become his calling. Williams is also self- taught. He received many awards for his creations. He has been featured in the Memphis Tri State Defender, WMCTV "Nancy Hart Intermission" show, Memphis Cablevision "Shelby State Community College' Television program. In 2015, the Mr. Williams would receive a letter from President Obama congratulating him on his accomplishments as a visually impaired artist and the Federal Executive Association "Outstanding Disabled Federal Employee of the Year" for the Memphis Region. In2017, the artist would be nominated for the Federal Employee Association "Outstanding Disabled Federal Employee of the Year" award and win. That same year, Mr. Williams would receive yet another letter from President Obama, this time to accept an artwork given to the President as a gift along with two abstract paintings from Mr. Williams' mother (Mattie L. Williams),to add to the President's art collection.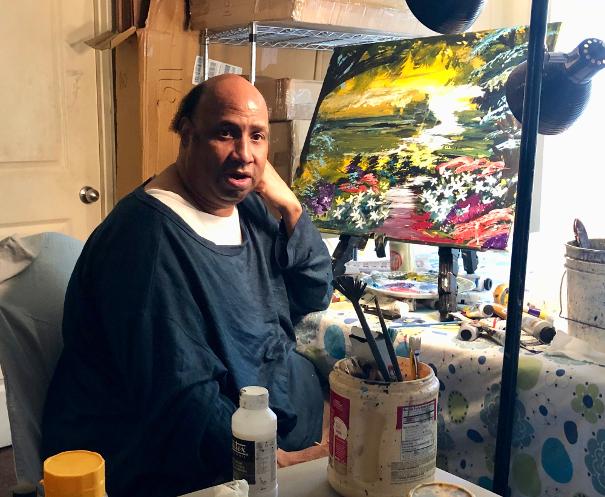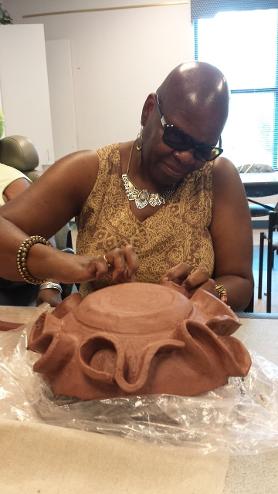 Marguerite Woods grew up in Baltimore and always appreciated and admired artists and their abilities. She never considered herself an artist, but found ways to be creative including making beautiful gift wrapped creations. When she became totally blind, she thought that she could not enjoy art any more. She went to India where she experienced working in clay for the first time. On her return to Baltimore she found clay class at the Zeta Center taught by Sallah Jenkins. She found that she loved tactile art and that ceramics allowed her a way to create. Marguerite says, "Being able to enjoy art is one of the most important parts of my life. Knowing beauty is around changes everything."
George Wurtzel is a woodworker and craftsman specializing in custom furniture, store displays, porch pillar restoration, architectural millwork replication, and art. He has been a woodworker all his life. His interest was first sparked by his grandfather who built furniture. He started building things in elementary school. After college he opened his own millwork shop in Traverse City, Michigan. He took a break from self-employment to study furniture production at college in North Carolina, and was employed afterward building high-end furniture prototypes. When asked to be a part of this exhibition, George said yes because: "This is what I do."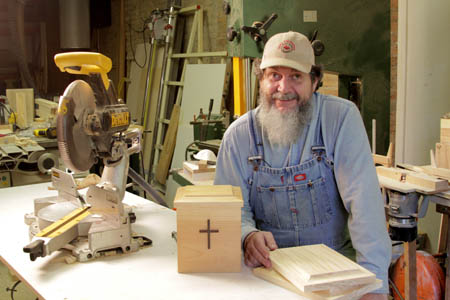 Thank you to the following organizations and individuals who supported this exhibition and related events:
And the following people who generously backed our kickstarter campaign: Katie Allston, Michelle Andres, Anonymous, Violet Apple, Christina Best, Louann Blake, Michelle Boardman, Rachael Bradley, Hannah Brancato, Barry Brown, Scott Casper, George Ciscle, Theresa Columbus, Graham Coreil-Allen, The Creative Fund, Ann Cunningham, Chris Danielsen, Taylor D. Daynes, Heather Douglas, RG Everett, Haila Fine, JA Fitz, Chancey Fleet, Foad, Cheryl Fogle-Hatch, Force: Upsetting Rape Culture, Gerad Forte, Brian Francoise, Matt Gesualdi, Shawn Mathis Gooden, Allison Gulick, Anne Hatch, Holly Hoey, Donna Hutchison, Cinder Hypki, Iva Johnson, Shaun Kane, Catherine Leberg, Erin Lein, April Daniel Lewis, Anil Lewis, Ellen Lupton, Fletcher Mackey, Al Maneki, Sam Marmion, Shaun Martin, Jim McCarthy, Sean McMahon, Rikiesha Metzger, Sara Milstein, Kevin Griffin Moreno, M Mullen, Juan Omar, Julia Orth, Bryan Perry, Paula Phillips, Nancy Proctor, Christina Ralls, Bob Rand, Rosemary Riel, Amy Seto, Elizabeth Shaner, Elizabeth Shores, Angela Sriram, Karen Stokes, Deborah Taylor, Miloš Tošić, Susan Tuberville, Deejay Vaidya, Susan Vernon, Marguerite Woods, Jessica Wyatt, Lindsay Yazzolino