Portraits of People We Love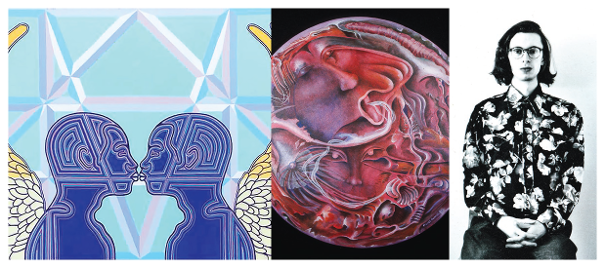 Gallery Aferro kicked off its fall 2018 season on Friday, October 5th with the opening reception of the second installment of Portraits of People We Love.The exhibition featured work by both Newark and Baltimore artists. Focusing on depictions of a person or persons each artist loves, the exhibit explores love that may be platonic, familial, romantic, someone the artist only knows in passing, but are overjoyed exist in the world, someone they have never met, but appreciate in the deepest, most meaningful way or any and all other forms of love. As human beings, we struggle to find love -- we enter into and attempt to maintain relationships, find romantic love, give love and love ourselves, this exhibition explores our continual pursuit of love; even when that love causes pain.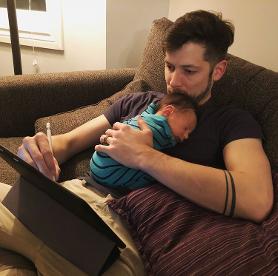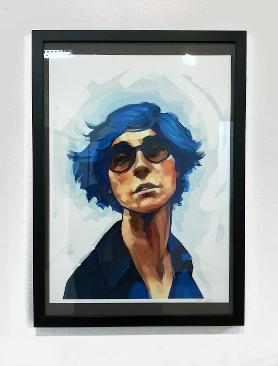 Colin is currently the Lead Level Designer on the next iteration of Mass Effect, being created at Bioware Montreal. Born in Athens, Georgia, Colin struck north and graduated in 2004 from the Maryland Institute College of Art with a BFA that focused on painting, ceramics, and animation. From there, Colin joined the ranks at Big Huge Games in Timonium, Maryland. He would go on to become the Lead World Designer on the open world RPG, "Kingdoms of Amalur: Reckoning". In 2005, he took a brief hiatus from game development to live and paint in Antarctica for three months as a co-grantee of the National Science Foundation's Artists and Writers program. In 2008, Colin joined the PBS television series "Time Team America" to travel around the country with a team of archaeologists and act as the show's host and artist. Colin now lives with his wife and their two dogs. Recently, Colin launched his webcomic, Circus Saudade.
Artist Statement:
As a representational painter and illustrator, I admit I took I a fairly literal take on "Portraits of People we Love". Jess is my wife, and the most important person in my life.
I've painted her more than anyone else in my life, as well, so this piece is at once it's own individual contribution to a group show and also a smaller part of a larger, ongoing story told through paintings and drawings of Jess. Each is from a different point in our lives together. Each from a different location.
Thinking on the show's theme, "Portraits of People we Love", I like to consider how painting a portrait requires dedicated time with a person, and some deep study of subtle parts of what make up their face. There is history in faces. Smile lines, the state of someone's hair. A portrait painted is often a meditation on a relationship with a person, on the qualities a person carries with them, or on your own shared time with that person.
It takes empathy and consideration to paint someone's face, and the act of it can help teach us, in small ways, about love.
A native of Washington, DC, I grew up as an arts kid, drawing pictures and playing with puppets. My mother brought home legal pads from the office for me to attack with pencils and crayons. In high school I hung out with performing arts students at McKinley Tech and Workshops for Careers in the Arts, (the precursor to Washington's Ellington School for the Arts), but knew I was more a visual artist. My senior year of high school was spent in Switzerland, where I attended Gymnasium Munchenstein . The art courses there and at Kunstgewerbeschule Basel were welcome retreats in country where I was learning to speak German.
Back in the US I enrolled in college, majoring in fine art. After landing a summer job at The Art Institute of Chicago during junior and senior years, I knew museums were the place for me professionally. I earned graduate degrees in museum education from George Washington University in DC, and Columbia University in New York. Over a period of 25 years I have held positions in seven museums across the US. Additionally, I served 12 years as a grantmaker: fours years as a program officer with the Lila Wallace-Reader's Digest Foundation in New York; eight years at the Institute of Museum and Library Services in Washington, where I served first as Deputy Director for Museums, and later as Counselor to the Director. Throughout my museum career I continued making art and working puppets. " Ms. Lily" became America's first puppet docent in a major art museum. She gave adult tours in the galleries of The Baltimore Museum of Art.
Today my works are informed by a broad sweep of narratives, literature, mythology, music, current events and history. My preferred medium is acrylic with found objects on wood. Keys, cowrie shells, glass and metal often appear in the work. Although the works tend to have a storyline, I appreciate hearing viewers' responses to the pieces; there is no limit to interpretation. Puppetry continues to be an extension of my visual art work. I see puppets as moving art forms. These, too can be considered mixed media art.
Artist Statement
Agape best describes my portraits. Agape is universal love, such as the love for strangers, nature, or God. It does not depend on filiation or familiarity. The portraits here are depictions of people I have encountered, but do not know.
In 2014 a hip injury rendered me unable to walk or do my normal art, which required standing, lifting and moving around. I could sit and draw, so I began to approach people and ask permission to include their portrait in my sketchbook. Anyone who agreed would get an electronic copy of their portrait from the sketchbook. To date there are five Portrait Sketchbooks. Some of the portrait images have found their way into my paintings on wood. These works are an evolution of my love of the face, no strings attached.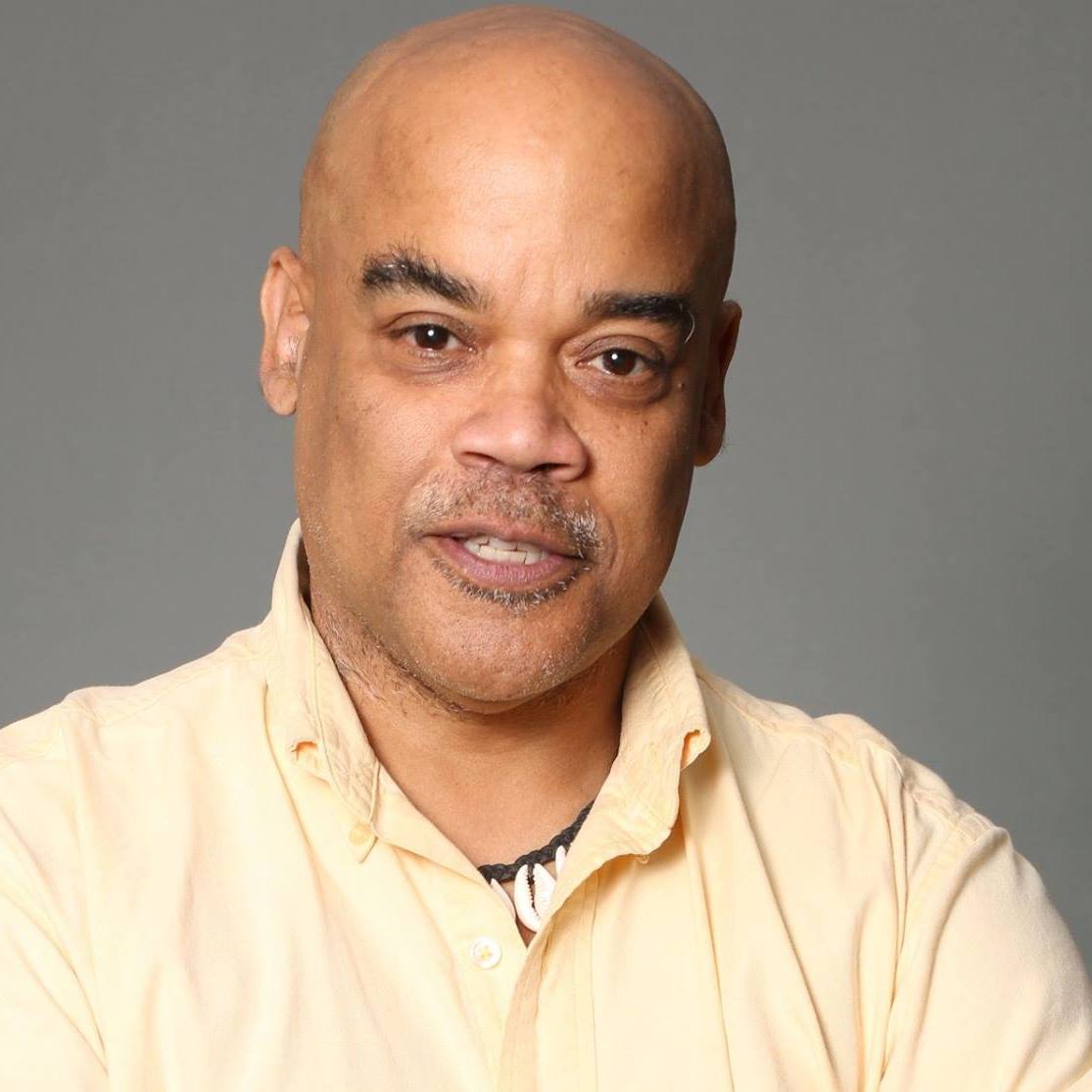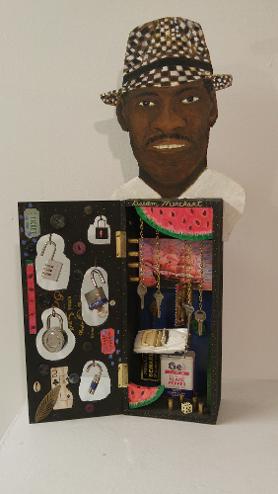 Dream Merchant
Acrylic with objects on Wood
2017
Nicoletta Daríta de la Brown
Nicoletta Daríta de la Brown is most passionate about connecting with, and the betterment, of humanity at large. In 2017, she birthed VidaMágica.Love; empowering those on the front line and making this world a better place to create sacred space for self, practice mindfulness, take time to reflect with gratitude, to pause, to process, to breathe, to remember to self care & self love. Providing opportunity to be loved on through self-caring workshops, arts-based healing experiences, mindfulness-movement activities, facilitated group retreats, and introduction to wholeness & wellness modalities. Reminding participants that learning to self love is important.
"she danced.
she sang.
she took.
she gave.
she loved.
she created.
she dissented.
she enlivened.
she saw. she grew.
she sweated.
she changed.
she learned. she laughed.
she shed her skin.
she bled on the pages of her days,
she walked through walls,
she lived with intention."
Artist Statement
My self-portrait, a video projection created from my x-rays, entitled Womb Cave sets the intention for restorative healing. This work reflects upon when self love was new to me. I have created permanent sacred space, where self care is key. I am proud of: who I am unapologetically, caring for self, loving self unconditionally, living life with passion and purpose, embracing the freedom to be me.
The performance incorporates healing of past injuries, as I let go of visceral memories, while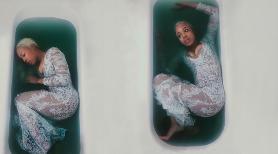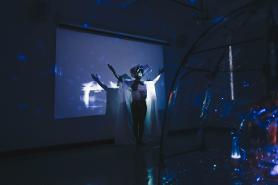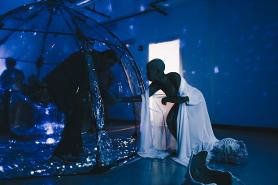 Womb
Documentation of Installation & Sculptural Objects from Rebirth Series
Photos by Christine Qabar
2017 Performance
gifting others small tokens and gestures of love to cherish and reflect upon. I've fabricated sacred sculptural objects to engage with including: a womb shield encrusted with quartz crystals, and a headdress adorned with delicate paper flowers serving as armor for the mind.
I was forced to embrace a mode of self-care after recent traumas inflicted through physical and sexual assaults to my body and after being hit by, and bouncing off of the hood of a car. Since then, self love has become my key to liberation. Like so many others, who feel displaced in an uncaring world, I now love myself, and reenter my own womb. "When a flower doesn't bloom you fix the environment in which it grows, not the flower." - Alexander den Heijer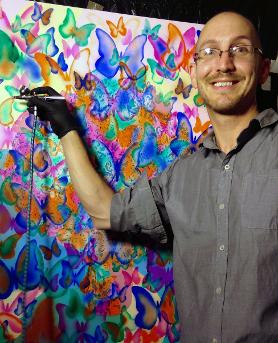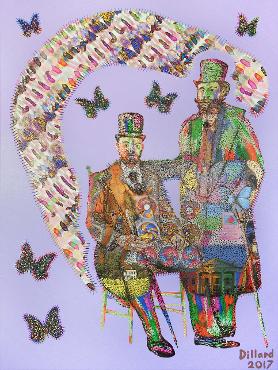 Why are so many problems today perceived as problems of intolerance, rather than as problems of inequality, exploitation, or injustice? Why is the proposed remedy tolerance, rather than emancipation, political struggle, or even armed struggle?
Oil, acrylic, hand-sewn threads, inkjet giclee prints, canvas
2017
Aiden Dillard is a butterfly artist who hails from the mean dirt roads of North Carolina though was born within spitting distance of the Mexican border in California. Aiden received his Bachelor of Fine Arts in 2003 on a full scholarship from The Cooper Union (New York, NY). From 2004-2014, Aiden made five terrible but artistic low-budget horror films in New York and Florida, many of which were distributed by the world's oldest independent film studio, Troma Entertainment Inc. (www.troma.com) of New York City. Since 2015, Aiden has been focusing on painting and fiber art, and using the symbol of the butterfly as a celebration of migration and metamorphosis.
Artist Statement
I focus on painting & fiber art, while using the symbol of the butterfly as a celebration of migration and metamorphosis.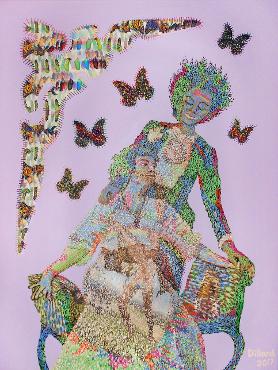 What is the Absolute? Something that appears to us in fleeting experiences–say, through the gentle smile of a beautiful woman, or even through the warm caring smile of a person who may otherwise seem ugly and rude. In such miraculous but extremely fragile moments, another dimension transpires through our reality. As such, the Absolute is easily corroded;it slips all too easily through our fingers and must be handled as carefully as a butterfly.
Oil, acrylic, hand-sewn threads, inkjet giclee prints, canvas
2017

Saphronia (series of 4 Women)/I Look Good
Woven plastic, acrylic, and hair
2017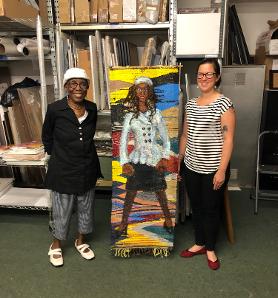 Peaches (series of 4 women)
Woven plastic, acrylic, and hair
2017
Gladys Grauer has been called the "Mother" of Newark's African American art community. She is best known for her tapestries and corrugated constructions made from discarded and repurposed materials. The materials are allegorical to the people and subjects that the artist-activist champions.

She has been a teacher, a mentor and an inspiration for artists in greater-Newark community for generations. In 1971 she opened Newark's first gallery dedicated exclusively to exhibiting art.
Mrs Grauer is an alumnus of the Art Institute of Chicago. Her works are in permanent collections at such major institutions as the Victoria and Albert Museum (London), the National Museum of American Art (Washington,DC), the Museum of Modern Art (New York) and the Newark Museum, among others. In 2013 she completed her fourth major mural commission titled "A Tribute to Newark Jazz Clubs." Gladys Grauer is constantly inventing new forms and attacking new challenges.
Artist Statement
Artists are recorders of events, society, and the culture in which they live. My art expresses my reaction to and interaction with the struggle of all people for survival. This struggle is motivated by the optimism of beautiful people for their intellectual, financial, social, political, individual, and physical survival. I was inspired by the ingenuity of the urban homeless to convert corrugated boxes into mattresses, blankets, and insulation. Plastic bags became luggage, rain coats, rain hats, waterproof boots, and grocery carts became treasure chests of accumulated wealth.
When I conceive an idea, all my emotions, energy, intellect and skill are poured into creating the piece. I make my statement using various materials such as gouache resist, acrylics, corrugated board, fiber, plastic bags, and found objects.
When looking at my work, what the viewer sees and feels is important, not what the viewer thinks I am saying.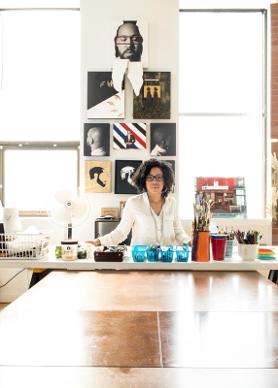 Visual artist Tiffany Jones creates work that is versatile and varied often exploring history in relation to identity, while responding to current events and societal assumptions that surround African American culture.
Jones received her BFA in photography from the Maryland Institute College of Art. During her artistic career Jones' work has encompassed interactive data collection, such as interviews and surveys, installation and immersive art, currently developing a multidisciplinary approach to her practice. With a passion for working immediately with her community, Jones' involvement with various community projects provides a platform for education, impact and dialogue. Some of these projects include the 2011 Black Male Identity project in Baltimore City, Jones joined a collective of artists working with an initiative to change negative stereotypes of black men into positive images; with Autumn Leaves, Jones participated in an intergenerational community arts experience with elders of Baltimore City; and the New Day Campaign using art to challenge stigma and discrimination associated with mental illness and addiction. Jones continues to work on her studio practice as a resident artist of School 33 Art Center located in Federal Hill, in addition to leading after-school arts program for Baltimore City youth.
Jones' work resides in both private and public collections and has been exhibited in various galleries and museums in Massachusetts, New York, Virginia, and Maryland. These include the Marianne Boesky Gallery in New York, Artisphere in Virginia, Baltimore Museum of Art, James E Lewis Museum, and Sheila and Richard Riggs Galleries all in Baltimore.
Artist Statement
Butterflies & Stardust is an introspective examination of self love. As an artist the process of artmaking can be a meditative experience which becomes significant to the evolution of the work itself. Experiencing the complexities of love and loss in recent years, the creation of Butterflies & Stardust is a reflection of my personal journey, specifically focusing on my emotional and spiritual growth.
I look to you when there is darkness
I fold into you
I hide down deep into the crevices, between the folds, wrapped and covered by your layers
Meeting in the center, there is an intersection of light
Piercing down from a point above I glowed as a luminous nova
With ambition to be super, I am soon reminded what I am made of
Recognizing the similarities of transformation between people and the process of origami, I became intrigued by the repetitive action of folding, and the idea of how we are shaped by our life experiences. A simple material, such as a piece of paper, is folded, building multiple layers. The paper is the same, but now it has been re-shaped, therefore changing its form and creating a new perspective that requires a refreshed understanding of that same piece of paper. A process I identify as self-reflection, acceptance, and love that will ultimately lead us to our inner light.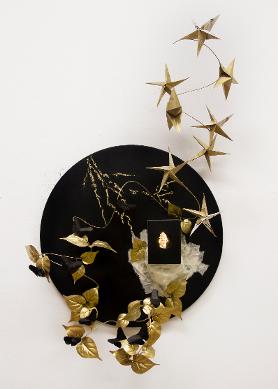 Black Butterflies & Stardust
Mixed Media on Wood
2018
Artist Statement
These photos depict my trip to Jakmel, Haiti in 2014. Over a two-week span, I shared monoprint techniques with 20 local high school-aged students and adults who are artist-members of the Jakmel Ekspresyon Community Arts Center.
These young people and I met through art — an act of love transcending difference (race, culture, class, age, language). This place of intimate engagement is as brief as a moment, yet as expansive as the universe.
My photography represents a process by which I both engage and form relationships with various individuals and communities. Although these photos have a look of photojournalism, they are nonetheless predicated on relationships — "sharing before taking." By this, I mean that I offer workshops related to artmaking (monoprints, storytelling, critical thinking) while pursuing a strategy that supports the lifting up of personal and collective voice, histories and hoped-for futures. I take care to invite the persons I portray into an unforced relationship, giving first (artmaking workshops) and asking later (with permission) before taking photographs. I abide by the social justice-based, liberatory values of the community arts field. In this case, photography serves as a non-hierarchical relationship, a partnership based on mutual respect.
During my time in Haiti, we made art in both the light of day and darkness of intermittent power outages — our efforts illuminated by candles, cell phones, flashlights and the undeniable desire of the creative spirit.
Ken Krafchek has been a member of the Maryland Institute College of Art (MICA) faculty since 1985, receiving the Trustee Fellowship for Excellence in Teaching in 1998. Ken is the founding director of MICA's Office of Community Arts Partnerships (CAP). He also founded MICA's MA and MFA in Community Arts programs while currently serving as Graduate Director for the MFA. Ken also served as Project Director and Managing Editor for the Nathan Cummings funded, MICA sponsored Community Arts Journal: Cultural Practice, Research & Higher Education.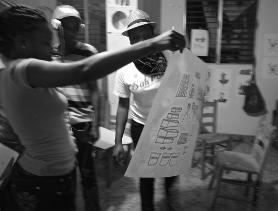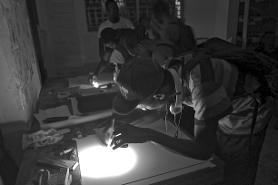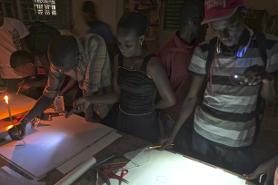 Between the Shadows is the Light
Digital photography
2014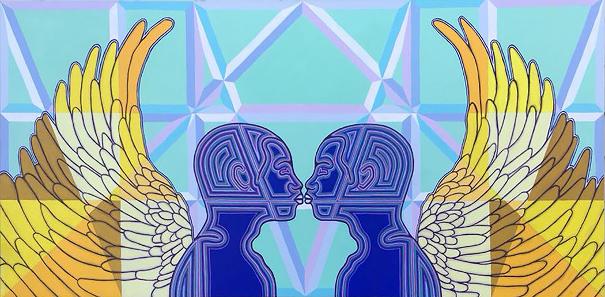 The Origin of Love
Acrylic on Canvas
2018
Jo-El Lopez was born in Juncos, Puerto Rico and now lives and works in Newark, NJ. Lopez is a visual artist whose work has been exhibited national and internationally, including exhibition at Gallery Aferro in Newark, NJ, BRIC, in Brooklyn, NY, Bronx River Art Center, NY Celemente-Soto-Velez Center, NYC, EFA Blackburn Print Center, NYC, Union City Art Museum, NJ, Taller Boriqua, NYC, Casa de Cultura, San Juan PR. A recipient of several local grants and awards his works is also featured in the permanent collection of the Newark Museum, El Museo Del Barrio and the HELP USA organization. Lopez is an artists-in-residence at Gallery Aferro Studios in Newark NJ.
Artist Statement
Origin of Love is about portraying the simplest and the most complex thing at the same time. The angelic freedom of the asexual self. It's an open approach towards the divinity of self, and love - placing you smack dab in the center of life's crossing. Is love a mirror or reflection? Or is it a pool of introspection?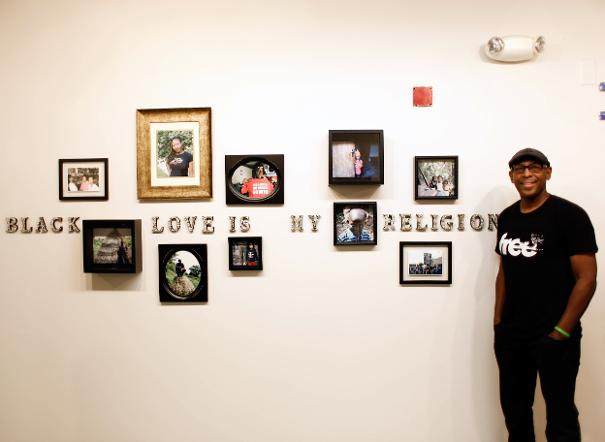 Black Love is My Religion
Installation, photography
2017
dominic timothy moulden is a visual storyteller for the people. As a photographer-griot, he has journeyed to Ethiopia, Nicaragua, and South Africa to capture story-images of Black resistance and home. He also uses his camera to document Black presence and decry displacement at home in Baltimore. His work is united by its unblinking witness to the tenuousness of Black sanctuary throughout the diaspora.
It all began when moulden left for Ethiopia with a friend's advice echoing in his ears: "Don't think about it, just take pictures." When he returned to the U.S. with his photo-chronicles and saw how they affected people, an artistic awakening bloomed in him. Several art talks and exhibits later, his creative approach continues to be marked by spontaneity and accessibility. He firmly believes art is for everyone and access to beauty is our birthright.
Appropriately enough, moulden's first exhibit was at DC's Sankofa Gallery.Sankofa, in the Akan language of Ghana, means you can go back and get it. Moulden's portraits are intended to remind Black people of their beauty, against the forces of forgetfulness--ie, colonialism and racism.Re-member what has been dis(re)membered, you can hear moulden's images whisper if you lean in close enough.
Moulden's work has also been exhibited at Artspace (Washington, DC), Studio 21 Gallery (Washington, DC), MICA Place (Baltimore, MD) and was shortlisted for the Baltimore Museum of Art's new Interactive Exhibition Gallery. He was a collaborator in Spotless,an exhibition on whitewashing and gentrification, at Hamiltonian Gallery (Washington, DC). His work is also in private collections.
Artist Statement
BLACK LOVE is My Religion
To Ramadan: BLACK LOVE is your king of the hill squatting position in Sodere Park.
To Edo: BLACK LOVE is the beauty of the home that you created with those proud hands. The hands that powerfully rest on your hip and entrance.
To Sisters: BLACK LOVE is your beautiful attitude and posture as Black Women.
To Black Beauty: YOU ARE "BLACK IS LOVE!"
To Nicaragua's Children: Let's BLACK LOVE each other more like you.
To Delte's Doorway: Your BLACK LOVE is simply adorable and lovely.
To Aunty Annie: Black resistance is BLACK LOVE.
To One Love: Street Love is real BLACK LOVE too!
To White Privilege: BLACK LOVE eliminates your white supremacy.
To Love is My Religion: Nonye, you taught me that BLACK LOVE IS A RELIGION.
My portraits for this exhibit – Portraits of People We LOVE – is an intentional tribute to BLACKNESS IS LOVE, loveable, and loving. In the spirit of these times I celebrate the Movement for Black Lives. One very important and significant friendship and love story propelled me into believing and unveiling a silent NOW public drive to LOVE BLACK PEOPLE!
It all started with a tee-shirt that read LOVE IS MY RELIGION. My collection of portraits weaves into this exhibit that LOVE is not always about knowing a person, a place, or a space. LOVE is about not knowing but being sincerely moved by a strange face, a new face, and an unknown space. I am encouraged to capture BLACK portraits that we can simply adore and love because of knowing one person believes what I believe about the potential to LOVE BLACK PEOPLE! -Dominic T. Moulden
Special recognition to Allison Duggan and Gerad Forte who supported and assisted me in the creation of this exhibit.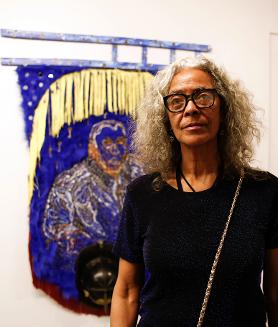 FIRE: Truck 12
Hand-sewn Fibers & Mixed Media on Faux Fur
2017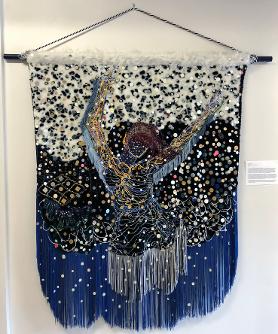 In Praise of...
Hand-sewn mixed media on faux fur
2013
I am a mixed media visual artist whose works intentionally intersect with the human experience by embracing my personal interactions and perceptions while working with people. Some of my works begin as portraits of 'states of being' that present actual scenarios and the need to change existing dynamics. Some are visual renditions of abstract thoughts that represent form, color and movement. Others are visual and spiritual offerings from chance meetings or deliberate encounters and observations of and within distinct or obtuse environments. Perhaps just as many are the haunting products of brief, yet profound experiences that have become life-changing events. Some works portray evolutionary and revolutionary concepts that remain in that peculiar state of flux that is necessary to achieve personal growth- personifications of the "human experiences" in spiritual form.
FIRE: Truck 12 encompasses all of the above as experienced by a 10-plus year relationship with
EVD Nelson, a 25-year veteran Baltimore City Firefighter and Emergency Vehicle Driver of the Fifth Battalion, Squad 40, Truck Company 12, located at 3906 Liberty Heights Avenue.
EVD Nelson, you are filled with the blue-white hot flames of LIFE lived passionately and with the genuine deep concern for the health and safety all of humanity. If others could only know you as I do, they would understand how important you and other Firefighters like you are to our City, to the people of our communities and to our planet.
Thank you for your Care and Love of human kind.
Thank you for your expertise and for all the risks you have and will continue to take to preserve life and property within some of the most dire and dangerous circumstances imaginable.
Thank you for continuing to believe in Peace and the very real possibility of a world no longer plagued by violence, hatred, hunger or homelessness.
May the Universe continue to provide its veil of protection over you as you do your work.
Kern Samuel comes from Trinidad and Tobago and is strongly influenced by his Caribbean heritage. Growing up, many of the women in his neighborhood made clothes. His mother, likewise, had a sewing workshop at home where he spent most of his childhood, on the floor, drawing. From her little studio and fond memories, he borrows traditions, images, and techniques to transform ordinary, found, and recycled materials into new works of art.
He immigrated to the United States in 2005 and settled in the northern New Jersey suburb of Maplewood. Between 2009 and 2014 he studied art at the Copper Union in New York City.
After college Kern became very interested in community building and joined the The Sable Project, an off-the-grid artist residency in Stockbridge Vermont. There, he had the opportunity to collaborate with many dance artists, often recalling his formative years at home with his mother, to create original costumes for performances. In 2016, Kern took his interest in community building and collaboration back to New Jersey where he began working as an Educator at The Newark Museum. He will attend the Yale School of Art in the fall of 2018 as an MFA candidate in painting.
Artist Statement
I painted a length of cotton muslin with gesso tinted coral pink. Once dried, I cut 32 identical rectangles and arranged them in 4 rows of 8. Onto the formation I painted two intertwining figures. One figure is lifted over the other's shoulders. The figures may connect to ideas about race and gender but also considers friendships between men.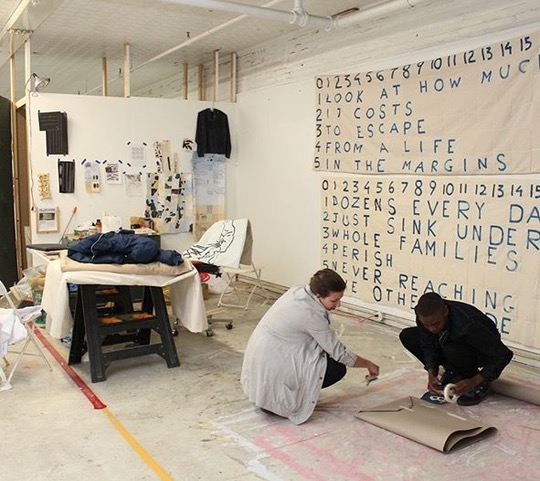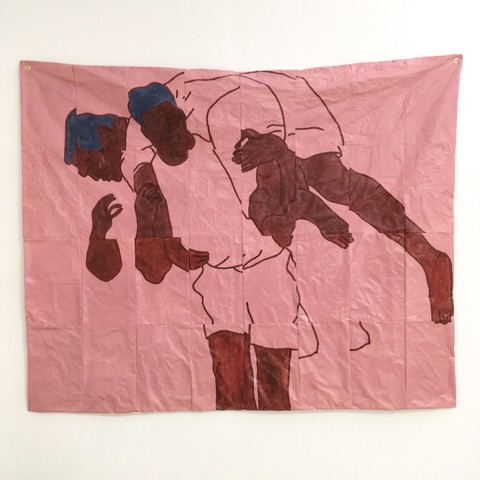 Lift
Acrylic on pieced fabric
2017
Courtesy of Casey Daurio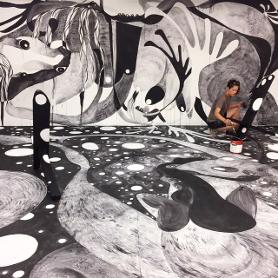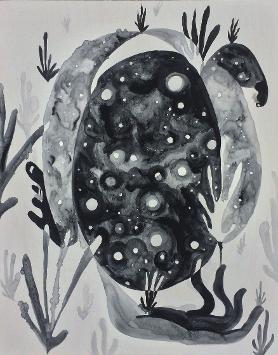 Christine Stiver's passion for working collaboratively was ignited in 2008 when she began teaching and organizing in Baltimore City Public Schools. In 2012 she joined Effervescent Collective, and in the spring of 2015 choreographed and produced her first full-length work. She is a founding member of Triptych: Movement Image Sound, which produces interdisciplinary performance in the Baltimore area. In 2017, Stiver graduated from SVA's Art Practice Program, receiving an alumni scholarship for her thesis project. Her multidisciplinary work has been exhibited at D:Center, Baltimore Clayworks, the YNot Lot, Terrault Contemporary, Motorhouse Showroom, Current Gallery, Penthouse and St. Charles Projects in Baltimore; Ohio University's Stiegler Gallery; and Present Company, the Midtown Hilton, Sideshow Gallery and the Painting Center in NYC. She was recently awarded an Acre residency based in WI.
Artist Statement
Impulsivity and brevity play an important role in this series of paintings, necessitated by the 20 min each day I would cut off the lights in my Baltimore City classroom and make a painting. Although this series began out of a desire to reclaim some sanity amidst the whirlwind of my teenage artists, it quickly transformed into a total embrace of the joyful chaos that is unique to young people. I hope they capture the full complexity of adolescence, while celebrating the teenage spirit. These paintings serve as a dedication and tribute to the incredible young people I had the fortune to learn from each day.
The Capacity of Many Worlds
Flashe on Panel
2018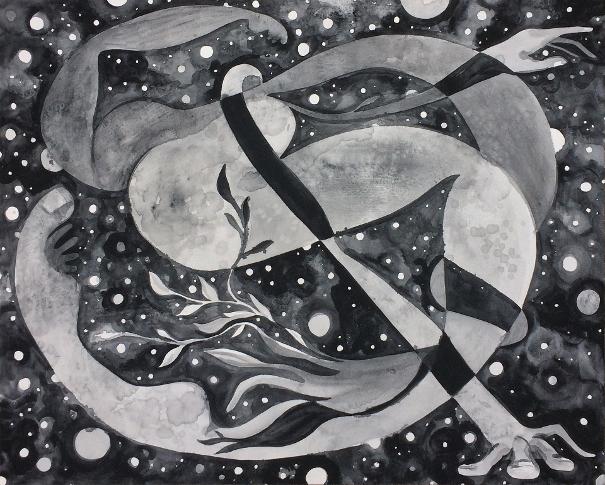 Entire Universe Within You
Flashe on Panel
2018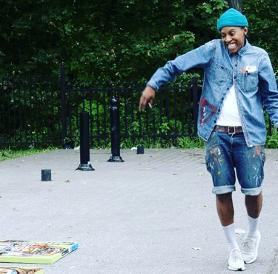 Artist Statement
GENESIS TRAMAINE's work focuses on the shape and definition of the American Black Face, exaggerated features capture the spirited emotions of the untapped, underrepresented soul of Black people through a mixture of collage, acrylic and oil based paintings. Equally about the process and the finished piece, Ms. Tramaine's faces are layer upon layer of real moments and imagined metaphors. She explores ethics and insanity, the mundane and the inhumane, spirituality, sexuality, and sentimentality. She digests the everyday and regurgitates it as work that evokes déjà vu, beckoning memories of past lives and glimpses of undiscovered futures. The blueprint of Genesis' style is rooted in strong mix of 1980's urban New York graffiti, and imagined images of gospel hymns sung on Sunday morning during church. Born in Brooklyn, NY Genesis is an Urban Expressionist painter who is excited about all things art, fashion, culture & education. Her passion translates, as she creates abstract portraits of men and women who transcend gender, color, and social structures as political or representative. Genesis earned her M.S from Pace University and B.S from Utica College of Syracuse University. Tramaine has exhibited nationally and internationally, including exhibitions at The Tree House, Governors Island, NYC, The Salt Space, Chelsea, NYC, The Raging Spoon Gallery, Toronto, Canada, AOF Gallery, NYC, and many others.

Mother With Faith from the I Surrender Series
Spray Paint, Oil Pastel, Acrylic Paint Sticks, and Collage
2018
Born in Brooklyn, NY, Genesis Tramaine is a highly motivated, self identified Black-­Queer-­Female-Bodied Urban Expressionist and Educator with passion in creative justice through the arts' in urban communities and academic centers that encourage blended learning systems, liberal arts and social justice models for students of color, alternative learners and students along the LGBT spectrum.
As an urban expressionist she creates abstract portraits of men and women who transcend gender, color, and social structures as political or representative. Through a mixture of collage, acrylic and oil based mediums, Ms. Tramaine's portraits are layer upon layer of real moments and imagined metaphors. She explores ethics and insanity, the mundane and the inhumane, spirituality, and sexuality. She digests the everyday experiences of living and serving in disenfranchised communities and regurgitates it as work that evokes déjà vu, beckoning memories of past lives and glimpses of undiscovered futures.
As a Mathematics and Urban Arts Teaching Artist her professional portfolio is comprised of experiences in instructional coaching, direct classroom instruction, gallery represented student art shows, project management, ed­‐policy and community organizing. One of her proudest career highlights was fulfilling the role of a Middle School Director for the Explore Schools Network in the Crown Heights area of Brooklyn, NY. There, she created individualized teacher development plans, professional development workshops, and facilitated parent group meetings which led to sustained student character and behavioral growth, while exhibiting her art nationally and internally. Genesis' solo and group exhibitions include The Tree House, Governors Island, NYC, The Salt Space, Chelsea, NYC, The Raging Spoon Gallery, Toronto, Canada, AOF Gallery, NYC, Gallery Aferro, Newark, NJ, and Paul Robeson Gallery, Newark, NJ. She has spoken on panels at Harvard University and The New School in NYC. She has also been featured in Afro Punk, Blavity, and Knack Magazine.
Malik Whitaker was born and raised in Newark, NJ. From a very young age his parents recognized his passion and talent as an artist and enrolled him in several workshops and art classes. He studied advanced art while attending high school at St. Benedicts Prep and later at Rutgers University and the Art Institute of America, along with several artist programs and residencies.
While growing his art career he has consistently worked as a bartender and massage therapist to support his dreams. From his studies, he has translated his style and technique into a complete disciplinary form. This form he has used to mentor inner city students for the Newark public school system and charter schools, such as Team Academy and Great Oaks Charter School, who are interested in art and want to learn how to apply their artistic disciplines to their daily lives.
His illustrations have appeared in many poetry books and publications. He is also an accomplished muralist whose work can be seen on several buildings, churches and colleges throughout Essex County. Malik is most famous for his "Brick City Project", a collection of bricks with painted scenes of Newark, which he's displayed in many galleries and exhibitions around Newark, Jersey city and NYC. As a Newark born artist, the trials and tribulations of living in the inner city has helped to shape Malik's passion and appreciation for life. His artistic style is pure, unique and thought provoking. It reflects his passion towards his fellow man. He seeks to pass on and inspire positive messages to his community an all who view his works.
He specializes in portrait and figurative painting impressions through visual translation based on individualized customer needs. He has studied many forms of art; oil, watercolor, acrylic, pencil, charcoal and pastels. His specific style offers a strong, colorful and mysterious perspective of people in their natural elements geared to show the forgotten beauty in all of us. Through this technique, he aims towards inspiring everyone to remember their own vitality for life and creativity. He currently is the owner of M-Print Art studios in Newark, where he continues to display his art while working on projects and mentoring students. Malik is also currently mentoring and teaching art to students with physical and mental disabilities and facilitating workshops in public school systems.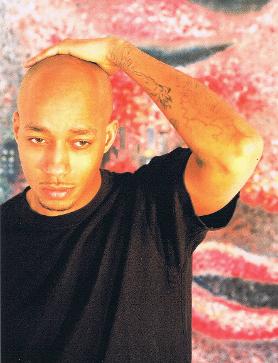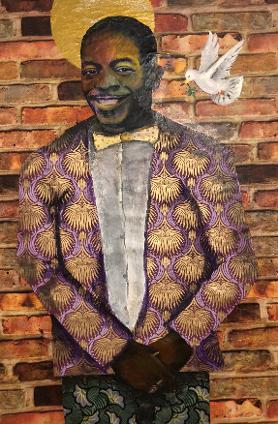 King Gilbert
Collage and acrylic on paper
2018
Artist Statement
In the pain-staking light that my buddy, my brother, my partner in Art was transitioning into a new world i felt it very appropriate to honor him and our journey with this new style and approach to telling the Brick City story. In a heart felt "so long for now"...It was serendipitous timing that I planned to produce a new acrylic collage portrait series of Newark citizens when this sudden illness fell upon someone so close to me. I've told many people that art heals....yet had such a hard time confronting this shock and absence this situtaion produced. It wasnt until I tranfered the grief into art and allowed myself to go thru the process of letting go of a friend that I was able to simultaneously empower my brush and finally exhale in relief and grattitude!
Layqa Nuna Yawar migrated to the USA from Cuenca, Ecuador during one of the country's most severe economic and political periods of instability in the late 1990's. This experience framed the artist's understanding of global migration as a necessity more than a privilege. His art developed from a combination of this fracture and a gained cross cultural identity developed in the USA. Through this experience, or because of it, visual art became his outlet and chosen language moving forward to higher education in New Jersey.
Having first received international attention as a street artist, his practice of illegal public interventions grew into one of painting large scale murals along an international circuit of mural festivals and projects that developed after 2010. His work now involves public art making in collaboration with, and reflective of, underrepresented communities of color. These projects are developed independently or in collaboration with students, non-for-profits, private entities, citizens and institutions. The level of commitment and engagement involved in this process extends to workshop education, curation, mentorship, public speaking and lectures for conferences and institutions like: El Museo del Barrio, The Newark Museum, Rutgers University, New Paltz SUNY, New York University and Rutgers University and as well as projects like Working Classroom in New Mexico, Casita Maria Center for Arts and Education in New York, Creative Art Works in New York City, City Without Walls in Newark and Conect Arte in El Salvador. He is also a founding member, teaching artists and former curator of Young New Yorkers, an art based alternative to incarceration program starter in 2012 that serves underaged youth tried as adults by the criminal justice system in Brooklyn, NY.
Layqa Nuna Yawar has mentored youth for both NYFA and City Without Walls in Newark and has been granted participation in a Creative Capital Blending Learning Program offered by Aferro Gallery as well as being named an illustrious honorary citizen of Asuncion, Paraguay for his work during the 2016 Latido Americano festival. He has been recipient of residencies in Argentina, the USA and South Korea, including keyholder residencies at the Lower Eastside Printshop, the Newark Printshop, the Brodsky Center at Rutgers University and Working Classroom in Albuquerque, New Mexico. His work has been shown in various galleries nationally and internationally as well as art fairs and museum including the Newark Museum in Newark, NJ, El Museo del Barrio in New York, NY, and the Lancaster Museum in Lancaster, CA.
He works in a range of mediums, including studio painting, public murals, installation, project curation, sculpture, public art interventions and collaborative and experimental work, most recently by participating in the Tribeca Film Institute's Interactive Immigration Co/Lab. His work has been written about in The New York Times, The Star Ledger, The Huffington Post, NBC Latino, Fusion, Brooklyn Street Art and other publications, books and online. He has appeared on various tv and online news outlets in the USA and abroad such as Telemundo, Huffington Post Live and MTV, talking about his art and projects and issues of migration and cross-cultural identity.
Artist Statement
These two portraits are the results of larger mural projects and represent my process when it comes to a studio practice based around creating public art. Most of my work happens outside and is large scale in nature, which means that I travel to make art and that it never stays with me but along walls and communities that host me. My studio practice then happens as I travel, or when I stay still enough to either reflect on a mural project or to create work leading up to that project and it usually takes the form of small drawings or paintings done in travel sketchbooks or small canvases. "Mirada a la Tierra" is a painting based on images taken by me of a Shuar community in the Ecuadorian Amazon and it speaks of the communities connection to the land and their mythology. The project also created murals around their community. "Mi Casa" is the product of a collaboration with "Casa de Don Pedro", on of Newark's oldest Latinx centered community service organizations. The collaboration included workshops with youth in order to create a public mural at their headquarters and this print for their anniversary Gala.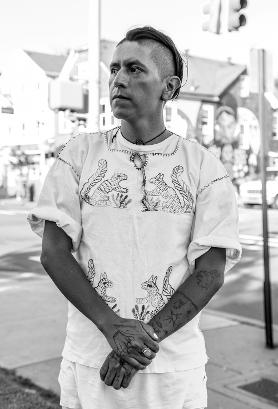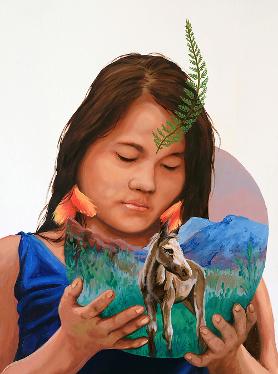 Mirada a la Tierra
Oil on canvas
2018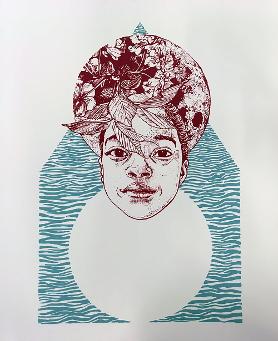 Mi Casa
Two color silkscreen print
2018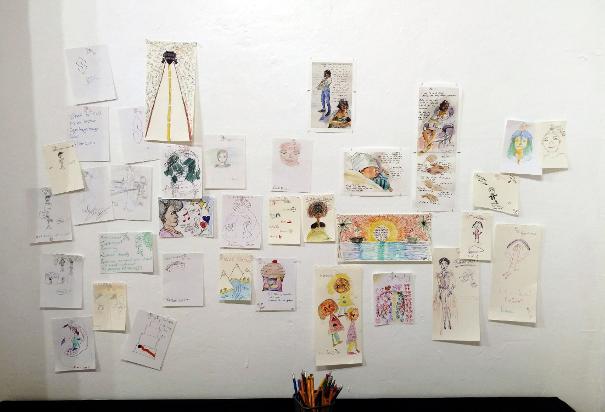 As part of this exhibition we wanted to make sure we acknowledget that people we love are everywhere and give visitors to the gallery the opportunity to add their own portraits to the exhibition. Using drawings Colin Campbell created of his wife and new baby as inspiration all are invited to draw and/or write about someone you love. This love may be platonic, familial, romantic; someone you only know in passing, but are overjoyed exist in the world; someone you have never met, but appreciate in the deepest, most meaningful way or any and all other forms of love. This wall of love will continue to grow over the month of the exhibition.