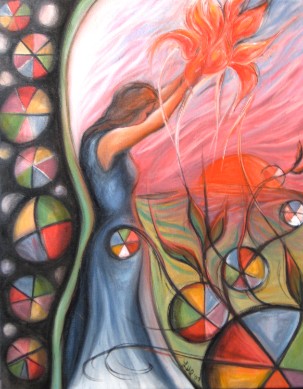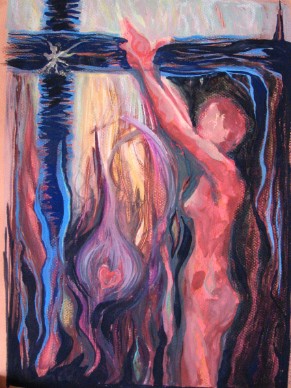 LISA PERKOWSKI, IHM
Circles of Conversion
Oil Paint
2007
Womb Offering
Gouache
2007
These two paintings stand for both the inter- and intrapersonal process of transformation in becoming persons of peace.
In Circles of Conversion, a figure bears a flame, symbolic of one in the process of self-validating her own inner voice. The figure does this in relationship to others, represented in the "conversion circles" that grow and sprawl and transform each person along the way. Healthy conversion, in which each person feels validated, is vital in the process of peace.
Womb Offering represents my own inner process of coming to peace with my decision to become a woman religious. The figure is offering her womb, symbolic of my choice to vow chastity and grow into a woman who is available to receive God and receive people with an unconditional love. Yet, the figure's heart, symbolically wrapped in an onion-like vessel, represents the awareness of my humanness, that becoming a woman of love and peace is a life-long process of unfolding God's heart within my own.