Our Words Will Still Be Heard is the second exhibition planned in conjunction with Rising Up an education program for middle school students organized by the Modell Performing Arts Center at the Lyric. Curated by Sarah McCann, the exhibition asked professional artists to create work about the power of voice that were exhibited alongside art and performances of lyrical narratives created by Baltimore middle school students expressing personal stories and their perspectives on life.
At a time when people are being silenced, the arts provide an opportunity to speak out. It is only through the rising up of all voices that true equilibrium and harmony can be achieved.
Exhibition on view at Jubilee Arts and MICA PLACE April 5 - May 15, 2019.
Click here for images of the installation at Jubilee Arts.
Aliana Grace Bailey is a mixed media artist, designer, and social good doer who thrives on vibrant colors, intricate patterns, bold typography, and raw emotion. She strives to give viewers a sense of joy, healing, and a reminder of how to love—themselves and the world. Aliana's work is a juxtaposition of beauty, a sense of optimism, and dark realities. She loves to dig deep into the process, immersing herself in each step of the journey.

Aliana is a Washington DC native and a graduate of North Carolina A&T State University, where she earned a Bachelor of Social Work and Bachelor of Art in Visual Arts/Design. In 2017, Aliana completed the rigorous Art for Social Impact fellowship at The Sanctuaries and launched its socially-engaged Teaching Artist program. Aliana uses art as a means to explore and manifest awareness of self, black womanhood, the world around her, and all things sacred to her. By practicing vulnerability, self-love, and empathy, she hopes to inspire the same in others.
Currently, Aliana is a practicing artist, graphic designer, teaching artist at The Sanctuaries, and a graduate student pursuing her MFA in Community Arts at Maryland Institute College of Art (MICA). Aliana is a 2018-2020 recipient of the Jacob & Hilda Blaustein Foundation Fellowship and the Leslie King Hammond Graduate Fellowship.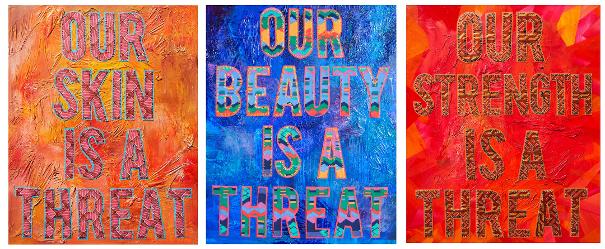 THREAT, 2014-2015 Mixed Media on Canvas
Mildred Beltre is a Brooklyn-based American multi-disciplinary artist known for activist works which focuses on how social justice and grassroots movements might reconfigure society.
Beltre was born in New York City in 1969 and grew up there. She completed undergraduate work in art and anthropology at Carleton College and received her M.F.A from the University of Iowa. She is a professor at the University of Vermont.
Beltre is co-founder of the Brooklyn Hi-Art! Machine. This collaboration with Oasa Duverney, started as a way to give kids in Crown Heights, Brooklyn a creative outlet. Their ad hoc neighborhood arts camp facilitated collaborative projects such as installing a herb garden planted in recycled bottles to hang from the Franklin Avenue Shuttle tracks.
Mildred Beltre received a 2018 Media Arts Fellowship. Her work is held in permanent collections including the Brooklyn Museum in Brooklyn, NY and the Walker Art Center, Minneapolis, Minnesota.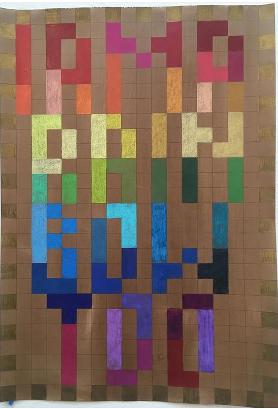 Schroeder Cherry, a native of Washington, DC, grew up as an arts kid, drawing pictures and playing with puppets. His mother brought home legal pads from the office for him to attack with pencils and crayons. In high school he hung out with performing arts students at McKinley Tech and Workshops for Careers in the Arts, (the precursor to Washington's Ellington School for the Arts), but knew he was more a visual artist. His senior year of high school was spent in Switzerland, where he attended Gymnasium Munchenstein . The art courses there and at Kunstgewerbeschule Basel were welcome retreats in country where he was learning to speak German.
Back in the US Shroeder enrolled in college, majoring in fine art. After landing a summer job at The Art Institute of Chicago during junior and senior years, he knew museums were the place for him professionally. He earned graduate degrees in museum education from George Washington University in DC, and Columbia University in New York. Over a period of 25 years he has held positions in seven museums across the US. Additionally, he served 12 years as a grantmaker.
Today Cherry's works are informed by a broad sweep of narratives, literature, mythology, music, current events and history. His preferred medium is acrylic with found objects on wood. Keys, cowrie shells, glass and metal often appear in the work. Although the works tend to have a storyline, he appreciates hearing viewers' responses to the pieces; there is no limit to interpretation.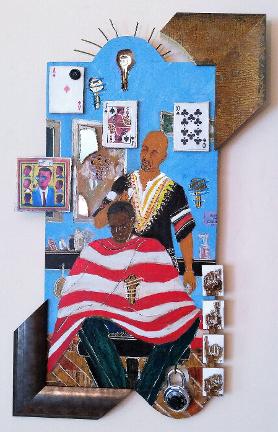 Trim, Barber Series #15, 2018
Logan Ryland Dandridge is a visual artist whose films and video installations interpret the nuances of African American culture through the poetics and aesthetics of experimental cinema. His work interrogates various histories through a combination of assemblage, superimposition, and multi-channel orientation. As a filmmaker, cultural referencing, nostalgia, and religion are themes explored in his work. Dandridge is a native of Richmond, Virginia. He completed undergraduate work in film and media studies at the University of Virginia and received his M.F.A from the University of Oxford's Ruskin School of Art. Currently, Logan is an Assistant Professor of Studio Art at DePauw University.
A Litany for Survival, 2018
Nicole Foran is an Associate Professor of Art and Chair of the Department of Art and Design at Middle Tennessee State University. Originally from Canada, she has been living and working in the United States for over a decade. She earned her MFA from the University of Cincinnati in 2008, with an emphasis in Printmaking and Drawing. Professor Foran's art is exhibited internationally, with her work most recently being exhibited in Canada, the US,and South Korea. She will be presenting her research on effective communication with non-verbal and ESL learners at the 2019 International College Art Association Conference in NYC.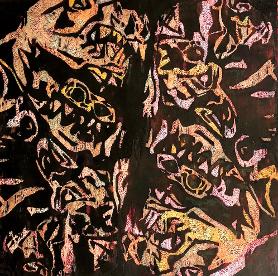 Jessie Houff was born in Fairfax, Virginia and raised in the Shenandoah Valley. She grew up with values rooted in family, travel, and spirituality. Her family prioritized spending time together, traveling domestically and internationally, camping in National Parks, and expressing their artistic talents through performance and visual arts. She was raised in the Church of the Brethren, a small Christian denomination whose focus is to continue the work of Jesus peacefully, simply, and together. All these things inform Jessie's education, professional ventures, and artistic practice.
Jessie earned her Bachelor of Arts in Art and Theatre at Bridgewater College in Virginia. After graduating she went on to be a full time volunteer through Brethren Volunteer Service (BVS), a program dedicated to orient volunteers to work in non-profits around the country. In the winter of 2017 Jessie was accepted to the MFA in Community Arts program at Maryland Institute College of Art in Baltimore, Maryland. While there she applied her passion for community engagement to her artmaking. In conjunction with earning her master's degree Jessie worked as an AmeriCorps member for a year as a Visual Arts Teacher at Access Art, an after school arts organization serving middle school youth of Morell Park, Baltimore.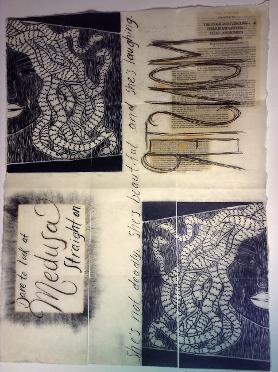 Benjamin Jancewicz is the president & founder of Zerflin, which he created in 2000. Though it is among many talents, vector illustrations would be considered his forté and his favorite choice of artistic expressions. Growing up, Benjamin loved to read graphic novels that involved robots, aliens, and fantastic inventions. These types of images can be seen in a lot of his drawings and illustrations, but as a challenge to himself he started illustrating people, incorporating typography as an enhancement. He is a husband to his best friend and co-owner of Zerflin, Tamika, and a father to two wonderful kids. Find out more about Benjamin and his company at Zerflin.com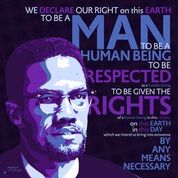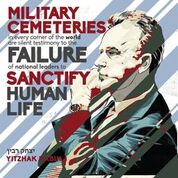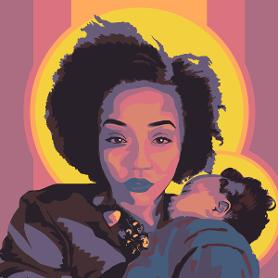 Malcolm X, 2015
Yitzak Rabin, 2014
Korryn Gaines, 2017
Ryan Lewis is an artist, animator, graphic designer, and educator based in Kalamazoo, Michigan, USA. His work has been exhibited nationally and internationally at venues such as Target Gallery (Alexandria, Virginia) Manifest Gallery (Cincinnati, Ohio), the South Bend Museum of Art (South Bend, Indiana), CICA Museum (South Korea), and Videomedeja (Novi Sad, Serbia). Ryan is an assistant professor of Graphic Design at Western Michigan University's Gwen Frostic School of Art. Ryan has designed professionally for the Voinovich School of Leadership and Public Affairs and Henry Schein, Inc. Ryan earned an MFA from the Ohio University School of Art + Design and a BFA from Utah State University.
Joy Li is an interdisciplinary artist from Shenzhen, China. Her work seeks to amplify the absurdity and the beauty we find in our every day.
Elizabeth Miller was born in Grand Rapids, Michigan, the daughter of a registered nurse and a freelance illustrator. Throughout her childhood, she observed first-hand a life devoted to art. In sixth grade, she created her first large project, a life-size sculptural representation of herself made from papier-máchè and stuffed pantyhose, and clothed in her own dress. She experimented artistically through her teen years, her sketchbook always close at hand. While pursuing a bachelor's degree in Ministry, she developed her portfolio as a sketch artist. Her work as a muralist can be found at Madison Square Church in Grand Rapids, Michigan, and in the headquarters lobby of the Baptist Convention of Maryland/Delaware, Columbia, Maryland. In 2008, after moving to Baltimore, Elizabeth collaborated with Unchained Talent LLC to decorate its space at Clifton High School. She created four 4' by 7' banners illustrating its after-school mission to make creative arts accessible to inner city students. These banners are still displayed at the school's open house and other academic presentations. She currently partners with a local Baltimore organization, Access Art Inc., which offers after-school and summer programs in Title 1 schools, where families live below the poverty line and most of the children receive free or reduced lunch. Her work has been on public view in Baltimore at City Arts and XS Asian restaurant, as well as the traveling gallery show 'Pancakes N Booze'. She has her own Etsy store, and her work is on regular display at Baltimore city festivals. Elizabeth has a bachelors' of Art and Design from Towson University, graduated summer 2017, dean's list.. She has been attending MICA's low-residency summer program in Studio Art (MFA) in the summer.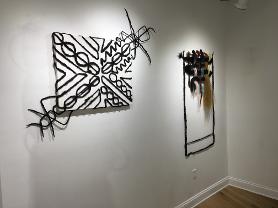 Robert Moon studied sculpture at the Kansas City Art Institute in the mid to late 80s. Later moving to Baltimore where he became involved in the vital art scene of the 80s and 90s. Moon made friends and has been greatly influenced by many of the cutting edge Baltimore poets prominent at the time. Submersing himself in spontaneous multi media events involving local bands. Going on road trips with said mentioned Charm City contemporaries. Being introduced to other influential artist, poets and musical ex pats who helped shape the punk rock inspired radical John Waters styled uniquely Baltimore art scene, and led him to Brooklyn. As his adventures continued he ended up living in NYC for 12 years.

Through his endeavors he became involved in architectural model making, set and prop building, exhibition installation and art crate building. In addition to Baltimore, Moon has shown his work in Kansas City, St.Louis, Atlanta, Chicago and NYC.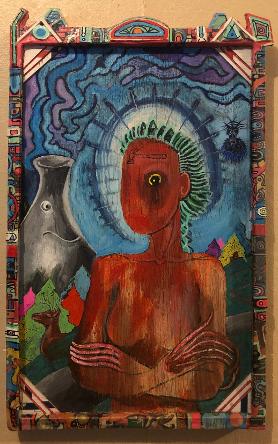 The Madonna of Three Mile Island, 2016
Elizabeth Shores is a researcher and an artist who investigates aspects of production, agency, and power, drawing connections between the search for interpersonal resonance and the struggle to find it within a neoliberal system. They identify symbolic relationships between nature and productivity through site-specific performance, audio, video, FM transmission, writing, and collaborative projects. Their research is made visible through My Presence is Productive, Inc., an institute designed to appropriate and investigate the integrity of corporate personhood, by enacting a generative system of engagement to depict the structural biases present in seemingly objective data and information.
Shores typically works with artists, scientists and lawyers in a fast-paced praxis of call and response. In addition to their own creative practice in which they produce work of social property at a national historical museum in Sarajevo with a linguistic anthropologist, they are currently co-curating an exhibition at the University of Texas El Paso Rubin Center scheduled for the 2020-2021 school year.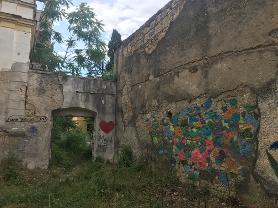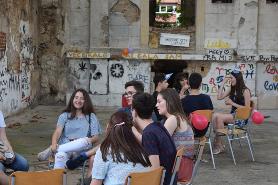 Site Upon Arrival and Pop Up Cafe, 2018
Justin Sorensen is an artist based in Central Ohio. Originally from Northwestern Pennsylvania, Sorensen received his B.F.A. from Kutztown University in Kutztown, Pennsylvania, before moving on to complete his M.F.A. at the Rhode Island School of Design in Providence, Rhode Island. His work has been exhibited throughout the United States, Canada, and Japan. Currently, he is an Assistant Professor of Art at Mount Vernon Nazarene University.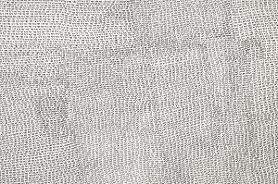 Untitled (Yes), detail, 2017
Emily Tucci consciously repurposes what she takes from the environment in her art in order to advocate for the natural world. She makes her materials from natural elements, such as decayed plant life, soil, sand, and salt. All materials, both man-made and natural, inherently come with personal and cultural context and associations. These meanings can never be disassociated from the material. They have the ability to convey a powerful point of view when utilized and manipulated. Tucci explores material and surface manipulation to create a conversation about the interaction between the animal realm and humankind. Through the agency of manipulating or constructing her mediums, she tells a story surrounding issues of wildlife conservation and animal rights. She pays homage and shows respect to the wild nature and inherent beauty of each individual creature. Her mixed media experimentation, scale, and diversity of textures combine to present the viewer with an interactive work that calls for physical engagement. Through this engagement, the viewer leaves with a fuller understanding of the natural world and the desire to continue the conversation.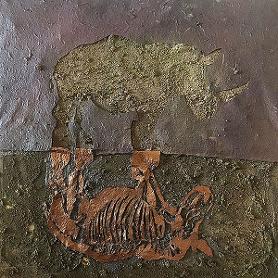 As Above, So Below: Rhino, 2019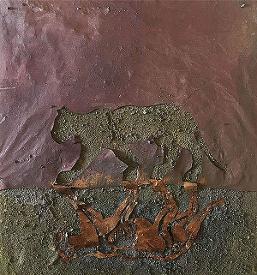 As Above, So Below: Leopard, 2019