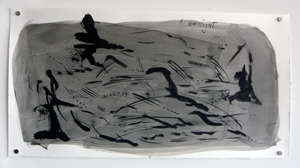 A Gunfight (part of the Bond series)
Gouache and ink on paper
2010

Shadows lurk, a gun is pulled out, a couple seduces each other, a flight to an exotic place is boarded, a life is lost, the sun rises again. There is so much excitement in life when it is one's job to seek it out: an education through experience. This is my war. I fight for my love of freedom and life's opportunities.