How We Are Healing is a visual art exhibition produced alongside the Keswick Wise & Well Center's Art as an Act of Healing Symposium taking place on Friday, December 10, 2021. The symposium and exhibition will examine the ways art can serve an essential function in the process of healing and wellness.
How We Are Healing looks at the creative process as a radical act of healing. Art as a way of processing pain and trauma; art as a way of forging connections and rebuilding relationships; art as a way of communicating when words fail to express the depths of our feelings and emotions; and art as a means of transforming inequitable structures and healing oppressive systemic issues. This exhibition will focus on art and the artist's ability to express our truths individually and as a collective in a way that mends what is broken, heals sickness and suffering, and opens space for growth toward wholeness, justice, and liberation for ourselves and our collective communities.
Participating artists: Hannah Brancato | Ram Brisueno | Colin Campbell | Alanah Nichole Davis | Sara Dittrich | Norm Dubin | Quentin Gibeau | Kellie Gillespie | Shana Goetsch | Kali Hinton | Nora Howell | Zoey HowelL-Brown | Cinder Hypki | Benjamin Jancewicz | Tacie Jones | Dasha Kalumuck | Ken Krafchek | Racine Lancaster | Catherine Leberg | Rikiesha Metzger | Kenlynn Schroeder | Laura Sligh | Angela Sriram | Tyrone Weedon
Click here to view images of the exhibition installation at Keswick Wise & Well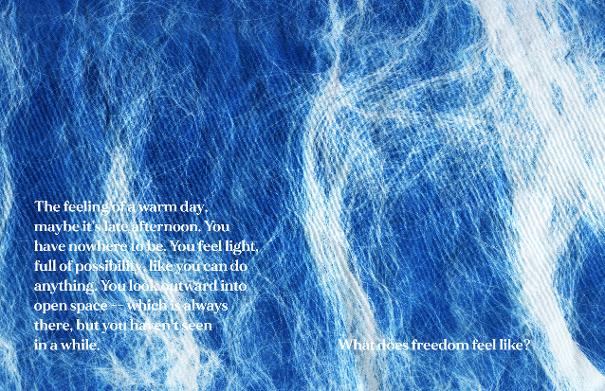 Dreamscape is a representation and artifact of How I am Healing. This zine is part of a project exploring change, transitions, and the sense of self that, for me, is attached to my dreams - both the aspirations I have for my life, and my subconscious. The zine is filled with meditations that I have found helpful during a time of transition, and an interactive space for visitors to reflect on their own experiences with change.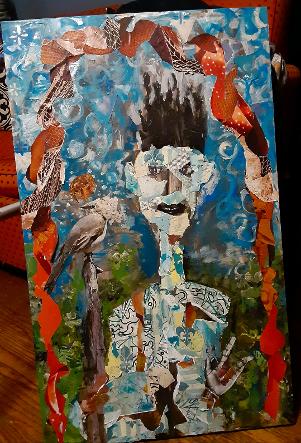 Searching for the Dreamtree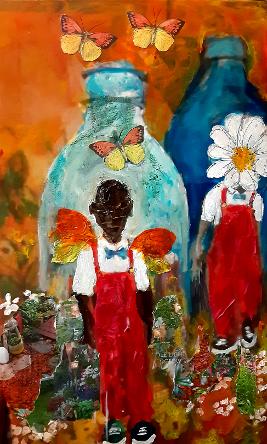 The image of the solitary artist working away at their craft, alone, is more. We create to share, to connect with others, with nature, with something higher. We are in our own bottles, but they are open. Art is a way to become a part of something bigger than ourselves. My work "free" is a memory as a child catching butterflies, showing friends and family how wonderful they are, how special...and then we set them free. Connecting us to something more.
Freeland, Twilight in Autumn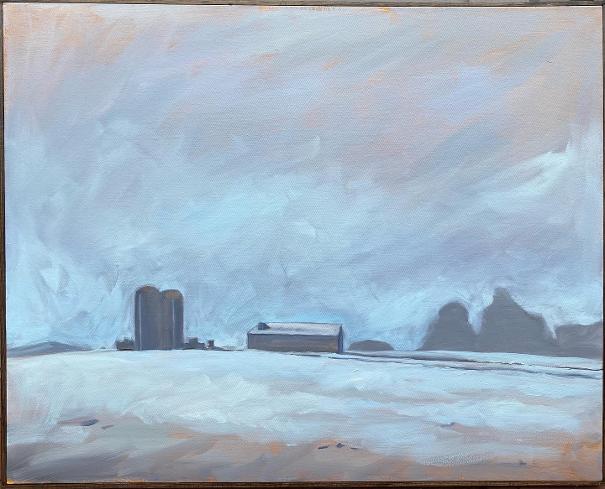 Freeland, Foggy Winter Morning I
Landscapes are something we live in. That often means they're so ever-present that we forget to look at them, truly, but they inform so much of how we exist and navigate our lives.
During the pandemic, my small family and I moved back to Maryland, setting up a home in the rural countryside. Since then, I've been doing a series of paintings focusing on the landscape around our home. The rolling countryside, the farmlands, the big skies, and the forests. During a long period where we've seen family and friends seldom, I've found connection to the land around me. It's where I am raising my sons, experiencing the seasons, and its natural beauty is something I want to protect.
The act of painting the landscapes we find ourselves in helps me remember and connect with them more deeply than I can just by observing in passing. It's a form of meaningful thought taken into solid form, a focus on the essentials. For me, it's grounding myself in the beauty and quiet I can find in the present.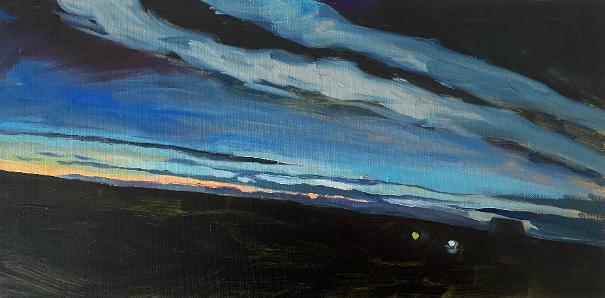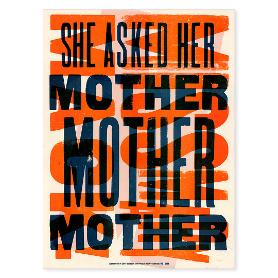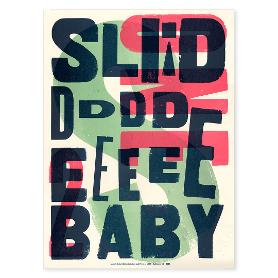 Miss Mary Mack & Slidddeeee Baby were created during my capstone project at MICA and after workshops I taught at Jubilee Arts, Enoch Pratt Library and other community organizations in Baltimore. I studied the connection between nostalgia and healing. Nostalgia and looking back at what we've come from and culturally hold dear is how we in the Black community are healing.
I've selected these particular prints because they serve as a reminder of the simplicity of my youth , our collective innocence and how something as simple as a school yard song could melt all your troubles. Why shouldn't we be afforded those simple luxuries of healing, together, out loud.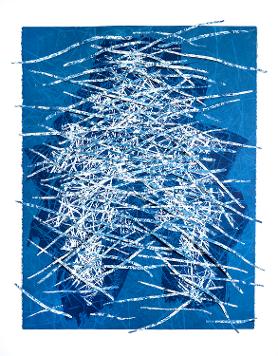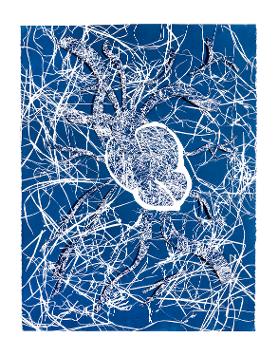 The focus of my artistic practice lies in making the viewer conscious of the unconscious bodily rhythms of everyday life—breathing, walking, beating. When the pandemic began, there was a sudden global renewed focus of the most basic, unconscious rhythm we experience every day: breath. Since then I have begun researching deeper through reading and breathing exercises how our body uses breath to regulate anxiety, and how it can be used to heal our bodies from trauma through stimulation of the vagus nerve. Through this research I have gained a renewed appreciation for how much this seemingly simple act can heal our bodies (mentally and physically).

In my newest series of works, I build imagery resembling nervous and respiratory systems that are created through a cyanotype photographic printing process where tree leaves and other foliage are exposed to the sun on chemically coated paper to create cyan-blue prints. The process of cyanotype printing with multiple exposures is slow, repetitive, and laborious. I have found the process itself healing. It is a tool to get my body moving while also giving me time to reflect on the interconnectivity of my body and the land it inhabits.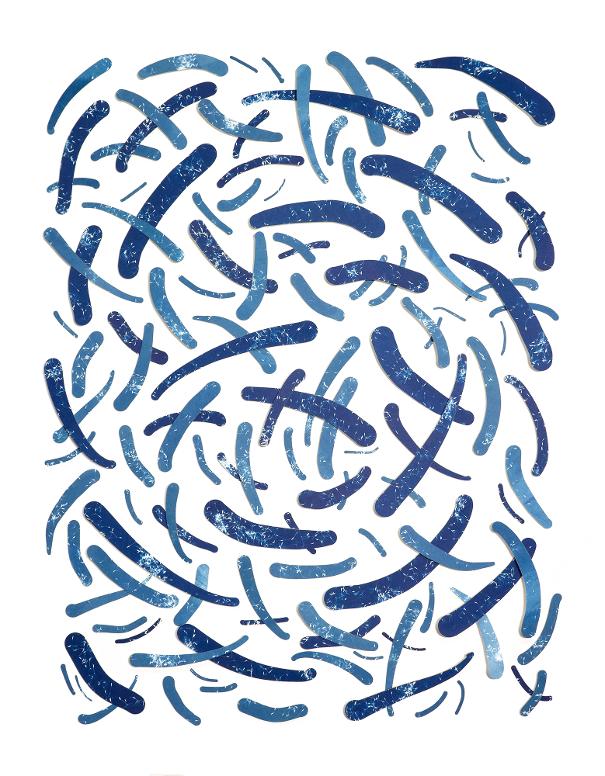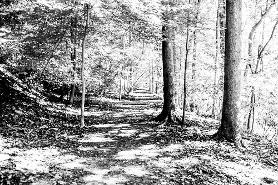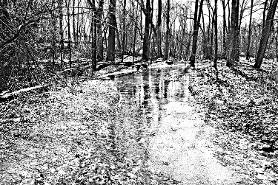 Nature heals. If we can amble through it, we can smell , hear, and feel a regenerative presence. If we are immobile, we can imagine it, and the memories can lift us up. These photographs represent paths through nature with destinations of promise and dreams.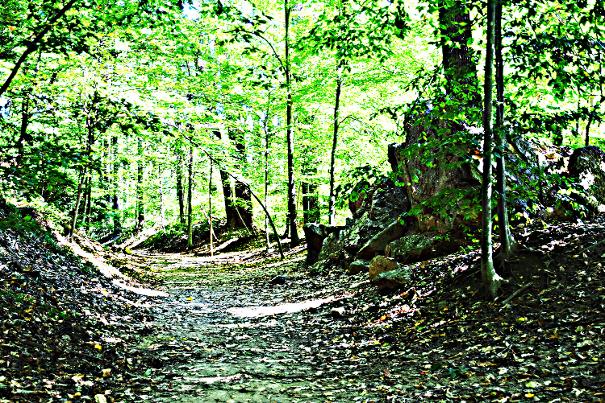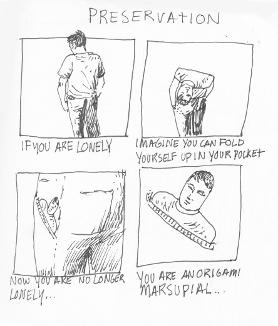 Preservation from the Joie De Vivre series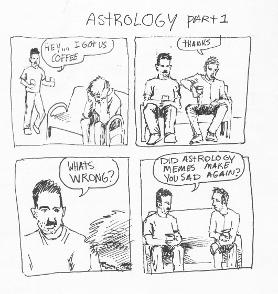 Astrology: Part 1 from the Joie De Vivre series
The Joie De Vivre series are excerpts from an ongoing short graphic novella documenting the feelings, anecdotes, and humor of re-emerging into the world after experiencing personal loss, compounded by a pandemic. Some of these are true, some pastiche, and some are magic realism. The Joie De Vivre series as a whole represent the joy of navigating life's beautiful and stupid mystery, part of what makes living in the present a compelling and whimsical part of healing process.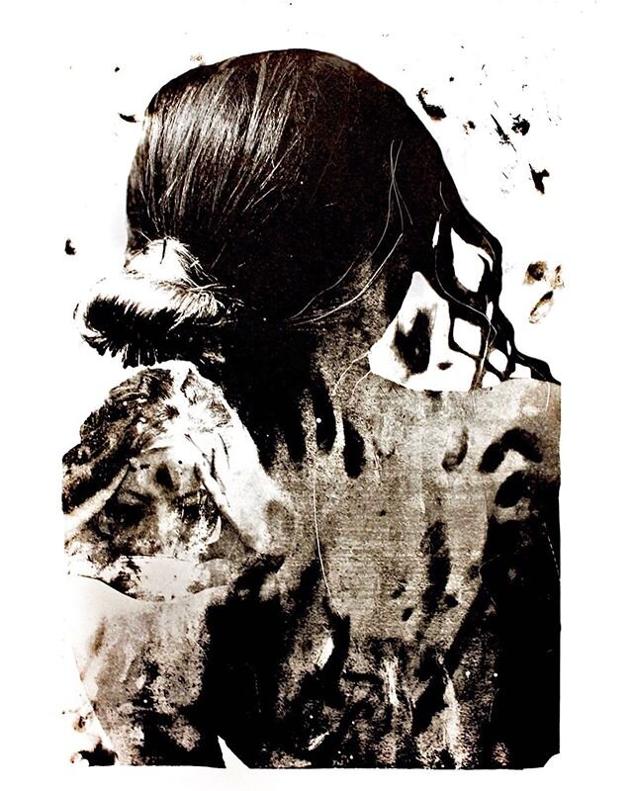 This piece expresses the trauma and terror that corresponds to being a sexual assault survivor in today's modern world. The marks made on this print consist of a combination of physical abrasions, grease, fingerprints, saliva, and tears. A deeply personal piece, this work aims to communicate pure essential emotion as well as portray the confusion and inner turmoil associated with one's body being 'violated.'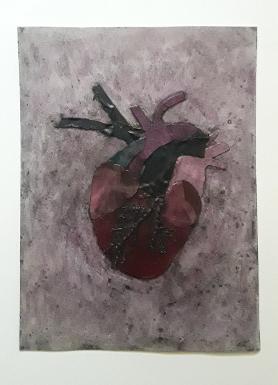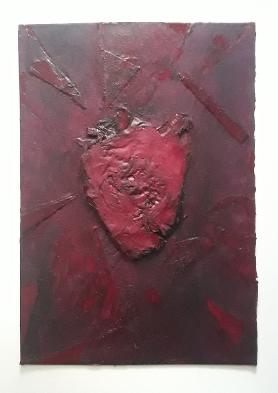 This summer has been full of loss for me. That's as encapsulated as I can get.
I had been so unreasonably busy and stressed out for several months, so I hadn't been able to feel the full force of the loss, of the deaths I've experienced so close to me. It was leaking out slowly, but I knew I still had more, or that I had just begun.
It took seeing someone else I care for, cry over their/our loss, to feel the weight of it all come crashing down on me. I described it later as, "I just lost my SHIT". I didn't actually know what I was feeling, but it was blinding, and probably allthethings; just jumbled up like a horrible, angry ball of burning-sharp-punchy.
I was already SO angry with the Universe; my dad died about a month prior to this loss, in late June. Something with his heart, it was all so sudden. It left me raw, and lost, and alone, and vacant, and scrambling. I spent all summer pushing through and surviving, so I hadn't had the time to fully grieve...for anyone.
And then I had another, more metaphorical death ("I'm lost." -- "Yes. You are, baby"). I've had more deaths, of course, before... but the metaphorical ones make it that much harder for me to grieve. There's nothing tangible. What do I do with...ALL THIS.
I received a scholarship for a Grief Work course last spring. Synchronicity determined it would start live, during my dad's funeral, so I obviously missed it (Touché, Universe). I know I have to start the course now. And I knew I had to MAKE stuff with my hands. And I knew I had to write.
These three hearts are about these three deaths. More specifically, they tackle the concept of the "third death" in which, sometime in the future after our passing, our names are spoken for the last time.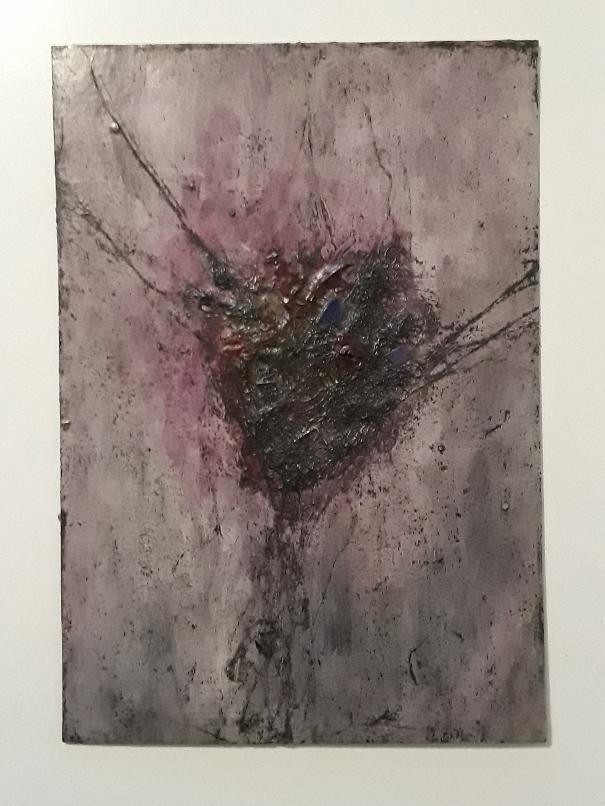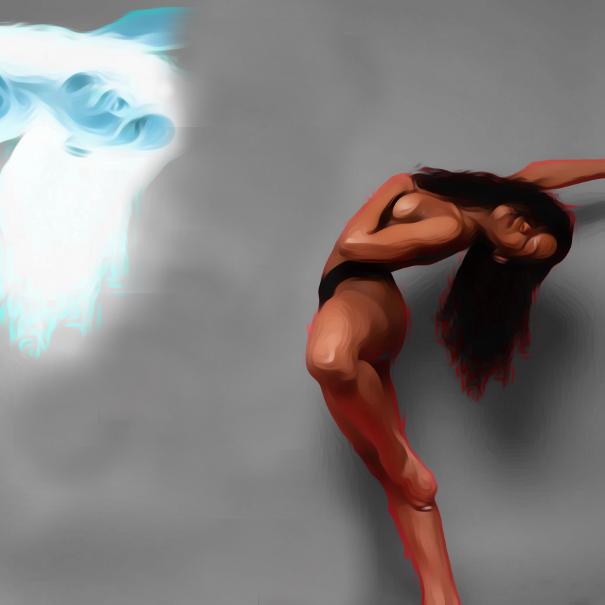 HOLY SPIRIT, When you move I move
This piece display Me allowing Holy Spirit to lead me. The greatest thing God gave us is choice, without choice it would be slavery. The girl in the photo is actually me, and it's Holy Spirit that's been my comforter and leading me to freedom from bondage and into being Healed. Healed from insecurity, anxiety, people pleasing, addiction, Heartbreak etc. This is how I'm truly healing, it's by The Spirit of God. I'm a believer that Jesus died for my sins and he left us with theHoly Spirit stating He will be with us according to John 14:15-21.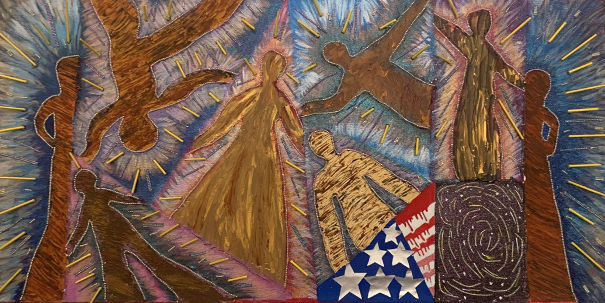 Living in the periphery of a gaze based on race and patriarchal powers that be, has brought great trauma in my life. I utilize mixed mediums to embody the joy I create despite the trauma; I reaffirm my identity. Abstract impressionism and afro-surrealism are applied in my work to reflect on how these experiences have affected me politically, emotionally and mentally. I wish to spark inspiration within other people of color to look within their subconscious to find refuge and heal from the forms of oppression they have experienced.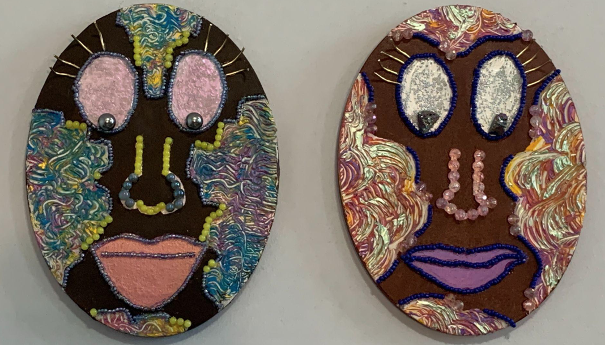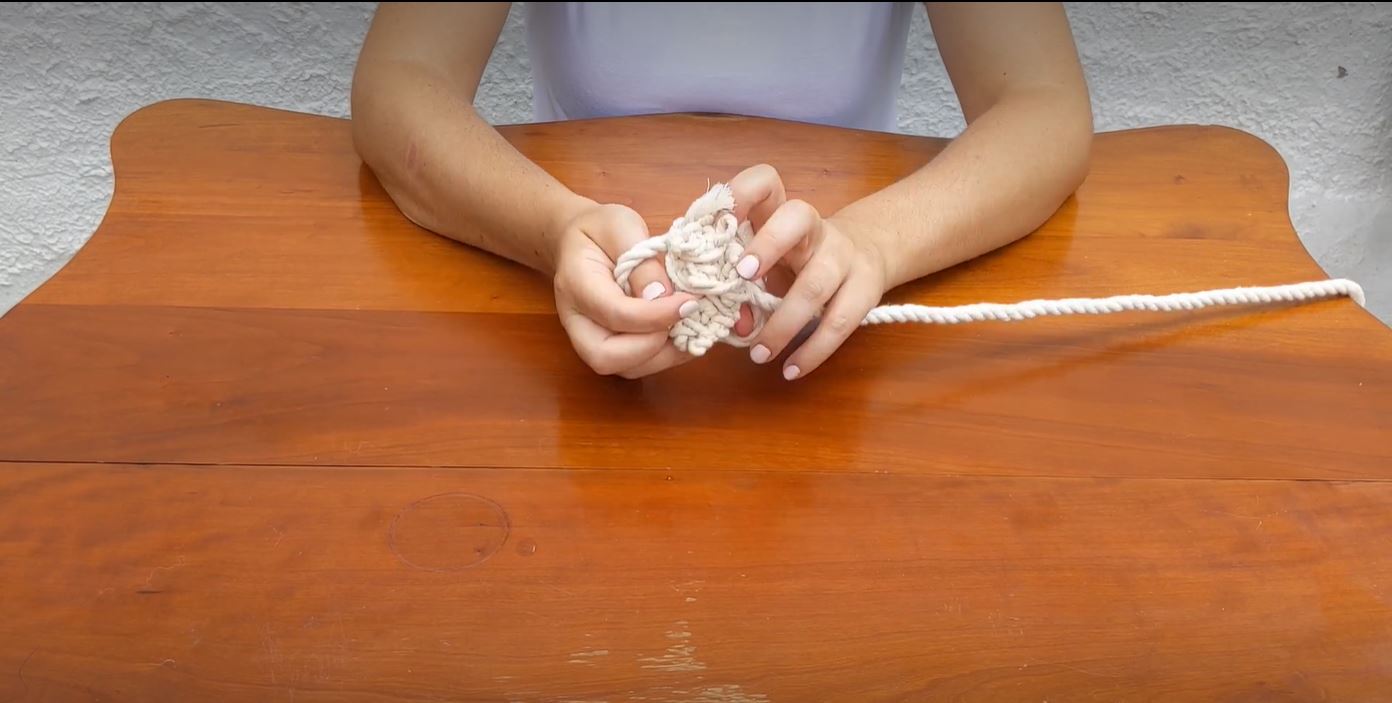 The End of My Rope - (100 days in a pandemic)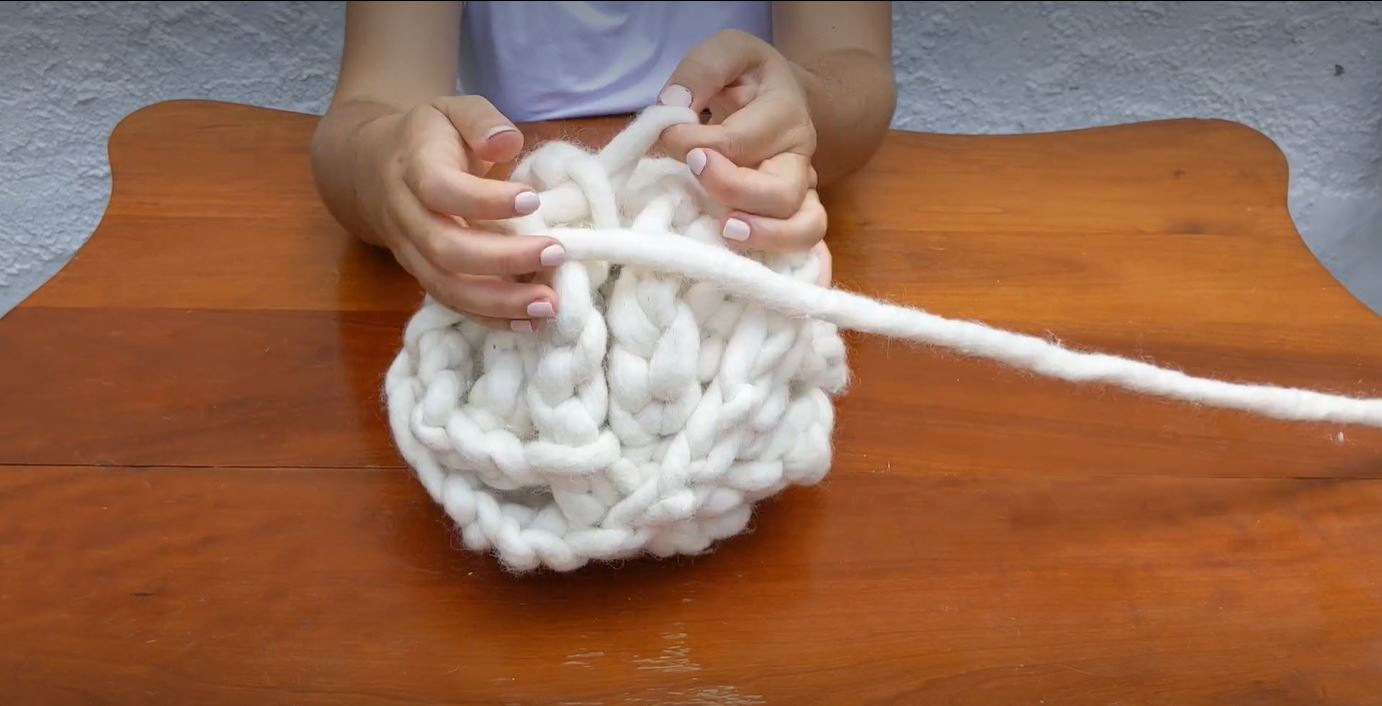 The End of My Rope - (250 days in a pandemic)
The End of My Rope is inspired by the persistent anxiety and fear filling my chest since early 2020, this performance piece creates a physical representation to how I felt throughout the past year and a half--the continual uncertainty, grief, loss, and tragedy.
I begin the piece fidgeting with a rope, nervously, then I start tying knots. Each knot symbolizes the 428 days from Baltimore city's lock down until the day I was fully vaccinated. The accumulation of the knots fills the table, my arms, and my entire chest cavity (physically and metaphorically). I then begin untying knots. I untie 86 knots symbolizing the number of days from the day I was fully vaccinated until the rise of the Delta variant changed the game once again. At this point, I start re-tying knots, more dread, more uncertainty, more fear. You can watch a timelapse of the performance here.
After sharing this piece publicly, friends and colleagues shared their own anxiety and fears from the past year. The work created a common language and imagery from which to share our stories. For me personally, labeling my anxiety and creating a physical manifestation of how I felt gave me an ability to understand and process my experiences, a critical step in my own healing.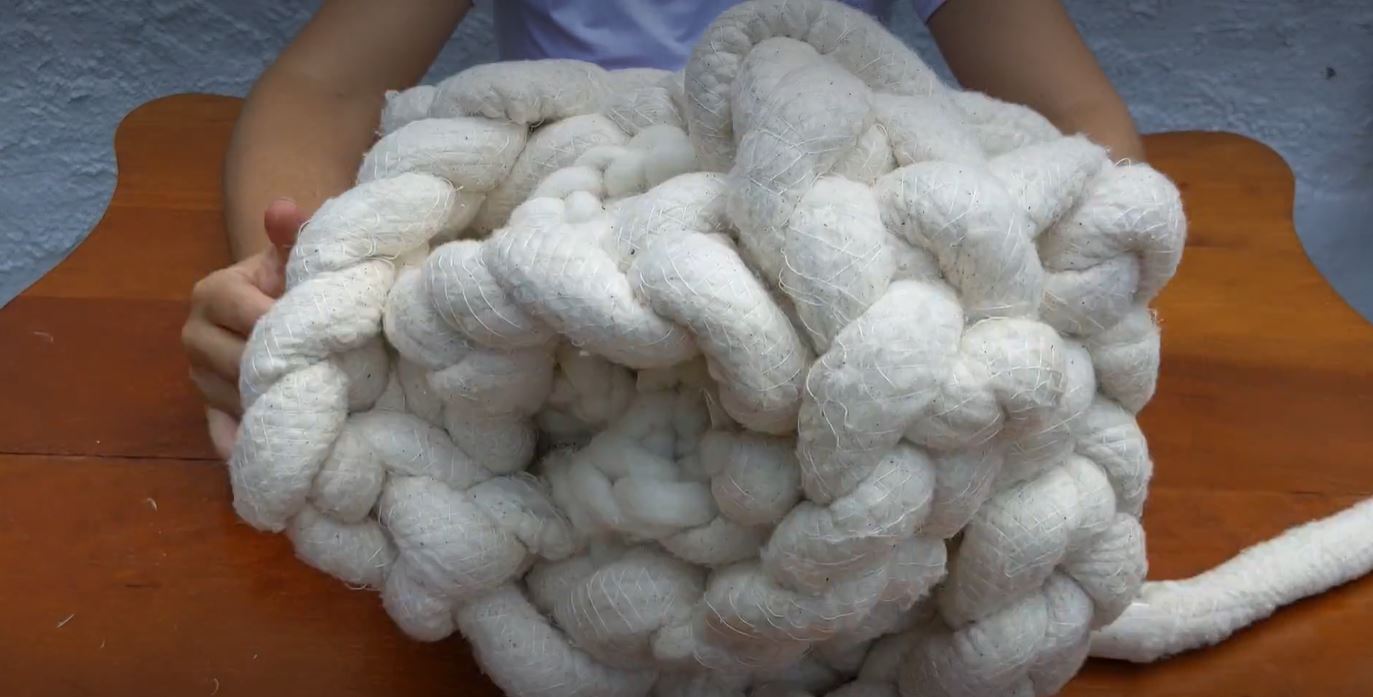 The End of My Rope - (428 days in a pandemic)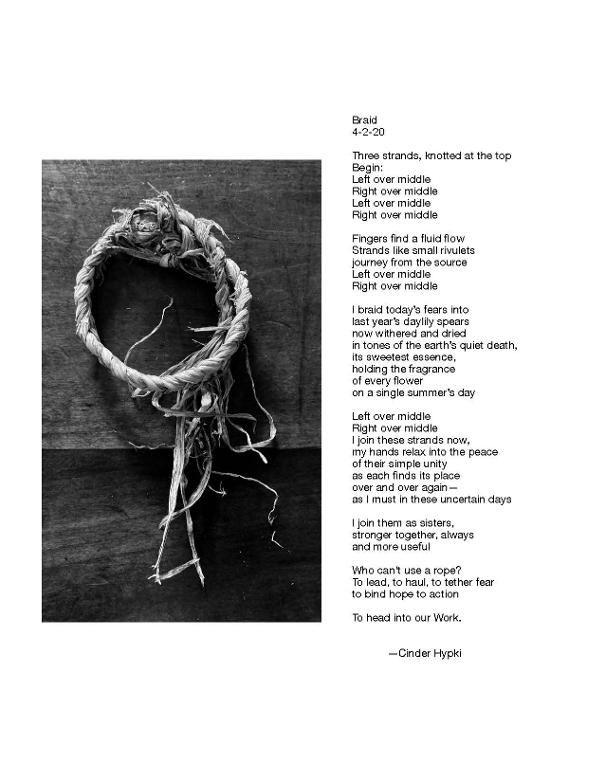 I'd like to share a story with you. In March of 2020, when the Covid lockdown greatly reduced my life and my livelihood, I did two things almost immediately. I began volunteering to distribute food around the city and the county, down near-empty streets, and to places I'd never been before, leaving bags of groceries on doorsteps and gathering stories. I witnessed and experienced many poignant things while delivering food, including my own privilege as compared to many folks I met then.
I also sought solace in nature, in my small "postage stamp" of a backyard. In the middle of winter, the crisp air and blue sky, the strong dark branches of a maple tree and my dormant garden were reminders of what grounded me to hope. Out in the cold winds of March, the garden was a place to contemplate the absurdity and cruelty of the pandemic's effect on the most vulnerable people in Baltimore, already challenged by structural racism, xenophobia and intergenerational cycles of poverty. It was a place to contemplate what we mean to each other as people, neighbors, a society. It was a place where I questioned how to summon my resolve in the face of a strange numbness and fear and isolation.
I struggled to understand the pandemic as trauma and to contemplate the need to heal, to seek well-being for myself and for fellow citizens far worse off than I. For some odd reason, the materials that spoke loudest to me as an artist were the long, slender grass-like leaves of day lilies that had withered and dried with winter's frost, silvered in the wind and the sun. I decided to listen.
I gathered them, brought them to the kitchen table and in time, was compelled to work with them in ways harkening back to simple childhood pastimes: to weave them, to braid them. They continued speaking until I photographed my simple creations. They kept speaking still, until poems emerged, and before I knew it, they'd led me into a full-on creative process that reminded me of how deep my foundations go, of all those I have to support me, of my vision and voice and yes, even my resilience.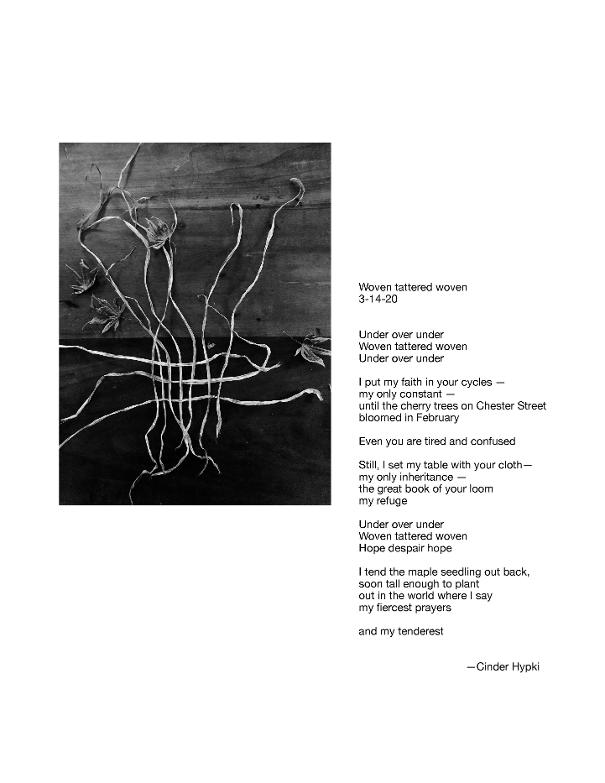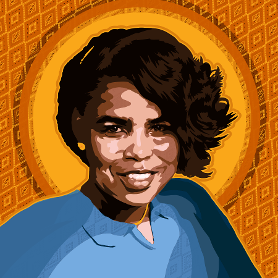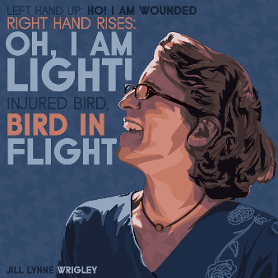 These pieces represent my Pandemic Art, pieces that were made while I was on lockdown. All the pieces are commissions, are all pieces created in love. Three of these pieces were created on request of the person's family and the last was created in honor of a woman who is a healer who worked for Miriam's Kitchen in Washington DC.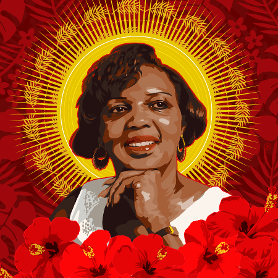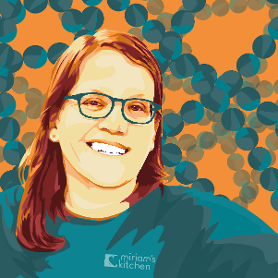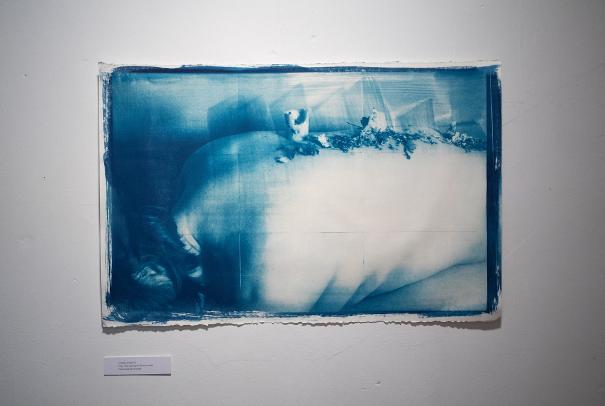 Letter Ritual (from The Ecology of Shame series)
We store the imprint of memory in our bodies. Some of this memory comes from experience, some we inherit from our ancestors, and some we learn through socio-cultural inputs. Reconciling transgenerational gender trauma requires an interest in confronting hegemonic histories of violence, ancient socio-cultural inheritances.
My research is an interdisciplinary mesh of new media, installation, and performance art; women and gender studies; and consciousness studies. Digital imagery on handprinted cyanotypes offers a reframing of embodied trauma memory as an act of resilience in the face of physical and psychic subjugation. I aim to explore the juxtaposition of impermanence and materiality through these media. Sensorial imageries of elemental transformation and ritual act as both metaphor and catalyst for trauma healing.
Often the wounds of oppression are so profound that we subconsciously hide our vulnerability even from ourselves. This repressive measure can manifest in dis-ease of body, mind and community. My reserach acknowledges the loop of trauma, embracing the elemental lessons of nature and the law of impermanence (decomposition and renewal) as primary tools for grappling with the burden of situated and systemic gender violence.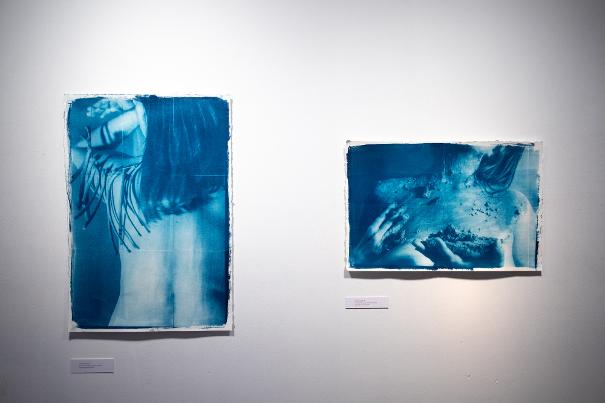 Bone Ritual (from The Ecology of Shame series), Mud Ritual (from The Ecology of Shame series)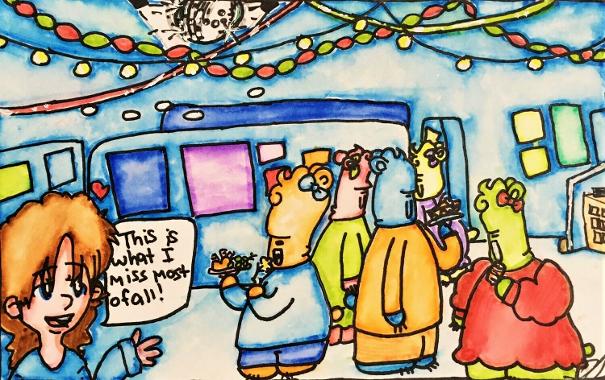 This is What I Miss Most of All
A lot of people like bears and find comfort in their cuteness, especially teddy bears. I want my artwork to be something lighthearted when the world seems scary. I want these bears to do happy things and show things will be fine even though we don't know what's going on. They are a breath of fresh air.
Some of my pieces show actual places, like Make Studio. I was missing the studio and I wasn't sure if I would come back or not. I'm back now (as of today, as I write this!) and getting used to it all over again.
About the cupcake: she threw it at the wall because she wanted to be bold, to make a statement. I don't know what the statement is! But it makes me laugh.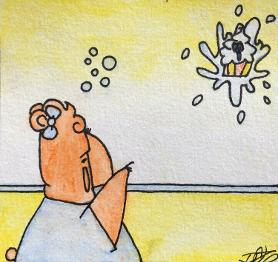 Throw Your Cupcake on the Wall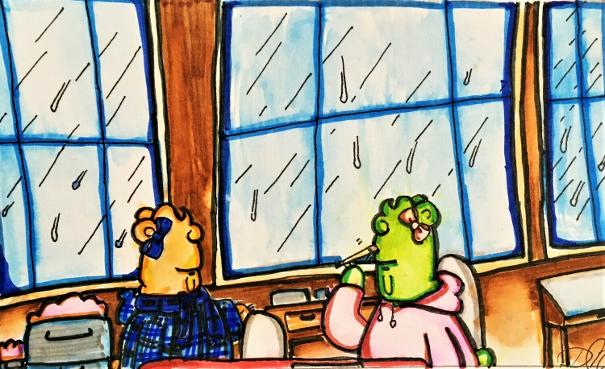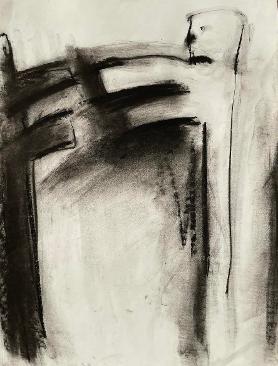 Seeking: Into the Shadows Towards the Light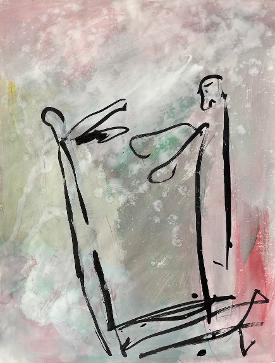 Reaching: Into the Shadows Towards the Light
We reach out to express our pain, to share our story and be heard. We seek out and embrace the other because we must. The process of living is difficult. Vulnerability exposes us to both pain and joy. Darkness and light are intertwined. Faith moves onward. By sharing love, we honor and are healed.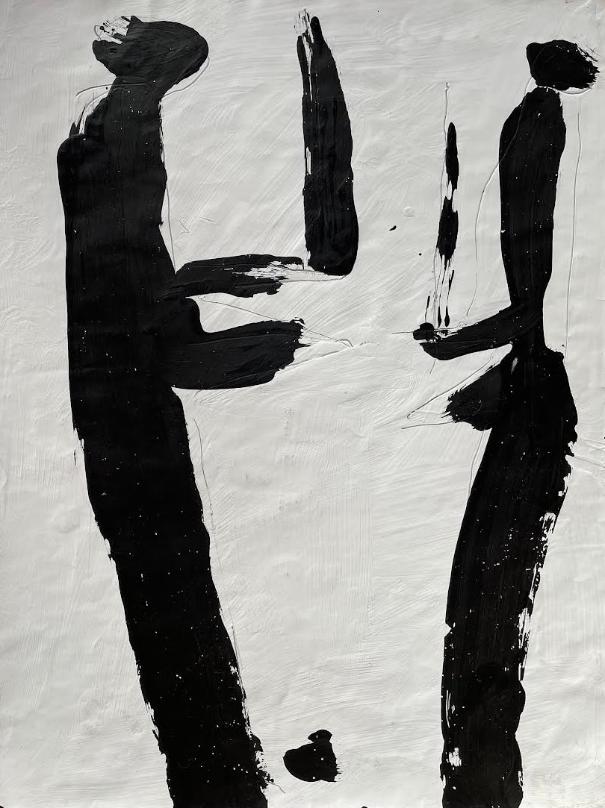 Honoring: Into the Shadows Towards the Light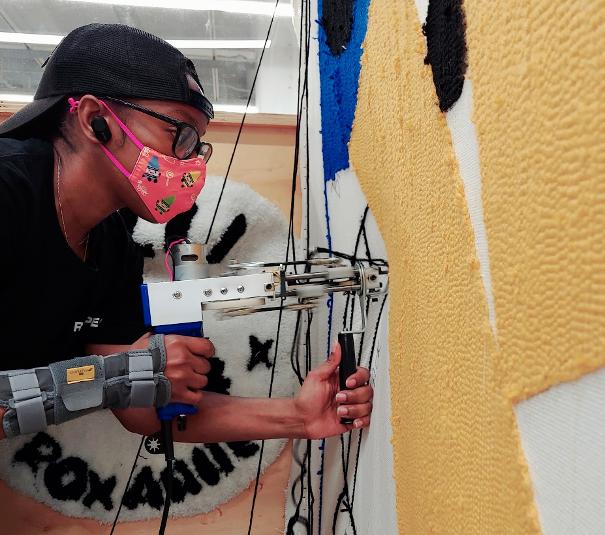 My piece, "Please(don't) Touch" is an obsessive longing for human connections despite being betrayed by it in the past. Art is a conduit for me to express my humanity with others when simple communication fails. It is one of many tools for healing.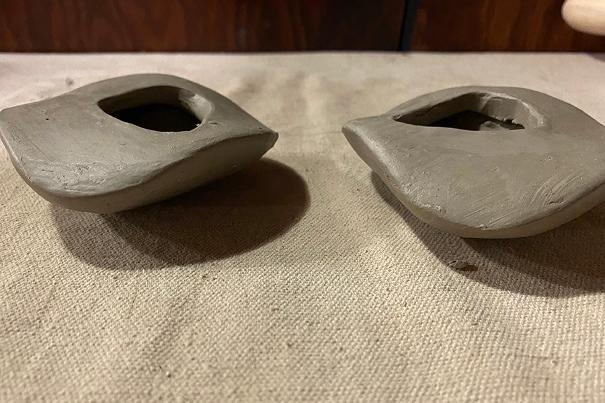 I am a utopian thinker. I make work, and conceive of ideas not with the hope, but with the assuredness that there is always something better to become. My most recent body of work has centered around imagining a new world into being, and putting into practice new ideals of connection, interaction, and care. After a year inside my home, and inside of my head, I've been considering how my art can become a ritual for my own healing. The forms that I've been exploring allow the user to focus, to center the feelings of grief and hold it in place.
Grief Vessel: To be Held holds salt water, or tears, in a precarious balance. The piece rocks on round bottoms, almost spilling, unless held by the viewer. It holds us in the moment with our tears, but also asks that we hold our grief in balance. That we sit and are still. And in that stillness we begin to heal.

Healing through a social platform provides a space for others to enter into your world. At times, we may find ourselves alone thinking that we are the only people who are going through a particular experience. This is a collaborative project that began as an "unofficial" challenge. My husband made an observation about the lack of activity on my Instagram account and said, "you should just get rid of your IG account." I accepted the challenge and began posting every day. I believe that posting daily activities of my life provides a place of healing through laughter, conversation, relatedness, personal growth, and meditation. It is also my belief that we are all spirits having a human experience, which allows for us to relate to one another because of our commonalities. It is my hope that my posts, my words, and my life, in general, ignite a sense of belonging for others to see that we are all in this together.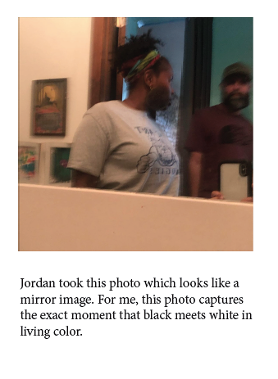 Detail: My Life, My Light #2
I Had To Pívot…my artist statement by Kenlynn K Schroeder
I have been an artist with low vision since 1990. About 7 years ago I began a plan to open wider access to the enjoyment of art for blind and low-vision people. I strongly affixed all manor of recycled objects to my paintings. I opened several "Joyful Art For Touching" exhibitions for the blind in Madrid.
On The first week of March, 2020, announcing the virus, I realized that my whole art for touching was "dead in the water" and I fell into depression for several months.
Then, at 4 o'clock in one morning in June, I woke up and knew that I had to pívot!
It.was then that I started planning a series of art pieces called "Joyful Art For Change" and…Here it is a part of the series... Emerging.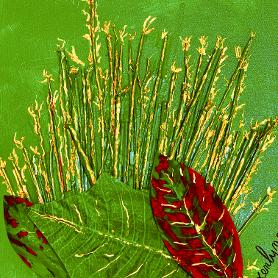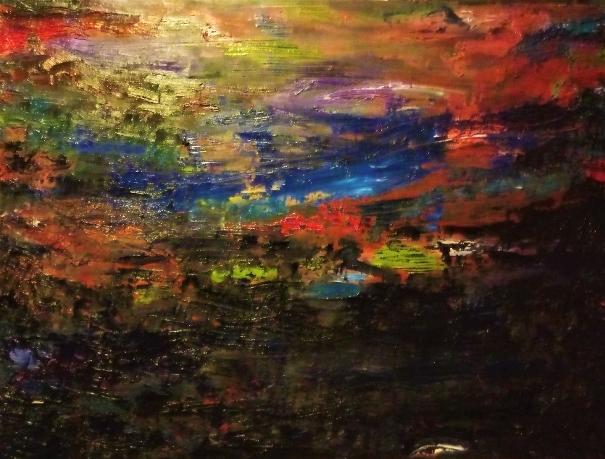 This work focuses on the healing process from the beginning to the end. Being able to face the pain and darkness and be able to push through. Never forgetting that light always comes after darkness.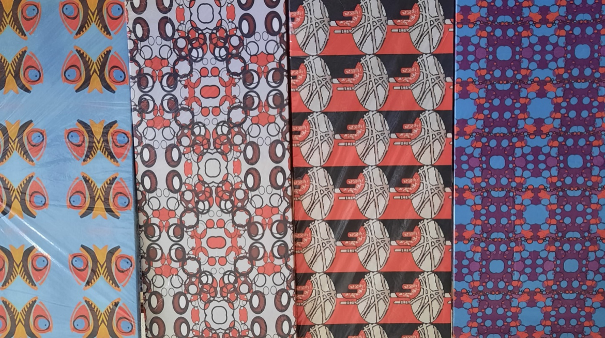 The four-textiles presented are a part of a larger collection. Each of these four pieces has a title and narrative to reveal the relevant realities of my extensive journey. Each representing one path taken to help me become a contented individual. They are professional printed on soft cotton fabric and stretched over a wood frame, to celebrate their distinctiveness. They were created with paper, pen, and ink, and designed digital. My preference is they be presented as a set of four. The clarity of my story is then most successful.
I tell my story not without enormous trepidation. By nature, I am a very private person, those who know and love me will no doubt agree. I have grappled with anger, fear, depression, anxiety, and loneliness. I have had many conversations with myself over the importance of sharing my story in hopes it may help others to move from darkness toward the light. So, this is me ignoring the capital "I".
Destiny's Eyes
There comes a time for each of us when circumstances force you to question the significance of life; with such an agonizing self-debate that your mental equilibrium is suspect.

Deaths in the Family
Take your place Confusion and Anger, Sorrow has already arrived. From dusk to dawn and with a privileged devotion you enter, exit, and enter again. Leaving behind ghostly, barefoot, memories with their jagged edges; no remorse -- not even for the young.

Fifteen Candles
With violent recklessness, a revolution has taken over my thoughts. Even my memories are in conflict. Fighting like soldiers in a war they don't believe in. Like an unsent letter, I internalize sadness to be exposed for a much later time. Realizing I now know more about death than about life.

Quiet please: Life in Session
For many years the deep silence of designing has sustained me. It continues to be a safe path to travel without apprehension. My life is not without its confusion and hurt. But I now have a stronger understanding that I am not powerless. I have a great fondness for the peaceful warrior woman I continue to become. My eyes still fill with warm tears. But they now quietly roll down my face. I now peacefully celebrate my family; without mourning them.
Once upon a time there was a happy family…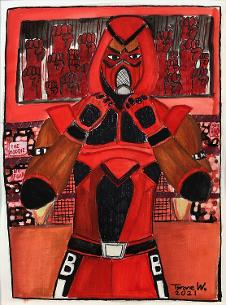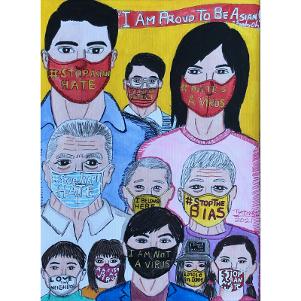 My artworks are a public way to show some sympathy for other people and what they've gone though. Fear, violence and ignorance have meant the Black community has been harassed and stereotyped based on how we are dressed. You just don't know someone's background based on what they are wearing. In response to racial profiling and in tribute to Trayvon Martin, I created The Hoodie, a powerful wrestler. My pieces make public my hope that we can also show some compassion and everyone and let them know: we love you and support you. Creating art helps me express myself in my own mental health, along with journaling or even taking notes on my phone. If something is bothering you deep inside, you have to put it out - if you keep it inside too long, it'll leave you an emotional wreck.