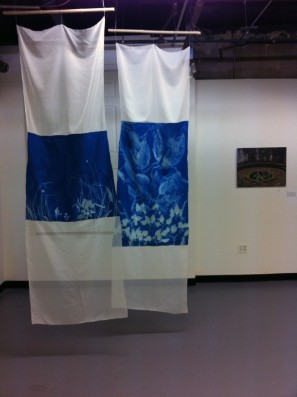 MOIRA FRATANTUONO
Meditations on Growth
It Takes a Village and Ghosts of the Past
Cyanotype on Fabric
2009
I have spent the past two years working as a community artist with refugee youth through BCCC's Refugee Youth Project. My students have come to the United States because their families have been oppressed or persecuted due to their religion, ethnicity, race, political views or inclusion in a particular social group.
These works are part of a seven part cyanotype series in which I reflected upon why my students came to this country and the role that I play in creating a safe, supportive environment for them to grow. Whether I am mediating a conflict between two students or offering a space where they can work through some of the challenges they face here, my work in the classroom is one of peacemaking and providing emotional and social support to my participants.
In Spring 2009, I worked with a group of Meskhetian Turks (pre-k-8th grade) to build a community vegetable garden. This project served as a link connecting them to their home country, where many of their families were farmers. As the garden took shape, I learned about my students while they shared stories and experiences from their past.
In response to this process, I created the series of seven cyanotype panels. I decided to bring the project full circle by installing five cyanotype panels in the RYP community garden. This installation offered the youth who inspired my work an opportunity to experience who I am as an artist. After having a short conversation about my panels and what they represented, each youth used the plants from our garden to make a cyanotype. During the course of one afternoon, my cyanotypes served as a catalyst to deepen the experience of my students and became a memorable step in the process that they reflect.