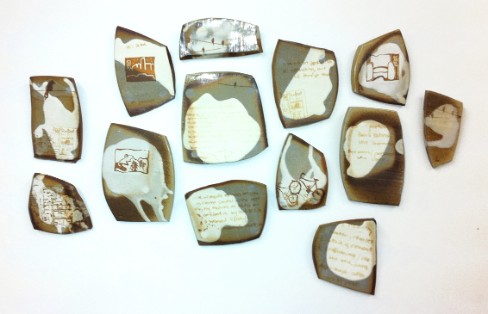 LAURA COHEN
Peace, Reflection and Transformation
Ceramics
2011
I sort through old sketch books and journals and tear the pages, using the text and imagery as a material for new creation; in this case the displayed ceramic wall tiles with custom decals.
The initial process of writing and drawing is impulsive and reactionary and only years later when I revisit these thoughts and sketches am I able to fully process past experiences and reactions, relate them to my present and recreate them into something new, something permanent as a visual reminder of my path. This process provides organization for the chaos, and encourages me to be at peace with my past and present, allowing for reflection and decompression.
The ceramic decal process in itself pushes the maker to be present and reflective, from creating initial imagery and scanning and printing the decals to transferring and firing them onto clay.