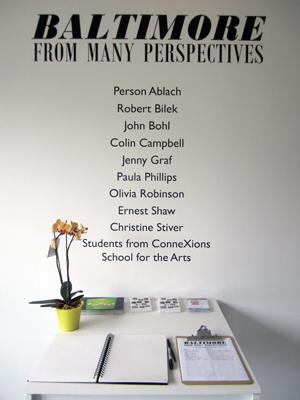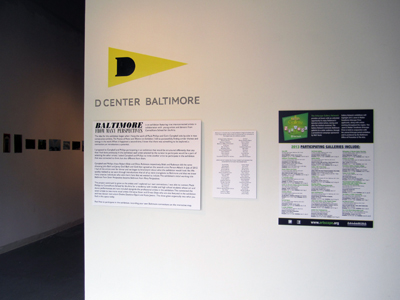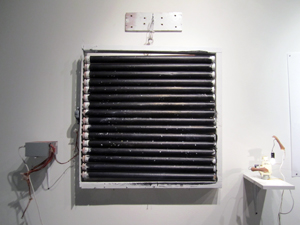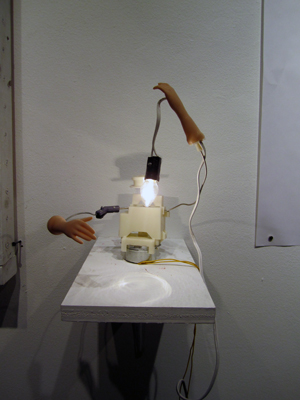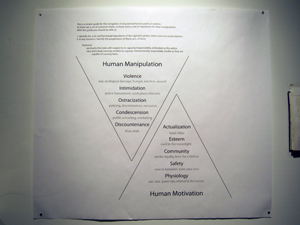 Person Ablach
Time in 15 seconds (Top)
wood metal cardboard, 12vdc motor, acrylic
2011 – present
The Baron Lord Baltimore (Middle)
white angel figurine
2013
AO Anti-Oppression: Step 1 "The active localization of authority" [excerpt] (Bottom)
[1] Clarissa Pinkola Estes "Women Who Run With the Wolves"
2009
If Baltimore has taught me anything it's that the baseline for all human experience is that of a slave/prisoner. Removed of all agency, prisoners are a group whose handling is arguably the largest industry in the world - whose labor is free and whose lives are reconstructed into narratives without a notion of the word innocence.
All other personal identities can and should be understood in their respective relationship to this group.
Why?
1. Because our economic system would not be possible without the violence toward and incarceration of the under cast.
2. 2. As non-slaves experience greater degrees of agency, they also experience greater degrees of complicity in maintaining the social relations that make 1 a reality.
The abolition of prisons is really basic actually.
I've been living in Baltimore the past 5 years because I'm safer here. It's not without a great deal of respect that I remember this fact every time I leave Baltimore for the Midwest or Northeast. I don't Identify as a Baltimorean. There is so much tenderness in this city yet there is a conversation to be heard every time someone new moves in. "Is it safe?" And I wonder if it'll ever be realized that the seeds of hate have already been sewn by this point and the question should practically be "is it ripe?" Everything that has a front has a back.
Marimba Ani calls one of the precepts guiding european cultural thought, 'single-purposedness.' It turns out for some it's not so hard to imagine a world where everything works perfectly whilst they obviously are laying out a game plan for the destruction of that entire world. I hope from your neighborhood in the city you can see stars. The sodium lights are too bright where I stay. Everything that has a front has a back.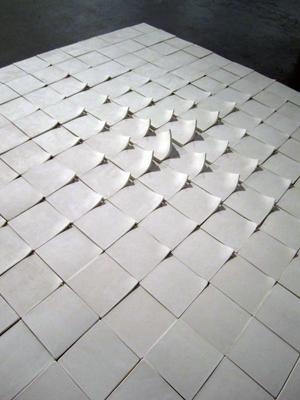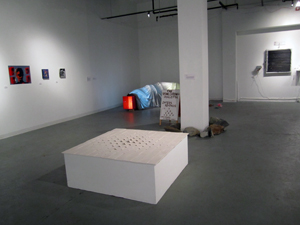 Robert Bilek
Sunday Supper
White Stoneware
2013
I've lived in Baltimore for over a decade, and in that time I've cultivated some of my strongest and most important relationships. Acquaintances have become friends, friends have become family, and the city I barely knew ten years ago has become comfortable and familiar. I moved to California in the beginning of May, and leaving the people you know and love is a fast way to reflection. I realize more and more how I am shaped by the people I've surrounded myself with, and like many of us, I'm naturally drawn to people who share similar qualities. We might share a taste for beer, a sense of humor, or a love of bad movies. Sunday Supper is my attempt to distill down that sense of belonging into basic elements. It's a gathering of individuals, alike in many ways, different in others, and all are better understood in a larger context.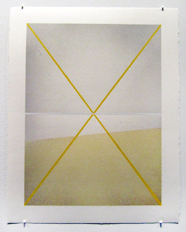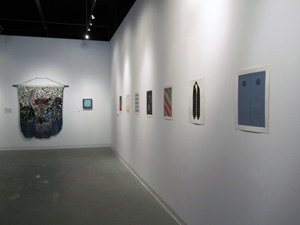 John Bohl
Untitled
2013
Gouache and acrylic on paper
The work included in "Baltimore From Many Perspectives" is part of a larger series that deals with appropriation and issues of originality. Much of the imagery present in the work is culled from art historical resources, advertisements and google image searches. However often times imagery is manipulated and edited down so the source of the original images is rendered almost indiscernible.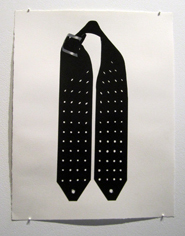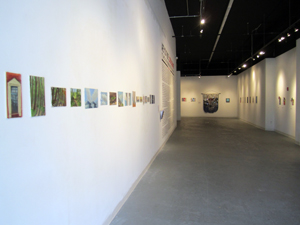 Colin Campbell
Baltimore From Eighteen Perspectives
Paint on board
2013
When I was originally approached about being a member of this show, I was living just outside of Baltimore and working as a video game designer here. Between agreeing to take part and the show's opening, however, my wife and I discovered work was going to take us away from Baltimore and on to Montreal, Quebec. We had lived in Baltimore all of our adult lives, having met as students at the Maryland Institute College of Art (MICA). My work this show took a turn then. It became a question of how I would reconcile myself with leaving this place I had called home for over a decade.
I found the answer in remembering all the quick land and cityscape study paintings I made as a painting student at Maryland Institute College of Art and how connected they made me feel to this place. I chose one day in my last week in Baltimore and, before sunrise, I grabbed my oil paints and began a winding, nostalgic path through Baltimore and its outliers, painting in areas that I've loved and that are important to me. My favorite hike, the church where I got married, MICA, and more.
I painted through sunset, twilight, and into the night at Fell's Point, as I did countless times as a student and after. The paintings here are the product of that day. I think it's very important for someone to build a relationship with his or her home. Not just with the people there, and not even alongside other people, but a deeply personal relationship between one's self and his or her city, town, or plot of land. For Baltimore and me, I suppose we did that through landscape painting.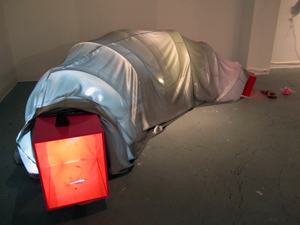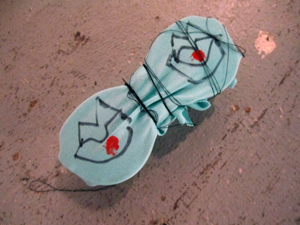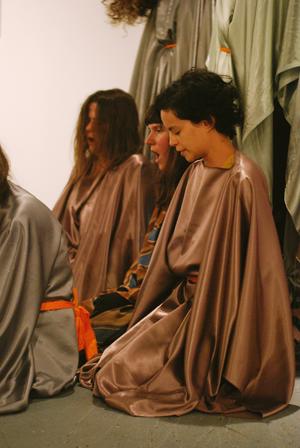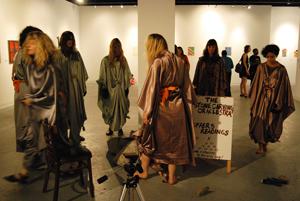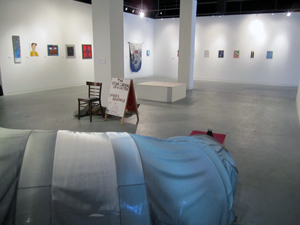 Jenny Graf
The absence of a dominant and conventional art economy, and for that matter a viable living wage economy in Baltimore for the majority of citizens, prompts innovation and new ways of engaging, creating and assessing value. Some of the most exciting acts of defiance against the traditional fiat are present in the large scale collaborations, living arrangements, food growers, collaborative web of creators and its what makes Baltimore a desirable place to live for many. While this dearth of opportunity has created homegrown beauty (hand-made signs, kitchen economies, bartering, Bnote and black markets) there is a problem and a lingering question: How can we use these to our advantage and how will people survive in a city where "opportunity" seems only to come in one flavor: the importation of an upper middle class. So while the two performance works here reflect a celebration of intimacy, collaborative spirit, they also respond to
The Stone Carving Oraclestra and the Mottled Emigrant are two performances that question notions of worth, existing economic model while also use the power of creative collaboration to produce something through near alchemical means. An interdependence and dynamic between audience and performer- one of intimacy and even interdependence is framed by these pieces which for me, seek to trace the ways I see my own creative acts in this specific place and time.
Mottled Emigrant (ME)
The audience sets into action the Mottled Emigrant's metamorphic process resulting in excretions of works of art.During the performance, the public is invited to insert non-perishable, non-toxic items into the Mottled Emigrant's pink orifice. Ringing the bell starts a process of transformation, after which time it will be excreted as a newly transformed object of art. Excreted Objects will remain on display for the duration of the exhibit. Thank you for taking part in this process.
The Stone Carving Oraclestra: performing An Act of Experimental Archeology
2013
The Stone Carving Oraclestra explores the spaces between non-material and matter via sound sculptures that react to the world around them. Through the material of large Maryland native Stone, the Oraclestra divines sounds that offer insight into questions posed by the audience.
The Stone Carving Oraclestra:
Lexie Mountain
Jackie Milad
Freda Mohr
Shana Palmer
Kate Porter
Joan Sullivan
Ann Russell
Sarah McCann
What We See...
Wood-fired ceramic
2013
What We See... was inspired by The History of White People by Nell Irvin Painter. The original quote, "What we can see depends heavily on what our culture has trained us to look for." struck me as meaningful in addressing power, privilege and difference, especially as it relates to race. The construct of race and the creation of whiteness has shaped the history of this country and the systemic prejudice that continues to plague our communities. Only by addressing the cultural differences that allow some to live without seeing these historically ingrained inequities or to remain complicit even as they perpetrate today will we be able to change.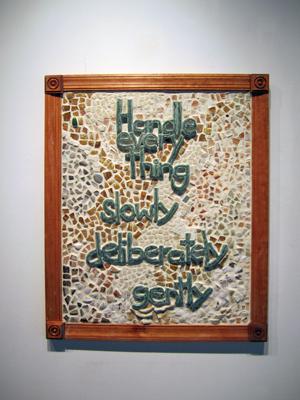 Sarah McCann
Handle Everything...
Mosiac
2013
I have been working on this piece for as long as I have been working on this exhibition. Handle Everything... was approaching completion as install of Baltimore From Many Perspectives was approaching. The fact that the timing was right, as well as the statement reflecting the process of how this show was put together made me feel it had a place with the other artists' work. I am grateful to each of the artists who have worked with me through over a year of planning to create this exhibition. They each bring a unique voice and creative spirit to this space. I have watched each of them carefully and thoughtfully select other artists for this exhibition, bring their artwork into the world, inspire others in the process and find a home for their work in this space. It is necessary to have the time and space to handle everything slowly, deliberately and gently. Beautiful things happen when one does.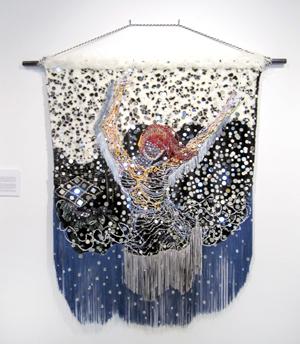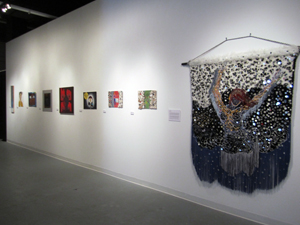 Paula Phillips
"In Praise of…"
Hand-sewn mixed media
2013
"In Praise of…" Baltimore has been my home since 1994. I arrived as and remain a studio and community artist who is passionate about working with people and their communities, utilizing the arts as a vehicle to better identify and work through issues of "difference, privilege and power." Relationships made over these years have helped me better understand the roots of some frustrations, concerns and real issues of many of our City's citizens, more so those who live in some of our suppressed and struggling neighborhoods. I have also begun to understand that many people of Baltimore embody beauty, love and a commitment to doing good deeds for themselves as well as for a greater good.
"In Praise of…" is a community arts collaborative "call and response" work intended to illustrate a raising up and honoring of those people, places or things we appreciate; those we honor and respect, those who contribute to our quality of life, bringing us joy and sense of well-being. The educators and students of The ConneXions Academy of West Baltimore engaged the call and responded to my art with their own creative works by exemplifying "praise" according to their personal experiences and their own voices and mediums of choice including sculpture, painting, drawing, mosaics, mixed media, performance and dance. Each artwork is original and varied in content, vibrant with meaning.
"In Praise of…" is about you, and I thank you artists of ConneXions. Each of you holds a very important and special place in my heart. In my opinion your critical and creative skills and your trust and willingness to participate with me have helped make "Baltimore From Many Perspectives" become even more relevant and extraordinary!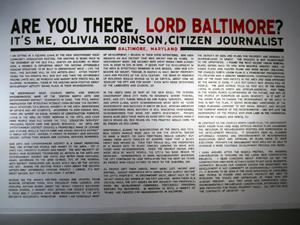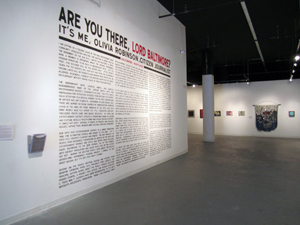 Olivia Robinson
Are You There, Lord Baltimore? It's Me, Olivia Robinson, Citizen Journalist
Hand-painted text
2013
I have been researching Baltimore's large scale city change in the hopes to better understand some of the potential strengths and concerns of development. This hand painted essay is a response born from that research. I wanted to see what goes on behind the change and the machinations that move it forward. My proximity and relationship to Station North made it an ideal case study. Since the exhibition takes place in the heart of the Station North Arts District, it made sense to create an artwork specific for the show based upon my research.
My desire to hand-paint an essay on the wall was an intuitive decision. Hand-lettering is visually powerful and compelling. It is also a very time-consuming way to produce text, which I find lends a gravity and sincerity to the work. Technology has propelled us away from hand-lettering and so hand-painted signs are no longer a regular part of our landscape. The composition of the essay is a cross between two sources: the cover image of construction plans for Interstate-95 from the 1960's; and public notices that are handwritten in front of some homes in Baltimore.
To research this work I interviewed many different people involved in the Station North Arts and Entertainment District, including business owners, employees, residents (artist and non-artist), city planners, city records clerks, individuals from development non-profits, tourists, housing managers, and people who patron the area. I tried to interview people from the major development companies, but received no responses from my many emails and phone calls. I found all of the people I spoke with to be incredibly generous with their time and information. I also read numerous news articles, academic papers, interviews, city plans, developer websites, and book chapters in the process. I used a number of city, local non-profit, and federal databases for statistical figures. There is an incredible amount of information and research that I found helpful in the process of clarifying my thoughts and questions for the essay. I am left with a richer sense of the complexities of the development process, new questions, and a strong belief that informed criticality is vital to creating a healthier development process.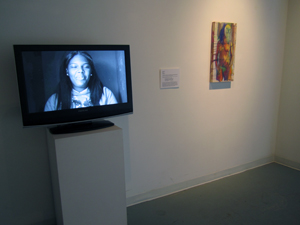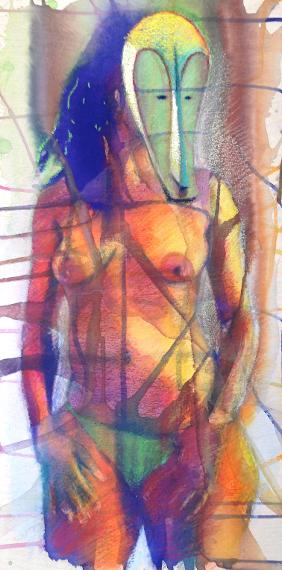 Ernest Shaw
Black Athena
2013
Mixed media
I must first honor the contributions of Ms. Paula Phillips as the total inspiration of this project, both for the entire ConneXions family and myself. Ms. Phillips embodies all that enlightened teachers and artists represent. We are grateful for her presence and her guidance.
Black Athena, the multi/mixed media piece, is inspired by the never-ending quest for acceptance into mainstream society that African Americans attempt to achieve.
Everybody at some level believes in it. It's a deeply seductive image. The image that we all want as oppressed people is an image of our master finally loving us and recognizing our humanity. It is this image that keeps prostitutes with their pimps, colonized with their colonizers and battered women with their batterers. Everyone
dreams of one day being safe.
-Anthony Paul Farley
This quote by Mr. Anthony Paul Farley, a professor of law at Albany Law School, embodies the unspoken sentiments of many oppressed people of color throughout the Diaspora. To my knowledge, there is no greater evidence of this unspoken truth than the experiences of Black women. This particular piece is grounded in the chasm that exists for Black females between their natural selves and, what is considered to be, the ideal aesthetic. It is my belief that Black females are socialized to negate physical appearance as an essential aspect of what is considered to be beautiful. However, could this negation of physical appearance be a reflection of the deep, intuitive nature of Black Women? Are the two mutually exclusive? Have Black women been conditioned to associate pain with beauty, if so, what impact has/does that have on their emotional, physical, psychological well being?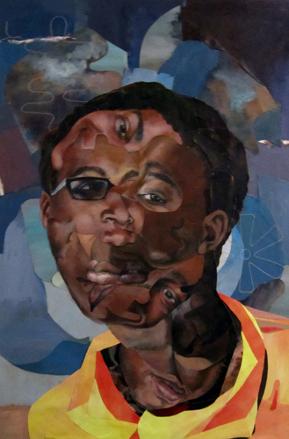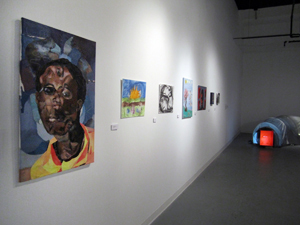 Christine Stiver
Untitled
Acrylic paint
2013
In collaboration with resident artist, Paula Philips, ConneXions middle and high school students created artwork in response to her piece, In Praise of…. While students were challenged to turn the praise on themselves and celebrate an aspect of their identity, Paula challenged me to create a piece that embodies the spirit and energy of our young people.
Painting portraits of male students who volunteered to participate was, initially, a gesture of care and respect towards each of them, particularly in light of my ignorance about their experience. Paint was my tool for bridging the racial, cultural and gender divides that prevent them from seeing their image reflected in me. My message to them: I can't reflect it, so I paint it. But the longer and more insidious history of portrait painting, which attributes value to privilege, can also have redemptive qualities for those who see themselves in fresh paint. Throughout the process of painting this series in front of class—their peers—value was felt, not seen.
Clearly, the spirit of these young men cannot be simply captured. My fear is that any singular image is overly simplistic, patronizing, exploitative. My hope is that by combining the portraits, a larger than life image of young, black men appears. It is this image of a powerful and creative black, male community that my efforts praise because I can't reflect it, so I paint it.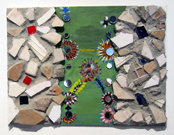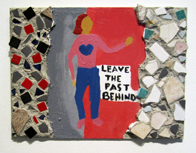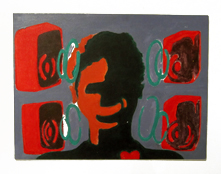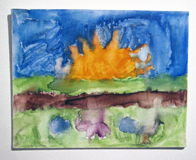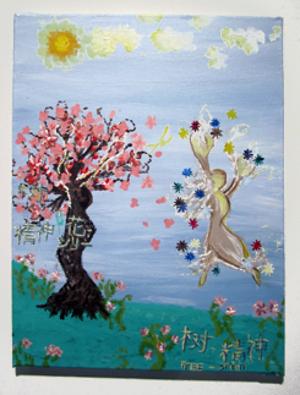 Students from ConneXions School for the Arts
2013
Dominique Brooks
Wire and mixed media
7th grade
Jamal Calloway
Mixed media
Life Skill
Jasmine Cannady
Pastel on panel
10th grade
Keona Chestnut
Mixed media
Life Skill
Isma'il Clayton
Watercolor pastel on canvas
9th grade
Nancy Condo
Mixed media
Life Skill
Nashawna Jessup
Mixed media
7th grade
Eric Jones
Acrylic paint on canvas
Graduating senior
Kabrea Jones
Acrylic paint and faux fur on canvas
11th grade
Deja Lewis
Handmade scratchboard
7th grade
Jessica Malone
Acrylic paint and pastel on board
10th grade
Dayuanna Purdie
Mixed media
7th grade
Paisley Satchell
Acrylic paint on canvas
9th grade
Diche Starks
Mixed media
7th grade
Cadeesha West
Mixed media
Life Skill
Terry Willis
Charcoal on canvas
Graduating senior