As It Should Be asked artists to imagine what tomorrow brings. If artists had the power to wake in the morning and have the perfect day, have all problems in the world be solved then what would the world look like? "The artist" is often written off as someone who doesn't understand how the world works and whose ideas have no basis of reality within the current system. What is misunderstood in these moments is that the artist can simultaneously hold the world as it is and the world as it should be. The cognitive dissonance between these two worlds is the space where the artist thrives. Artwork provides a vision of how to get from where we are to a more just and sustainable future.
This exhibition was curated by Sarah McCann, and planned in conjunction with Rising Up! an education program of the Modell Lyric that facilitates performance programs with middle school students and community centers across Baltimore City. The exhibition was originally scheduled to be held at Gallery CA, March 26 - April 23, 2020.
Due to the ongoing impact of the COVID-19 outbreak and the closure of all schools and non-essential businesses in the state of Maryland, the exhibition was not installed at Gallery CA as planned. Instead, this webpage was created to highlight the talented group of artists included.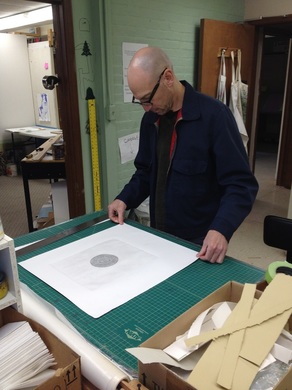 My work takes a slightly different approach to "what tomorrow brings". In my project, Hope, I'm asking questions about hope's role in what tomorrow brings and how it shapes our view of the future.
I suggest that hope is not simply the wish that everything in the future will be rosy and wonderful just as hopelessness does not mean that the future can only be worse than it is now. Hope is a thought process that removes us from this moment and clouds our ability to clearly see what is right in front of us. The drawings in this project allude to the unknown, amorphous nature of the future and to the idea that hope is being able to accept and appreciate the unknown future while still being able to act in the present. Each of these small drawings (5.625" x 7.625") begin as a carefully executed oil pastel drawing of the word "hope". The drawing is then smudged until the word is transformed into a haphazard shape. The use of smudging rather than erasing or blacking out the word emphasizes transformation over negation or obfuscation. By physically redistributing or reorganizing the oil pastel the drawing is allowed to remain materially the same but visually radically different. In this way each drawing is literally, physically, and figuratively "hope".
While Hope doesn't provide a clear vision of the future, I think that this work offers insight into, or at least an opportunity to contemplate, an aspect of how we envision the future. These drawings make a connection between our actions in the present and the future that gets created. By acknowledging that we can't know what the future holds it opens a space for less anxiety about whatever it brings. In this way, these drawings do describe (albeit in a conceptual manner) a kind of future.
Hope, oil pastel on paper, 2017–2019, Each drawing: 5.625" x 7.625"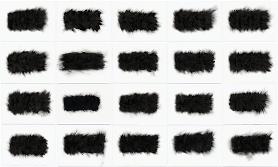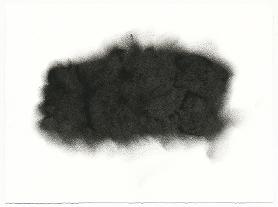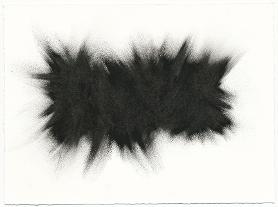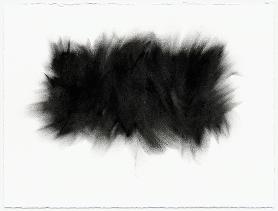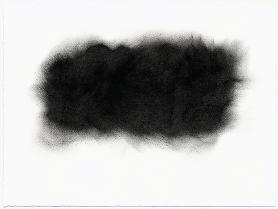 Martin Brief makes art as a way to interrogate aspects of our complex social fabric. Topics have included, among other things, celebrity, the media, God, success, security, and the relationship between science and religion. His drawings ask viewers to reconsider their relationship to these ideas and to examine how individually and collectively we construct our understanding of and belief in these subjects. Brief sees the gallery as a place to discuss ideas, disrupt patterns of belief, and plant seeds for social change. He creates works that allow for thoughtful contemplation and open a space for reasoned dialogue.

Brief's work has been exhibited in solo and group exhibitions nationally and internationally including exhibitions in New York, Paris, Zurich, Washington, D.C., Philadelphia, Chicago, and St. Louis. In addition, his work is in several public collections, including the Joan Flasch Artist Book Collection at the Art Institute of Chicago, Center for Creative Photography in Tucson, Arizona, and the State Foundation on Culture and the Arts in Honolulu, Hawaii. He recently received fellowships from the Howard Foundation and the MacDowell Colony. Martin's work is represented by Danese/Corey, New York. Brief was born and raised in Chicago and he currently lives and works in St. Louis where he is an Associate Professor at Saint Louis University.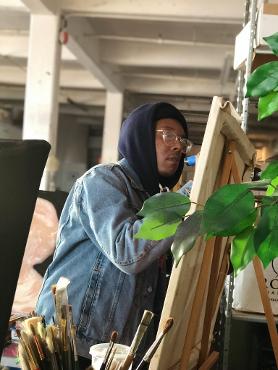 Life in Baltimore does a fantastic job of having a balance of all elements. My work aims to combine the standard with the fringe in order to create a "New Norm" that allows me to share with the viewer a perspective on subjects often addressed from an "acceptable point of view".
Flagship Days, Acrylic on Wood, 2018, 2'x4'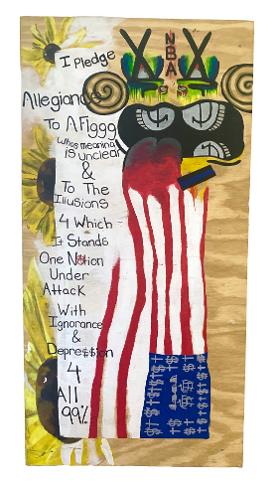 Brandon M. Buckson is a 20 year old artist born and raised in Baltimore Maryland. Buckson attended and graduated from Patapsco Center for the Arts in June 2011. He has been inspired and interested in art every since he can remember. As he has grown as a young man and artist, he has found great interest in fashion, design, and community art. His interest in fashion emerged while in high school studying fine art at Patapsco High School. Buckson's current body of work focuses on male identity, specifically self-identity as a black male. He has always been interested in the idea of masculinity, particularly masculinity in African American culture. He aims to explore the relationship of American history's effects on African American culture and masculinity. His goal as an artist is to juxtapose representations of African American masculinity from several decades to more fully understand the recurring core values represented. Buckson's methods include sculpture, mix medium, and classic paintings dealing mostly with self-portraits. He uses self-portrait as a vehicle and metaphor to capture a sense of male Identity.
Artists from The Historic Cherry Hill Elementary/Middle School
A' Nya: Chaos is inevitable, it's bound to happen. You can avoid it, but it will eventually and probably always catch up to you. Chaos is the world.
Janiya:
I know just where I'm going
My body letting go so
I'm moving with the flow
The sound of cars in the street
The sound of little moving feet
I love the word flow
And I'm here to let you know
I am safe
I am calm
In a quiet place, that I won't escape
I am like a river, I always flow
I am like the light I always glow
I feel safe by myself
I feel calm with nobody else
When I'm calm, I rejoice
When I'm safe there's no noise I am safe with my friends
But still calm when it ends.
Keona: I am fearless! I am free to be me, free to be seen, free to be alive, wise and warm, powerful free and formed, free in myself.
Renae': I close my eyes and then I see the life I want to live. A world made from my imagination, a world where everything is bright and beautiful, a world where I'm accepted for my uniqueness and abnormality. Where everyone I let in my life is just like me, where I have a second chance at facing my mistakes, where I'm not just a human but whatever I expect to be. I want to be with you, my fearless herds of the free.
Shania: I am paradise. I am in a place of creation. I am me inside and out. I will never be you, your friend or anyone else's because I am mine. I am me and that's all I can be. I am where no one else can see. I am in a river but where you can't reach, only me. I feel love for no one but me in my creation. Paradise is me and I am paradise.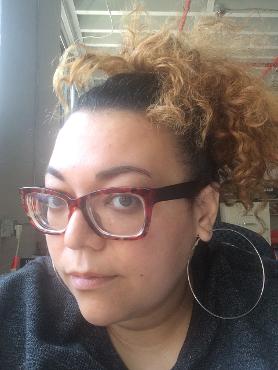 A Break, acrylic and oil pastel on canvas, 2011, 24"x24"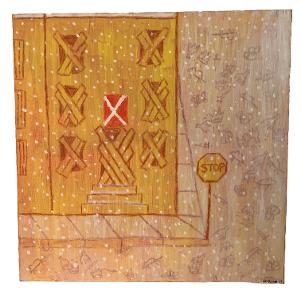 This piece speaks to the small moments in life that are "as it should be". Snow in Baltimore is a beautiful moment...everybody panics and cleans out the grocery store and talks to one another while waiting in line, the city pauses, everything becomes blanketed , and even how sound travels and echoes is different. I do not wish for snow constantly but when it happens... (sighing exhale) A Break... Baltimore needs her rest time too... As it should be.
Allison Duggan has collaborative experience with Baltimore United Viewfinders, the Walters Art Museum, East Baltimore artists, and the Bea Gaddy Family Center, and completed her graduate work in MICAs MFA in Community Arts Program. Allison's strong community arts background informs her visual art work and her approach as a community organizer with Fusion Partnerships, where she serves as Project Coordinator of the inFusion Small Grants Program. Allison has worked closely with East Baltimore residents and community stakeholders to launch this program and fund resident led projects decided on by residents.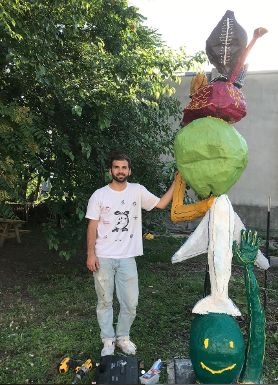 You ever find yourself perplexed at missing the past, but love the right now? oil and spray paint on canvas, 2019,48" x 36"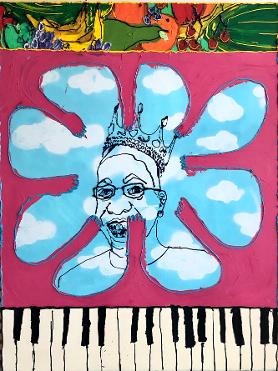 A future where everything comes together, where things aren't left behind. Where things haven't fallen through the cracks over the years due to addiction, the prison industrial complex, the violence epidemic. Where your Brother is at your future wedding, not you at his funeral.
Dave Eassa is a artist and activist living and working in Baltimore. He received his BFA in Painting with a concentration in Printmaking from the Maryland Institute College of Art in 2013. Recent solo and two person exhibitions include "The Road to Rio" at Little Berlin with Platform Gallery and "WIDE EYED" with Nicole Dyer at Savery Gallery, both in Philadelphia, PA. He has shown nationally and internationally in exhibitions most notably at Signal (Brooklyn, NY), LVL3 (Chicago, IL), SessionSpace (Oakland, CA.), Vox Populi (Philadelphia, PA.), Crosstown Arts (Memphis, TN.), Sophiajacob (Baltimore, MD.), Artisphere (Roslyn, VA.), Marianne Boesky Gallery (New York, NY.), artSTRAND (Provincetown, MA), Reh Kunst (Berlin, Germany), Current Space (Baltimore, MD.), and Casa das Artes Criação Ambiente Utopias (Sao Tome, Sao Tome and Principe). His work has been published in Alt Esc., New American Paintings No. 112, Studio Visit Magazine Volume 25, and The Pinch Journal. In 2014 he was awarded an Individual Artist Grant in Sculpture from the Maryland State Arts Council and is currently a Baltimore Community Fellow with the Open Society Institute through 2017.
Eassa is the founder and director of Free Space, an artist run organization, which brings arts classes to incarcerated individuals within the Maryland prison system. The weekly classes, along with the Visiting Artist Program, exposes individuals to ideas, time, materials, and skills that help to build confidence and instill passion in these individuals. Free Space brings programming to the Maryland Correctional Institution in Jessup, the Maryland Correctional Institution for Women, and Dorsey Run Correctional Facility. Free Space collaborates and works with Baltimore Youth Arts, under the name The Blank Page Project. Free Space has received support from the Maryland State Arts Council, the Baltimore Office of Promotion and the Arts, The Gutierrez Memorial Fund, and the Contemporary.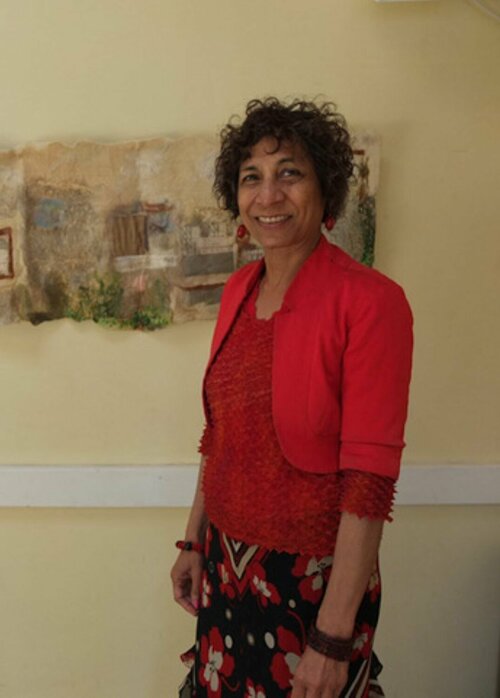 Welcome To My Home was created through research at the Montgomery County Historical Society that resulted in this piece. The Historical Society,Rockville,Maryland, was the home of the former Slave Owner's, the Beall-Dawson sisters. The image in this work portrays the New Owner of the Place. The work is hand and machine stitched to add dimension and form. This image was created from a Doll that was found in the Slave Quarter's at the Historical Society and is now created to give a new context and meaning.
Welcome To My Home 2 is created on wood with the laser (engraving) and further manipulated with stitch. The contrast of materials refer to the past and the present. New technologies with that of traditional skills are employed in this work.
Cape Town is one of the most beautiful cities I have visited. The natural breathtaking views
of the Table Mountain, the Indian and Atlantic Ocean,wild life, fresh produce makes the city
worth visiting yet there is a Fear despite its Beauty!
The walls around homes, security, gripped my attention! Dress is a Cover/Protection. The work depicts some aspects of the city and neighbourhoods.
Maria-Theresa Fernandes was born in Kenya and lived there until the age of 21yrs. It took her 7 yrs to save money for airfare to go to the UK to study Art. She lived in various parts of London from the East End to West London during the 60's. She did her Foundation Course at Sir John Cass College in E. London. During the course of her first term at Manchester College of Art she decided to take up Embroidery instead of Painting as she found the tactile contact with materials textural and seductive. Britain is one of the only countries in the world where you can receive a (BA Hons) Degree in Embroidery.
In 1981 Fernandes emigrated to the USA and worked as an artist in residence for various Art Councils in Delaware, South Carolina, Kentucky, Utah, Idaho, Nevada, and the State of Maryland. She also lived in Detroit during the 90's where she lived with an Artist Community in a large renovated church. The studios were large and spacious thus enabling for innovation Installations.
After several years in the USA Fernandes returned to E. London where she lived for 12 years. Fernandes has travelled extensively and these travels have influenced the direction of her work. Some of the travels have included International residencies I.e. a UNESCO Award to Nigeria, other residencies have included Mojacar, Spain, Bangor, India, France. Fernandes now lives and works in Baltimore, MD.
Dress of Walls-Cape Town, textiles, 2020, 48"x28"x1"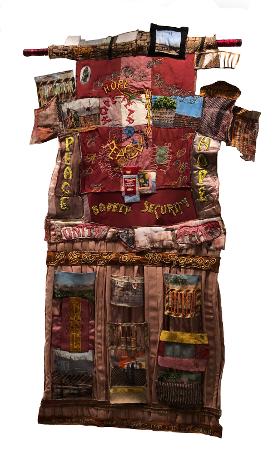 Welcome To My Home, mixed media, 2018, 24"x15"x.5"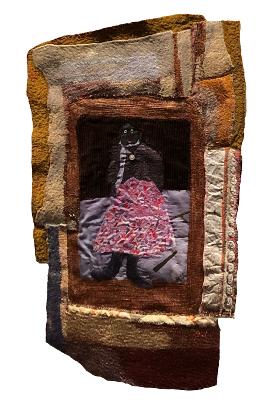 Welcome To My Home 2, mixed media, 2018, 21"x14"x.5"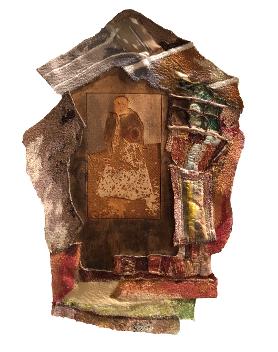 Artists from Franklin Square Elementary/Middle School
Jaiden:
10 cups of sweet gold honey
9 stacks of tall green money
8 drips of flowing blue rain
7 christmas trees with candy cane
6 big bowls of fruit
5 great musicians playing the flute
4 animals drinking all in sync
3 dishes getting washed in the sink
2
1...
and when people tell me to shut up I just laugh.
Jazmine:
Baltimore is my city.
everyone wanna leave, but i'm
going to stay to try to make it better.
Makinzee & Symiah:
Being white is a privilege
being black is an image
We came from nothing and came with
hands to the heavens, no man, no weapons
We wanted freedom and dat's why Rosa
sat on the bus
Freedom is like religion to Us
They treated us like we were poor and told
us to stay down but we stand up
King pointed to the mountain top
and we ran up
We came from dancing for dollars to white
People working for our dollars
The movement is rhythm to us
We become legends and our skin
Becomes blessings
We walk through Baltimore with our
hands up
When it goes down we
women and man up
Skyler:
I am Baltimore
I am a small city
I am missing children
I am Baltimore
A city where Black lives matter
A city where people say they matter
So why are we killing
I am Baltimore
I am a strong person
And I have
A strong come back
Though we fall
We rise again
Though we fall
We rise...again.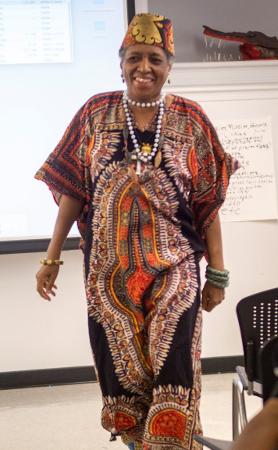 Harriet's Reserve Note, make up, 2019, 11"x8.5"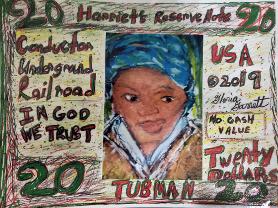 I wanted to include the reserve note in the show because the country wanted Harriet to be on the 20 dollar bill in 2020. It would have been a great way to celebrate the 100th anniversary for women getting the right to vote in 1920 after fighting for it for decades. I wanted to honor Harriet Tubman and the Women's Suffrage Movement in this country. I have the right to vote and other rights because of Harriett Tubman and other women who fought for these rights.
Gloria Garrett is the Mother of Makeup Art. She has been painting pictures with donated makeup for 10 years. Her artwork was exhibited at Barnes and Nobles Book Store in Towson in 2006. It was exhibited at The Creative Alliance in 2006 also. Garrett has exhibited her artwork at The American Visionary Art Museum since 2005. Ted, Frankel, the manager of the gift shop at the museum has been a collector of her original artwork for the past 10 years. In 2008 Garrett gave a talk at the Baltimore Museum of Art about her makeup art. She compared it to the Cone Sisters Collection at the Museum. In this collection there are works of arts from Monet, Matisse, Renoir, and Picasso. Garrett's artwork was part of the show "What Make US Smile" at The American Visionary Art Museum in 2010. She was the featured artist for the show on Channel 45 News, Cover Story Portion on Oct 13, 2010. The news showed her painting with makeup outside on the steps of the museum. More of Gloria Garrett's artwork can be seen at www.gloriasart.com. Gloria has exhibited at festivals all around Maryland and at Farmer's Markets all around Baltimore City for the past 10 years. She has exhibited in venues including, but not limited to The Maryland Institute College of Art, Ukazoo Books in Towson, The Evergreen Café in Roland Park, The Herb Festival in Baltimore City, The Common Ground Music Festival in Westminster, Maryland, Ward-Neese Gallery in New York City and in at her Baltimore studio.
Myron D. Higgins and Wayne A. Paige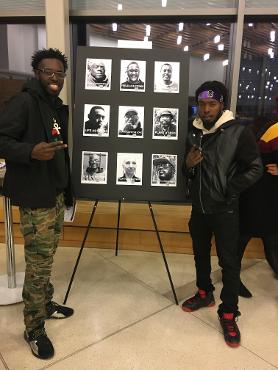 Beautiful Baltimore, video, 2019, run time 16:16
Beautiful Baltimore is a compelling and raw documentary that highlights the efforts of real people to make real change with little resources in a community that has been deprived of resources and neglected by government officials for decades. The false promises and attempts at displacement and gentrification have bonded a community known as McElderry Park or "Down Da Hill" together to do for themselves, educate themselves, and band together their networks to provide for themselves, their families and their community. During this film the pride of the people pours out of the camera into your heart and inspires all to keep pushing through no matter the situation. The culmination of leaders and originations depicted throughout this film shows the continuity of everyone's individual goals and efforts coming together to create a more Beautiful Baltimore for all.
Wayne Paige and Myron Higgins founded the Beautiful Baltimore Foundation on July 4, 2019 after a passionate conversation about their past live's work to improve their city, community, families, and most importantly themselves. A small conversation between two well acquainted strangers, alienated by zero degrees of separation that started with a common love for music and art quickly spiraled into a movement. The duo combined their past educational experience from Howard University and Johns Hopkins University, work experiences from The District of Columbia Government and Johns Hopkins Hospital, community organization skills from Nsoroma Abusua (Howard University) and Safe Streets violence intervention program, and their cultural influences with their entertainment and entrepreneurial companies Black Money Legacy and Van God Nation.
The Beautiful Baltimore Foundation has accomplished a large number of task that have positively sparked the moral of the community residents, reengaged community leaders to thoroughly command the responsibilities of their post, and ignite a flame of ambition for future leaders of McElderry Park. The influence of Wayne Paige and Myron Higgins in the McElderry Park neighborhood led Community Association President David Harris to reach out to them for assistance in bringing the community an event known as "Throwback Thursdays". Throwback Thursday was a community engagement and resources distribution experience that was based around the Baltimore tradition of "block parties", where neighbors enjoy each other's company and build relationships while grilling food, line dancing to music, and providing safe activities for children.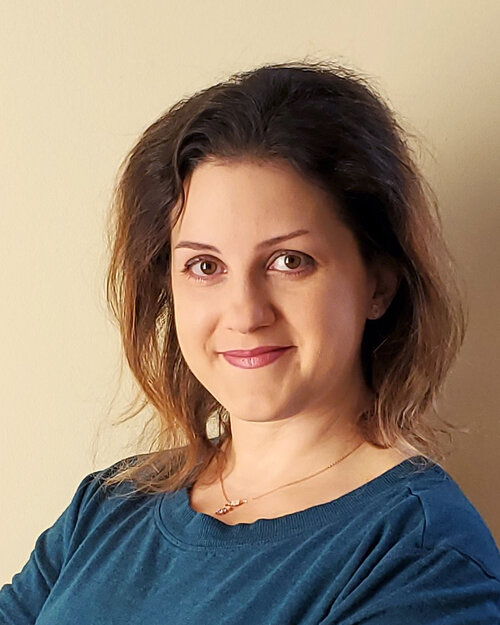 In the Sequel, acrylic on canvas, 2017, 16"x20"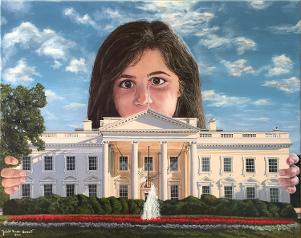 In the Sequel tells the story of a nation yet to be. It was created as a reactionary piece; it was a journey that I embarked upon with my young daughter, a brilliant girl of mixed heritage, to show her that her potential is limitless. The title of "In the Sequel" is a reference to a "Hamilton" lyric, in which Angelica Schuyler sings, "We hold these truths to be self-evident / That all men are created equal / And when I meet Thomas Jefferson, / I'm 'a compel him to include women in the sequel!" When I drew up this idea in late 2016, I wrote at the time: There is a world that my daughter belongs to. I am an artist, and will paint this world for her.
Juliet Drake Hossain spent the first part of her creative life in the performing arts, working in music, theatre and film. She obtained a B.F.A. in Performance from Hofstra University in 2002, and professionally acted until the birth of her two children. As an Air Force spouse, she was afforded eclectic experiences while living in the Washington, D.C. area, New York City, Phoenix, San Antonio, Tokyo, Delaware and southern New Jersey. Juliet now lives and works out of her current home in Frederick, Maryland. Her favorite tools are her paintbrushes and her Glowforge laser cutter, and her best inspirations are her vibrant children, space imagery, theatrical themes, nature and the contemplation of self. Juliet stuffs her pockets with big dreams and invites you along for the journey.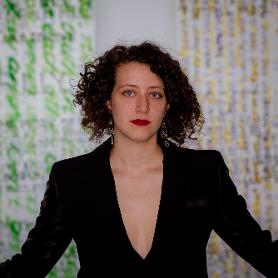 So much of life is reflecting on the past. What was, regret, and how it all may impact the future. A few years ago I lost a person dear to me. He was my technical theatre professor, mentor, and friend. One of his masterpieces was a steampunk themed theatre set constructed of gears, moving parts, and extravagant lighting. His artistry and constructivism was breathtaking and inspired me as an artist. He was one of my biggest fans and always rooted for me. Losing Jim so suddenly was heartbreaking, but I always hear him cheering for me in every success and encouraging me in every failure. Ghost light is not only an homage to my dear friend, but a beacon of light for the future. I know Jim is always there picking me up when I fall, reminding me it's always important to laugh and love life, and pushing me to be the best artist I can be. Tomorrow brings hope, love, and light.
Jessie Houff is a nomadic artist who was born in Fairfax County, Virginia and raised in the Shenandoah Valley. She grew up with values rooted in family, travel, and spirituality. She am a mixed media artist with focuses on book arts, papermaking, and installation. When Jessie is not at home or in the studio, you can most likely find her buried in a vintage book store drinking a café au lait, dreaming of being in a Gene Kelly movie, and planning a fun evening with friends, snacks, and card games.

Jessie obtained her Bachelor of Arts in Art and Theatre at Bridgewater College in Virginia and her Master of Fine Art in Community Arts from Maryland Institute College of Art in Baltimore, Maryland. Jessie currently works as an AmeriCorps member and Visual Arts Teacher at Access Art, teaching middle school youth in the Morrell Park neighborhood in Baltimore. She designs curriculum and teaches lessons engaging youth in a variety of collaborative art projects with a focus on youth development.
Ghost Light, woodblock prints on handmade paper and cardstock, LED lights, waxed mulberry paper, and ribbon, 2019, 7"x9"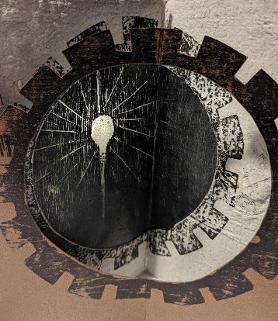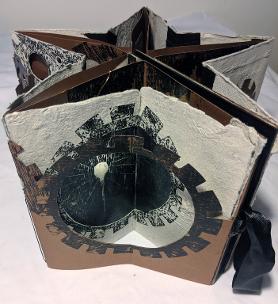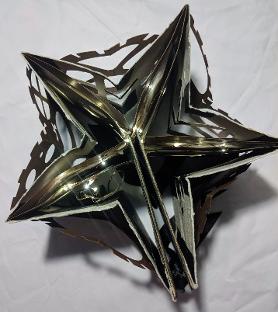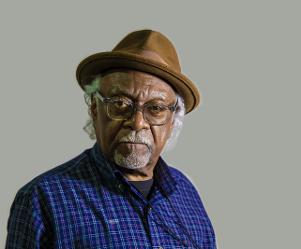 African American culture has been shaped by a traumatic history. It contains the elements and memories of separation, fracture, loss and oppression: histories shared by all mankind. My art bears witness.
In my art, I attempt to express not only aesthetic issues, but social, moral and spiritual ones as well. My influences are many: clay, naïve art, collage, combining painting and jazz and the spirit with(in) which it was created. My work is concerned with life and existence in the inner city. I note and am impressed by the various makeshift structures I find in the urban environment. News stands, garden shacks and the temporary shelters made of cardboard, tin and/or wood, made by people without tools or homes. Structures shaped by necessity, with available materials and improvisation; where everything may be off a few degrees, but still works.
From my perspective, the "unbeautiful" can be as powerful/ attractive as the professed beautiful. As an artist I am trying to give meaning to what is beautiful and extend its parameters. The inner-city landscape I depict is both map and metaphor for the actual landscape and the contents of the collective unconscious. The pieces I am working on are a tapestry of the past, present and future. Sometimes, I am concerned with storyline, at other times, color, texture and harmony.
The artists of the Harlem Renaissance worked with the intention to educate and bring to people the unique experience and expression of Afro American culture. In the current times we have lost that, and art seems to be used for decoration and entertainment. The artists of the past were political, and we should be so as well. The job of artists, writers and poets is to convey and preserve history and provide a dream of the future. Writers such as Frederick Douglass, Ralph Ellison, and Richard Wright, and artists like Jacob Lawrence, Horace Pippin, and Romare Bearden.
Leroy Johnson (b. 1937) was born and grew up in the Eastwick community of Southwest Philadelphia. Much of his work takes the form of painting, collage, and found objects; his work is reflective of life in the inner city. He has participated consistently in solo or group shows since the late sixties, and has exhibited widely, some of the venues being: Philadelphia's Magic Gardens; Tirza Yalon Kolton Ceramic Gallery (Tel Aviv); Gloucester County College (Sewell, NJ); University of Pennsylvania; Museum of Contemporary Crafts (Pittsburg, PA.); Tiger Strikes Asteroid (Brooklyn, NY), as well as numerous other galleries and locations over the years. He has received grants from the Mid Atlantic Arts Foundation, the Independence Foundation, and the Pennsylvania Council on the Arts. He earned an MHS from Lincoln University. Leroy is 2014 PEW Fellow, and was recently chosen as the Directors Highlight in the Let's Connect Competition at the Barnes Museum. He has been a participating or resident artist for many community-based art projects, including at Ile Ife, The Village of Arts and Humanities, Taller Puertoqueno, the Church of the Advocate, and St. Francis Academy. Additionally, he was the inaugural resident artist at the Art Barn in Amaranth, VA, is the current Peter Benoliel Fellow at The Center for Emerging Visual Artists, and was a recent Mural Arts Studio Artist-in-Residence at the Barnes Museum.
Resist, collage, 2019, 16"x18"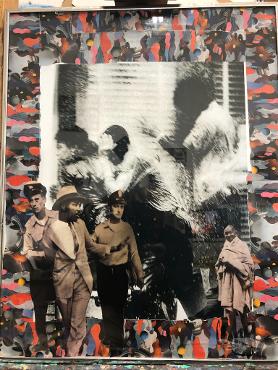 Freedom, mixed media/found object/collage, 2019, 18"x20"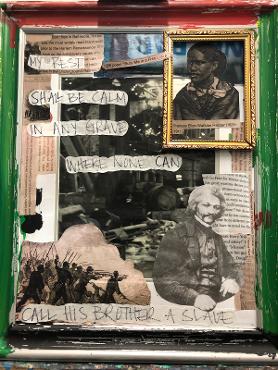 Dreams, mixed media/found object/collage, 2019, 18"x20"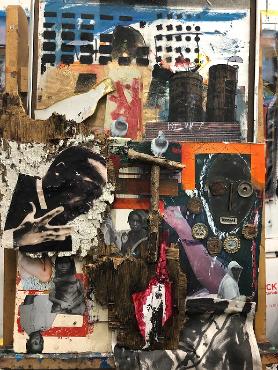 Lustration 1-4, digital video still print, 2019, each print 7.5"x13"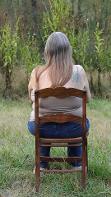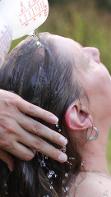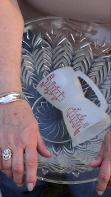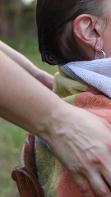 We store the imprint of memory in our bodies. Some of this memory comes from personal experience, and some we inherit from our predecessors and even our ancestors. An effort of reconciling ancestral trauma saturates my work. My work aims to balance both the experiential and sensorial weight of embodied memory through ritual and collaborative reconciliation. The series of images presented here for exhibition in As It Should Be gesture toward mending trauma through the physical and symbolic transformation of a daughter washing her mother's hair.
The act of lustration, or to cleanse or purify, is performed in the open air of nature and the viewer becomes a part of the sensorial processing of collective memory held between family members. The still images signal at the fleeting experience of bodily sensation and the interconnection between our bodies, ourselves and those we love, and the wild, unconfined strands of earthly flora and fauna.
The research undertaken to conceive the body of work these images come out of extends from feminist conceptual art, walking in nature, and personal consciousness work. Through this amalgamate, an inquiry arises and forms mental shape before evolving on paper and then into materiality. Physically the works take the form video art stills that been transformed into digital photographs, and subsequently become artifacts of the ceremonial collaboration between generations of women.
My creative process is an unfolding curriculum. My background in engagement takes surface as I navigate the space of consciousness and healing in contemporary art. Media art has the potential to act as an impartial observer and provide space for reflexive self-witness in the reconciliation process. Part of the practice of these ideas is to facilitate workshops in ritual and media technique that allow participants to attend to the body-knowledge of the past and speak to a potential harmonizing with stored events through shared experience. With this we can begin to feel our interconnecting parts simultaneously dissolve and resolve, resulting in the awareness of a shared spiritual and emotional burden that can be lifted.
Tacie Jones is an artist exploring facets of memory and interconnection in a postdigital world. Her current research focuses around impermanence, trauma and nostalgia, the ecology of shame, ritual and empathy, and the individual's part in community resilience.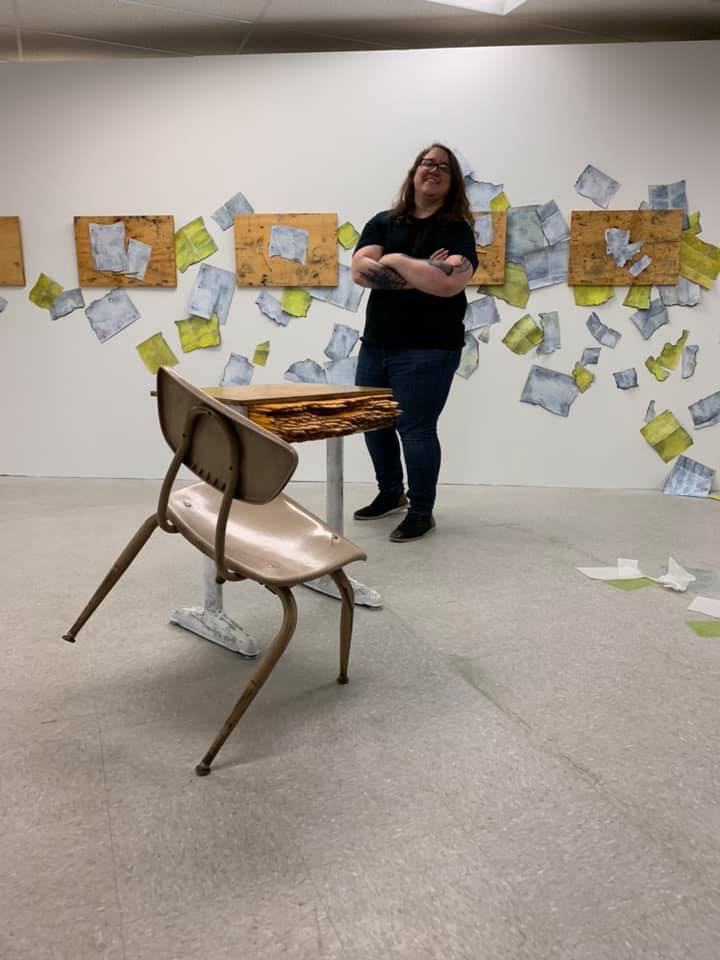 My artwork and community practice is based in the varied processes of learning and exchange; a space where past histories, school-based educational experiences, and the acquisition of, and aesthetics associated with, knowledge are explored, questioned, and dismantled.
What is the experience of a student in or out of a classroom? What is a teacher? Where, when, and how does teaching take place? What power do spaces and places of learning hold?
The classroom that supports and cultivates student voice is a place in which individuals elevate themselves, while also embracing the process of learning as a lifelong tool of self- and community empowerment. The sharing of voice creates important, affirming connections between people, including dialogical exchanges that enhance meaning and depth of experience.
Rewrite, acrylic paint, ink, graphite on wood, 2020, 32"x20"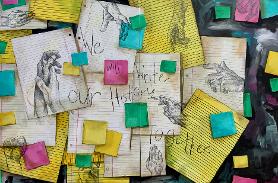 Learning Process - Part I, acrylic paint, ink, graphite on wood, 2018, 36"x48"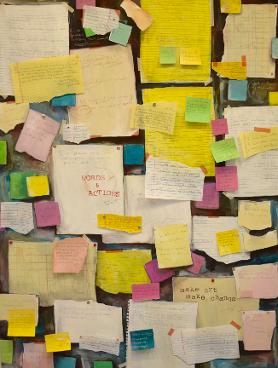 My work included in As It Should Be address the theme through their examination of and personal journey toward an equitable practice of education. Each piece seeks to see a world where educational processes are equitable, inclusive, and accessible; where questioning in educational environments is not only allowed but encouraged; where histories are shared, and not the singular narrative of the oppressor.
Rewrite is a new piece, created specifically for As It Should Be, and features hands coming together to write new narratives of history.
Sara Kaltwasser was born in Tulsa, Oklahoma and raised in Portland, Oregon. She has been working as an artist and practitioner in the field of art and art education for the last 16 years. Kaltwasser brings a variety of skill sets and experience to her work, as an artist engaging with communities and as a teacher and program coordinator supporting educational experiences for a variety of learning styles and age ranges. She has a deep interest in the confluence of education and activism and the roles of artists and art as a means of amplification.

Sara Kaltwasser is currently the Artisit In Residence & Art Program Supervisor at the Keswick Wise & Well Center for Healthy Living, a space devoted to supporting the holistic health and wellness needs of older adults in Baltimore City and beyond. Art programming at the Wise & Well engages older adults in finer motorskill movements, critical thinking, problem solving, and social engagement. Keswick values the role of art in a well rounded and healthy live, and its integral role in a persons ability to live well and thrive.

Kaltwasser acquired a degree in Painting and Drawing via the Studio concentration from Pacific Northwest College of Art in 2006. She received a Community Arts Merit Scholarship in 2016 and 2017 to attend the Maryland Institute College of Art's where she graduated with a Masters of Fine Arts in Community Arts in 2018. She is a 2017/2018 recipient of the Libby Bowerman 82' Teaching Fellowship at Keswick Care Center, as well as a 2019 Janet & Walter Sondheim Award Semi-Finalist.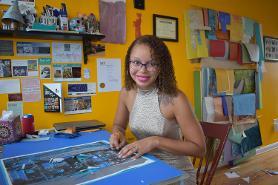 I began learning to meditate a little more than a year ago. I felt I had to take on the challenge for my mental health and had no idea how deeply it would impact my art. By following Woo Myung's method of eliminating the false mind I learned to see things as they truly are, as opposed to how they relate to me. It helped me gain a tremendous appreciation for the dance of palm shadows in a breeze, the chatter of pigeons on a powerline, the tranquility of Baltimore's rooftops early in the morning, and other simple pleasures that likely would have gone unnoticed before.
The act of creating these works is meditative in and of itself. A large papercut can take between 50-100 hours to cut. These images began from photos I took walking my dogs in Baltimore, strolling with friends in San Juan, indulging in deep fried happiness at the Frederick County Fair, and killing time in my hometown of Philadelphia. I printed the photos, taped them to a Canson drawing paper, and used an X-Acto knife to cut through both layers. In doing so, I reduced the greyscale down to just two colors, eliminating all distractions, so that what is left is the simplest rendering of what truly is; what the world should truly be. Were we to wake up tomorrow to a world without problems we would all be afforded this opportunity to not only stop and smell the roses, but also appreciate the beautiful tangles of powerlines.
My Neighbors, The Pigeons, hand cut paper, 2019, 16"x20"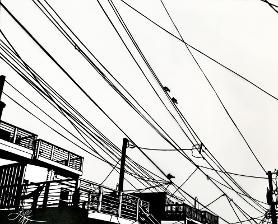 Sundae Funday, hand cut paper, 2019, 16"x20"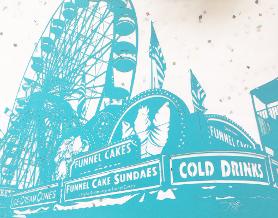 Head In The Clouds, hand cut paper, 2018, 20"x30"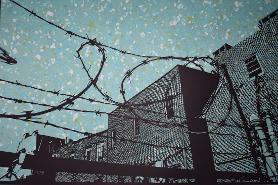 Rosa Leff is originally from Philadelphia, she has been living in Fed Hill for the last year and a half. One of her favorite things about spending time in a new city is getting to learn what is truly unique about its architecture and what is "authentic." Leff is best known for her obsession with powerlines but generally delights in the mundane. She loves to cut chain link fences, bricks, ghost signs, graffiti, and barbed wire- All of the things that city dwellers pass by each day without stopping to really see and appreciate. Lately, Leff has been drawn towards a pop art style and cutting free standing, brightly colored single objects such as a lone box of Uno cards. Since getting to spend some extra time in her studio due to the Coronavirus she's found that she's been zeroing in on small items that evoke some feeling of nostalgia.

Leff began cutting paper in 2012 while working on her Master's in Elementary Education at The University of Pennsylvania. When asked to create a children's book as part of the program, she looked to Eric Carle and Ezra Jack Keats for inspiration. Building on the education she received from painting with her grandmother, Jacqueline Ziegler, and her time at the Instituto Superior de Artes de La Habana, she created her first papercut illustrations. Each piece is hand cut from a single sheet of paper using Excel Blades. Leff now serves on the board of The Guild of American Papercutters. She has exhibited her work throughout the Mid-Atlantic region and in China.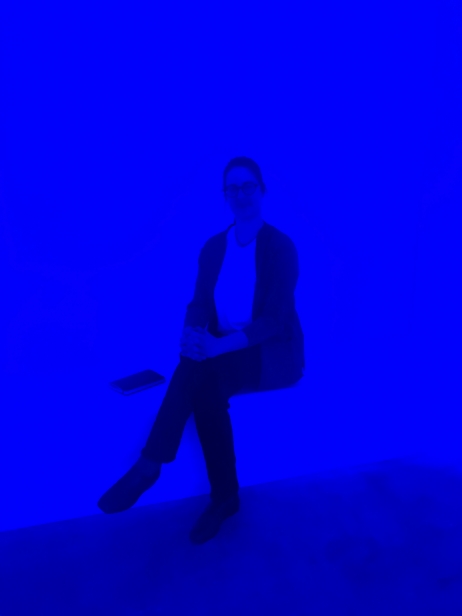 Untitled: Placing A Cube in a Canyon, single channel video, 2019, 33sec
I spent two years carrying around a PVC cube structure as a prop for making videos in the desert around my home in Albuquerque. One day, I filmed the moment when I had a friend throw it into a canyon. I didn't use the cube again after that. I guess something changed for me once I saw it down there. Sometimes we have to give up control to make space for something new.
Elizabeth Shores is an interdisciplinary artist, writer, and curator whose work engages the politics and science behind representations of landscape in environmental law. Their research-based creative practice addresses the connections between objectivity, corporate personhood, and the production of landscape through collaborations and interviews with scientists, artists, and lawyers. Projects include the creation of nano-sized titanium sculptures built upon circulating US currency, radio transmissions in the Earth's stratosphere, video installations, and several curated performance series. Elizabeth has exhibited, published, or presented work at such institutions as SITE Santa Fe, Tamarind Institute, The Museum of Modern Art, University of California San Diego, School of Visual Arts, New York University, Maryland Institute College of Art, Arizona State University, University of New Mexico, Zayed University, and the University of Zagreb. Elizabeth's work can be found in the collections of the University of Iowa and the Nevada Museum of Art.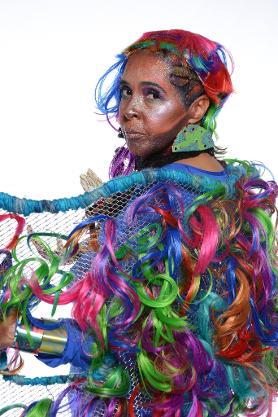 This work is a festive tribute to the beauty of natural black hair. I highlight the artistry of afros, braids, curls, cornrows, dreadlocks, and twist, as beautiful organic tresses. I used techniques which help to underscore the multidimensional aspects of natural black hair. The numerous colors take you on an inspired journey in locating a message using circles of five within the design. In numerology/spirituality five represents humanity; our bodies have five senses, five fingers, five systems. There are also five vowels in the English alphabet. The materials I used are felt, natural roving, needle and thread in creating this textile. Felt roving has a natural warm versatility, delightfully suited to the details of this project. Its soft, fine texture is the ultimate fiber with which to capture the spirit of my social commentary. This piece is a representation of skillful fingers working their magic.
Natural Curl Friends, fiber and mixed media, 2020, 41"x39"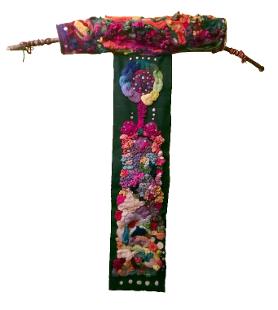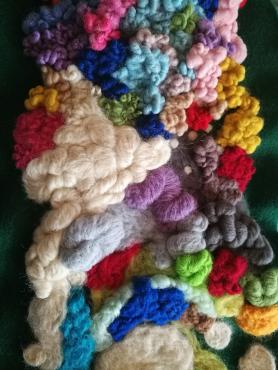 This work was executed in two sections, then sewn together. I worked on them simultaneously. The top is rectangular with round openings at each end symbolizing the woman's arms. Her body is felted on a visible dark-green ground and is substantially long and narrow, demonstrating the freedom of movement. The piece will be hung with the arms extended over the head. Her arms will be balanced on an actual tree limb threaded from end to end. The extended tree limb represents liberation and the harnessing of our collective power.
In my world, black women should not have to censor their hairdo to meet narrow societal expectations of beauty. In my world, black women will be appreciated for their intellect before being feared and ridiculed for their hair styles. And our chosen style would not be a silent extension of lost jobs, missed educational opportunities, low salaries, lack of raises and promotions. Our personal sphere would be blissful and remain personal. Our hair style would not ruffle the political waters to the extent that states must enact unprecedented laws to keep others from trespassing on our humanity.
Angela Sriram is a jewerly designer and textile artist who embraces the unpredictability of life. After 25 years as a college administrator, she left her career to begin a life of travel with her husband. And never looked back. Her home studio is filled with cherished bits and bobs. Turkish metallic threads, jet beads from the UK, terra-cotta beads from Ghana, spicy color silk threads from India along with her collection of felts, fabrics, trims, buttons and art paper. Each object offers her a panoramic view of her life and a deep personal connection to all her art.
Angela is native of Baltimore -- receiving her MS in Design from the University of Baltimore. She also received a certificate in Traditional Turkish Design from the Sabanci School in Turkey. Her work has been sold at the gift shops of The Baltimore Museum of Art, Visionary Art Museum, Baltimore in a Box, Tierra Jewelers, and The Library of Congress.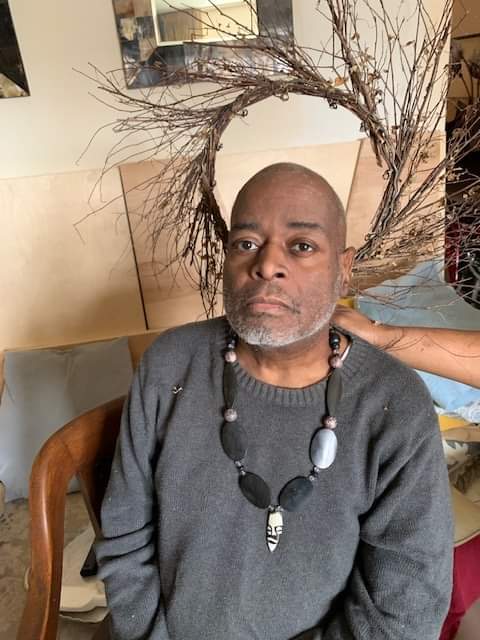 "Service" and "duty" are more than words. Our current political climate wants us to mistrust and lose faith in ourselves and each other...but we can change this. Respect others and seek to help. That can make a difference.
Ram Sueño's work uses a variety of mediums, materials, and objects to create narratives that relate to personal identity and social perceptions with an emphasis on highlighting textures, color and form and bringing the work together with attention to both surface and concealed images and meanings revealed through intuitive response allowing a compositional unity that creates themes of myth-making and personal identity.
The Benevolent Ones (1 and 2), acrylic on canvas, 2020, 16"x20"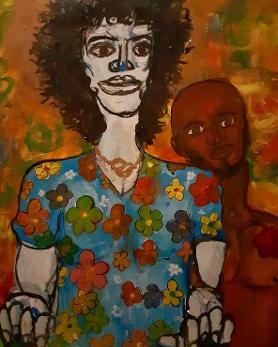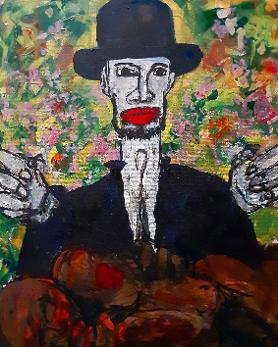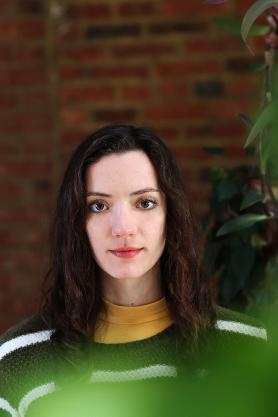 These works are part of a series that investigates landscapes as both opportunities for "welcome" and physical representations of power structures. I combine deconstructed aerial views of neighborhood landscapes within the motif of a household quilt. To me, quilts are representations of comfort, care, hope, and tradition - lovingly created to be passed down through family lines.
Like a family quilt, a physical neighborhood can provide a sense of welcome. Both can offer shelter and belonging, as well as a connection to one's roots. However, not all neighborhoods are designed to offer welcome to all. These quilted fragments I have created deconstruct and reimagine the boundaries of a community.
Fragments of Welcome 1-3, upcycled and digitally printed fabric, 2019, 4'x3', 2'x2', 12"x6"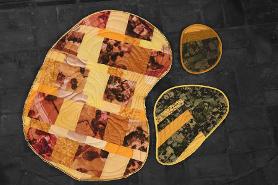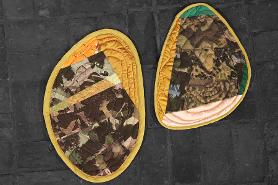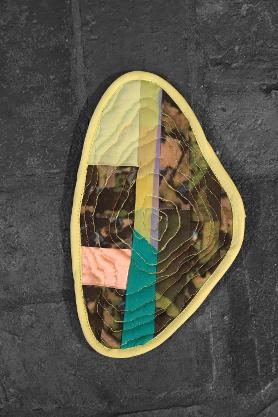 Susan Tuberville is an interdisciplinary visual artist, educator, and facilitator of community-based projects. Her practice includes fibers, ceramics, painting, installation, and video. She contemplates the meaning of "home," as well as physical and relational belonging, in much of her artwork. Susan believes joy is a powerful and necessary experience, which she hopes to channel through her teaching, community workshops, and personal artmaking.

Born and raised in the Memphis, Tennessee area, she completed her Bachelor of Fine Art at Birmingham-Southern College and became a certified Art Educator. She embarked on her teaching journey, first learning alongside preschool children that were differently-abled in Birmingham, AL. She then went on to teach junior secondary Art and History in Botswana, then K-8 Art in South Korea, before arriving in Baltimore, MD to pursue her MFA in Community Arts at Maryland Institute College of Art. She currently works at Access Art in the Morrell Park neighborhood, where she helps facilitate out-of-school-time arts and youth development programming for youth.
The New Potential, 4k video, 2018, 9:28min.
The New Potential presents imagery in video of billboards captured between advertisements, when remnants of previous adverts are exhibited upon their facades. Overlapping and layering in configurations that welcome what was to float back into focus, the compositions reveal rather than conceal the potential for new relevance and meaning to be communicated.
Prominently displayed across our horizons and built by color, line and happenstance, the only characteristic of their disposition that differs from that of typical billboard advertisements is the nature of their imagery.
Our contemporary visual culture is one of excess, crowded with infinite content of material plenitude. The New Potential, in contrast and perhaps protest, proposes images that are not of or about something, but are something. What they offer is therefore the potential to have, rather than know of, an experience. Encouraging appreciation for acknowledgment of the present as a form of mediation between such seemingly infinite content and ephemerality itself.
A means of encounter – signs of life.
Rebecca Vickers (B. 1981, Madison, WI, USA) is an interdisciplinary artist based in Bangkok, Thailand. Her practice often utilizes a process of collection, framing instances of the everyday in a manner through which their extraordinary nature is brought front and center. She is a co-founder of Bangkok-based LIV_ID collective, teaches visual art at Mahidol University International Demonstration School and plays guitar in the indie-pop band VIPED.
Rebecca's work has been shown internationally, with recent exhibitions at YEO Workshop, Singapore (2015), the Bangkok Biennial, Thailand (2018), Art Teleported, New York, USA (2019), the CICA Museum, Seoul, South Korea (2019) and the Art+Literature Laboratory, Madison, WI, USA (2019).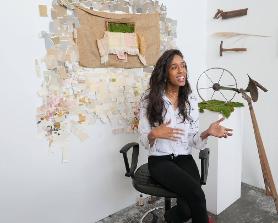 When something dies bad it doesn't stay in the ground. Heaven simmer into tear drops, chairs fall over and drawers fall out. My sculptural memorabilia are foraging an identity so as to find eternity; for I am a first generation African American female fighting the curse of temporality in the Bay Area. My ancestors who built my family home in Redwood City California, whisper to me how to forage a refuge in the gentrified Bay Area. I create these homes by making sculptures out of soft ground. These sculptures are portraits that are made of hanging ground. I hang the ground on the walls in hopes that the landscapes of the Bay Area become permanent. This work is about the loss of my hometown and stories that go beyond the Bay Area.
My assemblages resist oblivion by escaping into frames, for they are representations of my ancestors that hope not to slide into silence. My artwork is important in that it is looking to make present a history for places like Redwood City and East Palo Alto. I write letters to and from my great grandparents to give historical richness to my inherited bewitched objects. Moss and blades of grass grow underneath that which has died. These sentimental materials misbehave to give life to my shadowed archives. Shadowed being the phantom voices of those unheard. Sentimental being a feature of something that has a generational end. I am trying to spend time with those who are not there.
My work would be integral in, As It Should Be, because my work moves forwards and backwards in time to uncover the life, the history, the power, the grief and joy of my ancestors who are in search of a long lasting home in the airs of tomorrow. This ephemeral work animates how to forage a lovely novel thing, out of a worthless creature. How do your family members live on in your things? Is it possible for ancestors to be homeless? When seeds pass away onto the ground, must we immediately reach to pick them up or can we leave them where they land to see what grows?
Hannah Waiters is a researcher and artist in the San Francisco Bay Area. She is presently enrolled at the California College of the Arts to receive a Masters in Visual and Critical Studies and a Masters of Fine Arts. Her research uncovers the life, the history, the power, the grief and joy of ancestors. Hannah Waiters research and art practice unearths the intimacies of sentimental objects and narratives.
Head Rag, Found vanity mirror assembled with found nude sheer fabric, 2019, 72" x 36" x 3"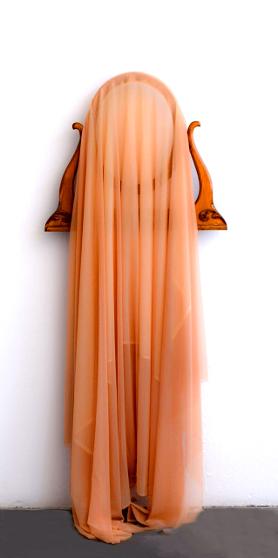 202 East Oakwood Blvd, Redwood City, CA 94061, great grandfather's hand saw atop found vintage phone & moss, 2019, 9" x 12"x12"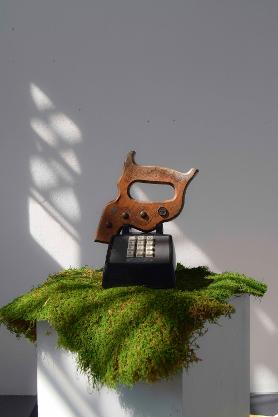 The Gatekeepers, hoop earrings and found keys, 2019,27"x9"